« Getting the hang of Movable Type | Main | Pasta Sauce - It's what's for dinner. »
February 16, 2005
SOMEBODY is in trouble.
And that somebody is striped and furry.
And that somebody thinks plastic, especially plastic sheathing on wiring, tastes and smells delicious.
AND THAT SOMEBODY ATE MY ETHERNET CABLE.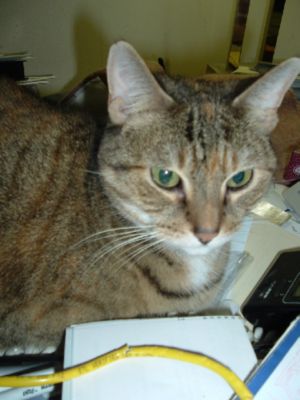 Posted by Leigh Witchel at February 16, 2005 12:51 AM
Trackback Pings
TrackBack URL for this entry:
http://www.leighwitchel.com/cgi-bin/mt-tb.cgi/6
Comments
I am thrilled to acknoledge the first appearance in the LeighBLOG of Javi... or as we say in Romanian, Pisicuta! Hopefully she will be a regular feature!
Posted by: Steve at February 17, 2005 12:33 AM
She won't be if she keeps eating my ethernet cables. Sheesh. I already have to buy phone cords in 4-packs.
Posted by: LAW at February 17, 2005 12:41 AM
Post a comment