« Out and About - The Gates (second visit) | Main | The performance was great but the dance isn't . . . »
March 1, 2005
Current Knitting - Easy Head Hugger Hat
Now that the socks are done, the current simple project is an Easy Head Hugger Hat designed by yet another wonderful Torontonian, Danny Ouellette.
Danny is a transplanted Manitoban, who grew up in Thompson, a copper mining town in the far north of Manitoba. So far north the roads don't go there and it's accessible only by plane. I have a fascination with arctic climates. Ask my friend David. We trade URLs about Qaanaaq and South Georgia Island
Danny said about Thompson, "I want to go back there. I miss the winters." It did give me pause. Then he explained. "Thompson has a dry cold. You know what to do; just add another layer. It's a wet cold in Toronto. When I moved here, I didn't know what was wrong with all of the cars. Then I realized none of them had plugs coming out of the grille. [where you'd plug in a heater to keep the engine block from freezing]"
Danny's hat is not arctic at all; it's kinda fez-like. It's made on the same design principal as 19th century doilies - knit flat in pie shaped wedges via short-rowing. I'm using leftover oddments of Noro Sarubia I got years ago at Webs that finally got used in '03 to make my take on Kaffe Fassett's "Small Steps". In order to get the tight, "boardy" gauge to give the hat its pillbox shape, I knit it on US 5's where I'd use 8's for a sweater.
It's a quick knit - here it is about an hour after casting on Thursday.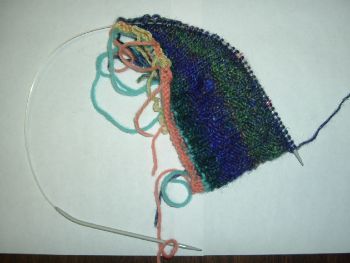 And here it is yesterday.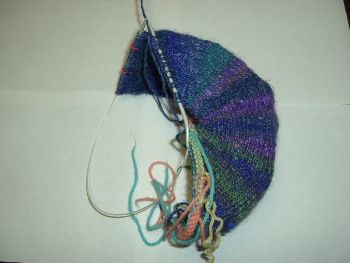 Like most Noro yarns Sarubia has long lengths of color for slow changes, which accentuates the wedges in the design. As always, I changed things. I do a slightly different waste yarn cast-on than Danny's; I also changed the short-rowing to make the repeat of the crown the same as the brim. My suggestion to you if you decide to make one is place a marker before the 11th stitch on the brim. That's right before the halfway stitch, and it lets you know to reverse the pattern without counting.
Posted by Leigh Witchel at March 1, 2005 7:45 PM
Trackback Pings
TrackBack URL for this entry:
http://www.leighwitchel.com/cgi-bin/mt-tb.cgi/32
Comments
Wow - thanks Leigh! The hat is looking good. Such yummy looking colours!
Ah Noro - one of my BIG weaknesses. There is a special box in my stash set aside just for Noro. Not as much as I want, but more than I should really have!
One day I'll learn how to dye / spin my own version of Noro yarns, and I won't have to keep buying the stuff. Well... in theory. I'll still by it because the colour combinations are amazing and I don't have the kind of eye.
Just a couple small corrections to my life history.
Thompson is mainly nickel mining, but they do also produce copper, gold, silver, platinum, and a few other by products.
You can get there by road, even though it feels like it takes forever! It's about 450 miles North of Winnipeg, and only about another 300 to Churchill! The bus trip from Winnipeg is 9.5 hours. You can legally drive it in about 7.5 hours, but I knew a few who could get there in 6.5.
One thing I miss a lot are the Northern Lights, and the stars. You could drive about 10 minutes out of town, and there would be no glow from the city. Amazing.
Posted by: Danny Ouellette at March 2, 2005 12:24 AM
You have no idea how crushing it was to click on the link (you know, cause it always makes me feel better to see people colder than me) and find out that Toronto is experiencing winter weather roughly equivilent to there at the moment. Crushing.
Danny, I love that hat pattern. I finally made it back to a guild meeting last month (was it last month? The crochet lady?) and meant to say hi, but missed you. I'll try harder.
Posted by: stephanie at March 2, 2005 3:03 PM
Posted by: Leigh Witchel at March 2, 2005 6:36 PM
Depending on the maps you look at, Thompson isn't even there! On older maps, the closest place you would see would have been Waboden, which is 50 miles out of town.
Thompson didn't exist till 1958, at which point it was only a mining camp. The town didn't really start being built till about 1960 / 61. I don't even know when the roads came in!
Thompson became a city in 1970, when then Queen visited Manitoba and the city, and she declared it a city! I remember seeing here as she drove through town. My mom took my sister and I to watch the procession.
And if you want to know more about the city - you can always visit it's webiste at:
http://www.thompson.ca/cdps/cityinfo.cfm
These temperatures are REALLY mild for Thompson at this time of the year. It is usually around -20 to -30 C at this time of the year.
Posted by: Danny Ouellette at March 3, 2005 10:15 AM
Post a comment