« Round the danceblogosphere | Main | Communication Breakdown »
March 4, 2005
Friday Pomeranian Blogging
Well it looks like a cat.
I believe this puffall's name was Charlie. My friend Peter was taking me around San Francisco last March and we went on the cable car up Nob Hill. At the park near the Fairmont we met Charlie, sunning himself and generally being adorable. He consented to pose for this picture, being far more photogenic than the creature hiding behind him.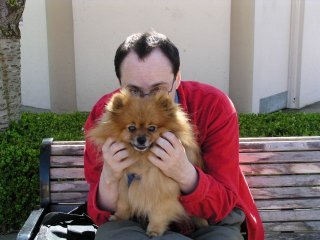 Posted by Leigh Witchel at March 4, 2005 12:59 AM
Trackback Pings
TrackBack URL for this entry:
http://www.leighwitchel.com/cgi-bin/mt-tb.cgi/35
Comments
That does not look like a cat. Not even remotely. Just because something has fluffy qualities does not make it a kitty! BRING BACK JAVI!!! PISICUTA!!!
Posted by: Steve at March 4, 2005 2:08 PM
Some would argue that it does not look like a dog either, but certainly cute. Creature in back is cute also, in strange way.
Posted by: Jeannie at March 5, 2005 7:22 AM
Post a comment