« Dancer and Superdancer | Main | Dining in Toronto »
May 13, 2005
Friday Cat Blogging - Hallucinogenic Ted Nugent Edition
[Slashing electric guitar riffs]
Cat Scratch Fever!!!
[More guitar riffs]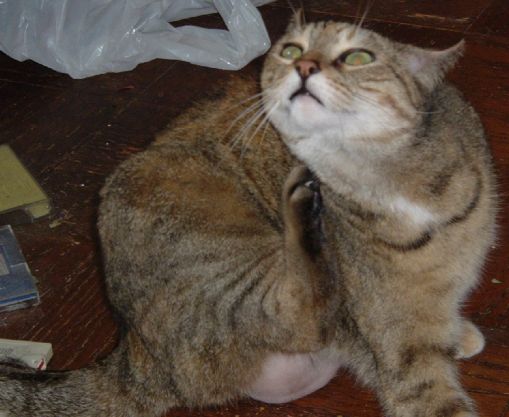 That is just one scary picture. She's not at all a scary cat.
Posted by Leigh Witchel at May 13, 2005 2:22 AM
Trackback Pings
TrackBack URL for this entry:
http://www.leighwitchel.com/cgi-bin/mt-tb.cgi/110
Comments
Eeek! Javi is MUCH cuter and more squozable (and photogenic) than this picture implies (I have squozed her repeatedly, so I know). She also looks like she is frowning in this pic. I think you should find out how to add .wav files to your blog so we can see AND hear her!
Posted by: Steve at May 13, 2005 12:18 PM
Post a comment