« Red Leaves | Main | Latest Dance Article »
August 25, 2005
A nifty cast from an edging
The Red Leaves shawl has an edging made at the same time as the shawl, but I was having some trouble figuring out how to get a neat point. Simply casting on the two edgings and the first stitch (4+1+4 stitches) meant that the point had no edging. Here was my solution - as Elizabeth Zimmermann would have it, "unvented". It's been done many times before.
Start by casting on provisionally and working about an inch of edging. On this sample I knit one row before starting into the pattern; I think it looks smoother if you start immediately in pattern without that row. To cast on the shawl body, begin at the outside edge, ready to knit to the inner edge. (To my chagrin, I note that this photo was taken as I was about to knit from the inside edge, not the outside!)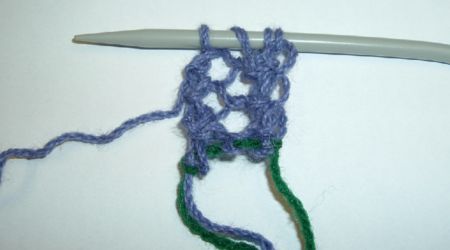 Pick up the provisional stitches. I'm using a thin bamboo double pointed needle from a set my friend Cathy brought back from China as a gift. If there was an underappreciated tool for knitters it is a long, thin double pointed needle. Nothing makes replacing stitches back on a needle easier. You can improvise with a bamboo skewer.
Knit the first four stitches (the edging) in pattern. Place a marker, then yo1, pick up one stitch in the middle of the inside edge, yo1. These three stitches will begin the body of the shawl. Place another marker, work the four provisional stitches in pattern. You're working the reverse - the good thing about the faggotted lace edging is because it is based on garter rather than stockinette stitch, the front and back look about the same.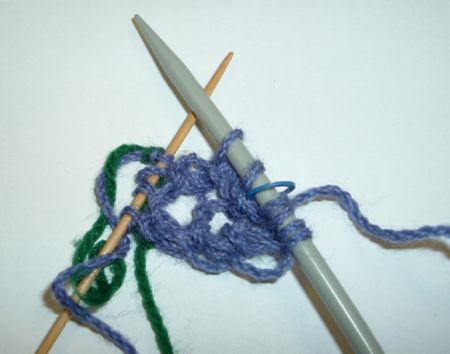 Continue on from there, increasing with a yarn over on the insides of the markers, and working the edging pattern outside of the markers.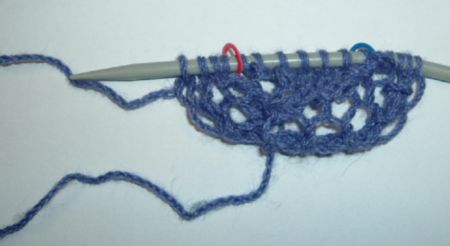 Posted by Leigh Witchel at August 25, 2005 11:23 PM
Trackback Pings
TrackBack URL for this entry:
http://www.leighwitchel.com/cgi-bin/mt-tb.cgi/185
Comments
Uh, Leigh? Is that a PLASTIC needle I see before me?
Posted by: Grace at August 26, 2005 10:21 PM
It is indeed; I love them. They have a medium surface tension with most yarn and a slightly sharp point that makes them just the right speed for me. As I recall, Lily hoarded hers as well, so I'm not the only one that likes them - but that makes sense to me. When we knit together I noticed that Lily and I knit much the same speed and way. We're both moderately fast knitters, but she is, as you know, blindingly fast at crochet.
Posted by: Leigh Witchel at August 28, 2005 12:45 AM
Aha...you have to be the only one I know who has used those Chinese Bamboo Needles. Even I have not used them as yet. But so happy to see you are using them with your favorite plastic needles...what a combination!
Posted by: Cathy at August 28, 2005 6:54 AM
Post a comment