« Blog readers | Main | You could see this one coming miles away »
August 16, 2005
A pretty yet minimal lace edging
The razor shell lace shawl progressed with great speed. I only had three skeins of yarn so it's probably more of a shoulder-warmer, but the intended recipient is small and would probably be overwhelmed by a shawl.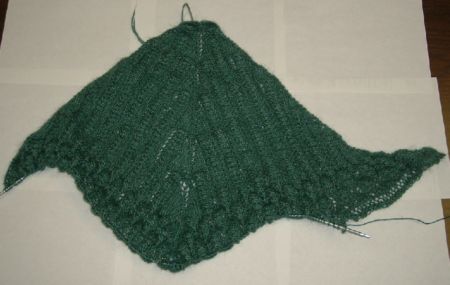 I was looking through my pattern books for a suitable edging. There are many pretty ones, but none would quite do. They either took up too much yarn or they were overpowering. In fine cotton, a nine stitch edging is not much more than an inch wide; in DK weight yarn it's double that.
Here's a discreet narrow border that you knit on to the live stitches as you go. It's based on faggoting. (Non-knitters: This does not mean anything close to what you think it means.)
Narrow Faggoted Lace Edging
At the end of the RS row of the object to be edged, cast on 4 sts.
(WS) (yo, K2tog) 2x (Note: The first yarn over is a bit tricky. Wrap the yarn in front of the needle before bringing it over the needle)
(RS) K2 tog, (Note: Bring the yarn to the back – it will be between the stitches you will knit together. Knit the first stitch together with a stitch from the main knitted item) yo, k2tog, k1.
That's it. It's much more complex in description than execution. Repeat until you've knitted all the stitches from the original item. It makes a pretty looped edge that you can run a blocking wire through for stretching as well.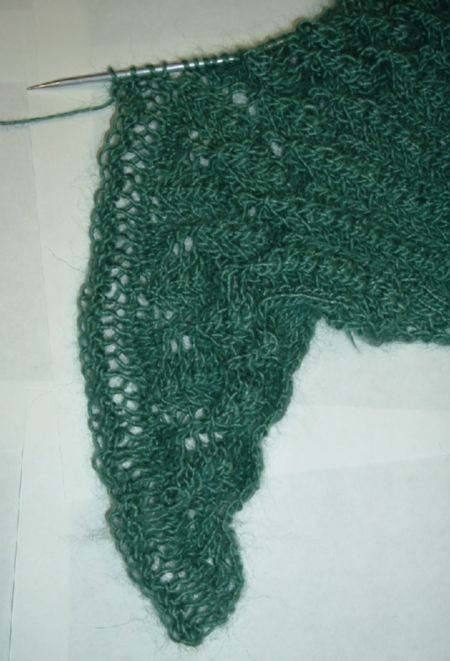 Posted by Leigh Witchel at August 16, 2005 1:23 AM
Trackback Pings
TrackBack URL for this entry:
http://www.leighwitchel.com/cgi-bin/mt-tb.cgi/177
Comments
Absolutely beautiful. It's time I picked up that "Begin to Knit Kit" I saw in Target. Many years of frustration and wasted skeins later, I could have a shawl like that for myself.
Posted by: LisaY at August 16, 2005 12:30 PM
Post a comment