« Latest Dance Article | Main | Subway Search Update »
August 1, 2005
Alexandra Ansanelli
I don't have more reliable information about her departure from NYCB than the gossip that's floating around the plaza. We'll all have to wait and see what happens with that, but it seemed like an apropos time to talk a little about Alexandra.
I've seen most, if not all, of Alexandra's career and participated in a small corner of it. I wasn't an immediate fan. As with Miranda Weese, I had initial doubts that were overcome. Different ones: I thought Weese was too facile and Alexandra's body (especially her ankles) was weak and she was being pushed too fast. I was wrong in both cases.
I started changing my mind about Alexandra by 1998 but it was her performances in 2001 of Robbins' Two and Three Part Inventions and especially Wheeldon's Polyphonia that seemed to me to be a turning point. Wheeldon had taken her greatest gift – her projection – and instead of using it in a virtuoso role had given her a delicate lento waltz to dance after being abandoned on a darkened stage. A little girl lost. She made the ballet and the ballet made her.
On Friday, February 8, 2002 Alexandra did an Allegro Brillante that people talked about for the rest of the season. It was an astonishing performance; the kind of performance that you know is astounding even as it's happening before your eyes. She doesn't work for everybody; some people found her projection calculated and artificial. From working with her, I know that it's quite real.
I asked Alexandra to work with me in 2003 through Peter Boal. Courting a dancer is a diplomatic process; my instincts are to use an intermediary. (The story of how I asked Peter to work with me is a saga in itself – though we knew each other casually, I plotted for three weeks to engineer the right "accidental" meeting.) It wasn't difficult this time, both Peter and Chuck Askegard had been happy working with me; Peter mentioned my interest to Alexandra and she called.
The thing that stays with me from those rehearsals was how deceptively strong she was, and how much of it was sheer force of will. There's a step in The Pause on the Way Down that began with an echappé, where she put her legs to the side in a wide position on pointe. From there, I asked Alexandra to do a double pirouette without bending her legs or adjusting, just pulling herself from that spread position into a turn. This is like asking an opera singer to hit a high E with a gag in her mouth. I didn't ask for it out of malice, but I did out of curiosity. I wanted to see if she could do it.
The step seemed impossible in the first rehearsal. She tried a few times and was very frustrated with herself. I was about to add a small plié that would have made the step a great deal more reasonable, but she stopped me saying that she wanted to work on it. She came in the next day able to do it.
Alexandra is tireless, dedicated and ambitious. She's also an Alexandra, don't call her Alex. She loves elegance and femininity. She wasn't always easy to work with. She was never rude or unpleasant – very much the opposite. I've never seen anyone try harder to be considerate. But she lives at a very high pitch; everything is important and no detail can be overlooked. It took a lot of energy to keep up with that; I left every rehearsal exhausted. But that's part of my job description and her talent justified the extra work. Looking back on the solo I made her, I did not accomplish what I had set out to do, and I regret that. Alexandra's schedule was tight; I bit off more than I could chew.
My favorite part of the entire process was the photo shoot. Alexandra is very pretty in person, meticulously so. But the camera absolutely loves her. Josef Astor took the photos and David Quinn, my costumer, brought materials for styling. He had two bolts of fabric, assorted feathers, hats and jewelry. The "dress" she wore for the promotional shots was made of a bolt of velvet and a safety pin. He draped it on her in four minutes; someone timed him.
This was her favorite picture from the shoot.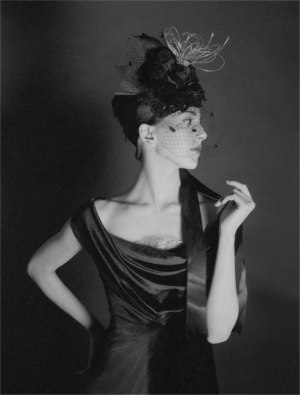 I'm sad that she's leaving NYCB. Often when someone leaves it's because their career has been overlooked. That's not the case; I think both Martins and Wheeldon have done right by her. Martins saw her potential right off the bat; Wheeldon made the roles that defined her. I think NYCB is her best fit and hope that there might be a homecoming at some point in the future. In any case, I hope things work out for her well wherever she goes. The classics are going to be an interesting challenge for her. She's not built with moderate classical proportions; she has a long quirky neoclassical line. Then again, this is also the woman who could do a double pirouette from an echappé because she decided she would. I'd be the first in line to buy tickets to her Giselle.
Posted by Leigh Witchel at August 1, 2005 2:40 PM
Trackback Pings
TrackBack URL for this entry:
http://www.leighwitchel.com/cgi-bin/mt-tb.cgi/166
Comments
What a lovely and well written piece. I enjoyed watching Alexandra's solo in your last DAE show and remember how much I enjoyed talking with her at your DAE cocktail soiree. No pun intended (OK, so there really is a pun intended) but I am confident that she will "land on her feet!"
Posted by: Anonymous at August 2, 2005 10:00 PM
There is not an artificial bone in Alexandra's body, ever; she is divinely special - on and off stage.
Loved reading your story about Alexandra accomplishing that double pirouette from an echappé - "because she decided she would." I'm so happy you had a chance to work with her.
I was at her last two performances of Harlequinade at SPAC. Both with Andrew Veyette, a brand new partner in the male, lead role. Alexandra had about an hour or two before the matinee to rehearse with him, yet the performance went ahead splendidly. A perfectly suited partner for her at NYCB, at last! Sigh.
Alexandra has not only a very strong-willed determination, but she is indeed sprinkled with the loveliest fairy dust!
Posted by: Kitri_nyc at August 15, 2005 9:57 AM
When my daughter Eliza was a Broadway actor, she and Alexandra were classmates. Alexandra was kind, lovely, academically gifted and a great friend to my daughter. We left NYC after the girls completed eighth grade. I remember the girls' goodbye, each knowing they were losing a good friend. Alexandra's mother and I were also sorry that they would no longer be there for each other. Eliza and I were both very thrilled to see Alexandra's success. It's so easy to be happy for such a nice person. Sadly, we've never seen her dance, since school days. But I've kept up with her through articles like this and reviews. This article really captures Alexandra's personality, more than you can usually capture a fairy.
Posted by: Melanie Harris at May 15, 2006 10:27 AM
Post a comment