« Internet Timewaster du Jour! | Main | It's toooooo wide! »
August 22, 2005
Why blocking is like magic
For non-knitters, blocking is the process of shaping knitting while wet . Blocking lace involves stretching the lace, and it goes magically from nondescript to gorgeous. Here's what water, wire and pins can do.
Before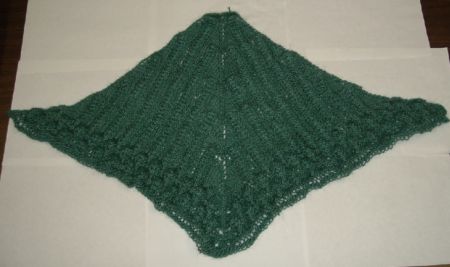 After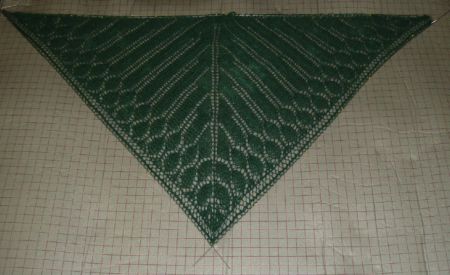 See? Magic.
The photo scale gives the illusion that the size is the same but the shawl is 50% larger after blocking as well. I had to rip back and redo the edging once after I posted; I was running short. Instead of knitting one stitch from the shawl together with the edging, I would take a stitch on one row, then two on the next, alternating. It was a better gauge for the edge so no harm done. Even so, I ran out of yarn (augh!) about an inch before the edging was done, and snuck in some Rowanspun that was a close color match.
Posted by Leigh Witchel at August 22, 2005 11:41 PM
Trackback Pings
TrackBack URL for this entry:
http://www.leighwitchel.com/cgi-bin/mt-tb.cgi/182
Comments
Magic? Looks like a helluva lot of work to me! LOL
Do you wear shawls? How about something more manly like a hat, sweater, scarf or codpiece?
Posted by: petipafan at August 23, 2005 12:02 PM
Just read some of your blog and really like the variety of it -- reflects a multi-interest, multi-dimensional life. I like forward to regular reading.
Posted by: jean at August 23, 2005 3:01 PM
With lace, blocking is major magic.
With other projects, blocking is only minor magic.
I just finished teaching my Tips & Techniques class last night. It's all magic! ;-)
Posted by: Grace at August 26, 2005 10:23 PM
Posted by: sandi at September 1, 2005 12:06 AM
Wow. Beautiful, Leigh. I don't know how I managed to miss this when you originally posted - I'm linking in now from the party post.
You knit good!
Posted by: Grace at October 1, 2005 10:14 PM
Post a comment