« September 11 | Main | The Vegetable Challenge »
September 12, 2005
Out and About - Art for Free!
My weekend was filled with culture. I didn't realize the Museum of Modern Art was free on Friday evenings. Val and I went to see the Pisarro-Cezanne exhibit, which was quite crowded and then down to the even more impressive permanent collection on the fifth and fourth floors. I haven't been to MoMA in a while; there are a few rooms that you walk into and suddenly are hit with the fact you're looking at five of the most famous paintings of the last century and a half in a single room. It's quite an impact. I'll certainly go again.
Open Stitch is a working exhibition at Location One of 15 designers producing work with the materials provided to them, essentially scrap material and found objects from most from New York's most artistic dumpster diving organization, Materials for the Arts. David Quinn, the designer who has done my costumes since 1996, was participating so I went Sunday afternoon to visit. The room was half sweatshop, half fantasy factory. I loved the energy. Debs (how we all know David) was making the skirt for a jacket just finished. It had a wonderful 60's silhouette, part bolero and part peplum jacket. Debs is in the center of the picture, the dress is on the form at the front left.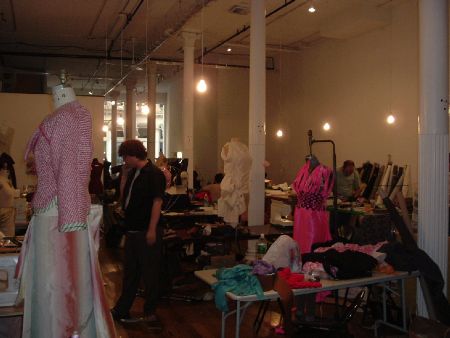 Wishing to fit in, I sat down and pulled out the Red Leaves shawl to work on. That inspired Debs to introduce me to Chris Sanders, one of the designers who is also a knitter. She brought over a shoulderette she had knit from upholstery trim she had unplied and strips of fabric on US 35 needles (for non-knitters, that's humongo-boat-oar size). It shimmered and draped marvelously.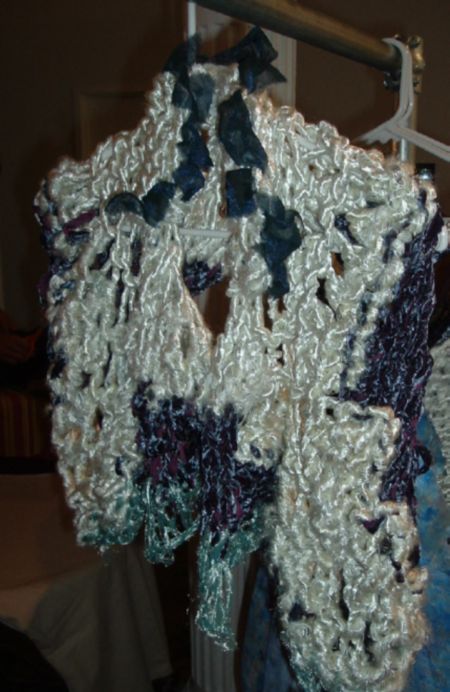 The array of designs was the most enjoyable aspect. Chris was piecing together a carapace-like vest out of pink eyelash trim and silver relective paper. Right next to her Selma Karaca was draping a lovely dress that recalled Mme. Gres' classically inspired dresses, but in bright red. George Hudacko was using fabric strips and trim to create dress with a woven bodice.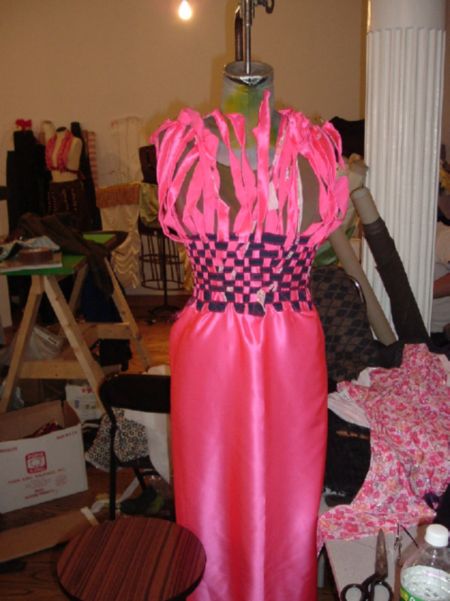 You can see it all yourself now through Wednesday from 12-6 at Location One. The nearest subway stop is the N or R at Canal. After the 13th the workspaces will be left as they were as an exhibit, and then on October 1 there will be a runway show and party. Or, you can watch the whole thing on live streaming video.
Posted by Leigh Witchel at September 12, 2005 12:45 AM
Trackback Pings
TrackBack URL for this entry:
http://www.leighwitchel.com/cgi-bin/mt-tb.cgi/206
Comments
Post a comment