« Will you just DIE already? | Main | Latest Dance Article »
October 6, 2005
Huzzah
Alexandra's camisole is off the needles.
The underarm decreases and straps took thought because the slip-stitch columns were not exactly where they would have needed to be to create a strap without adjustment. This is one of the deficits of designing on the needles, but I've always been an empirical knitter.
I had to compensate by moving the columns over two stitches as I went up. At first I tried this by decreasing, which might have been the most elegant solution, but as I was also decreasing for the underarm and the neckline it was a lot to juggle. A more direct solution was to move the pattern over one stitch on the final row and wrong side of the pattern.
I bound the straps off together - you can see the two pieces here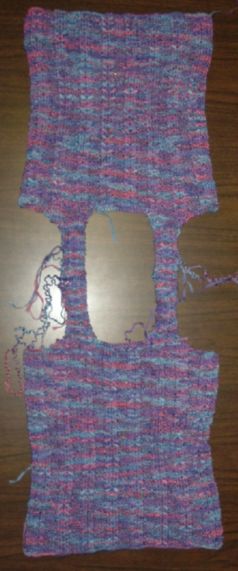 The camisole in a more recognizable form. There's still a reasonable amount to do - seaming, darning in ends and crochet trim on the neckline and armholes. It looks "Happy Hands at Home" to me right now and I'm hoping (but reasonably sure) that's only because it needs careful finishing to look tailored the way I would like it to.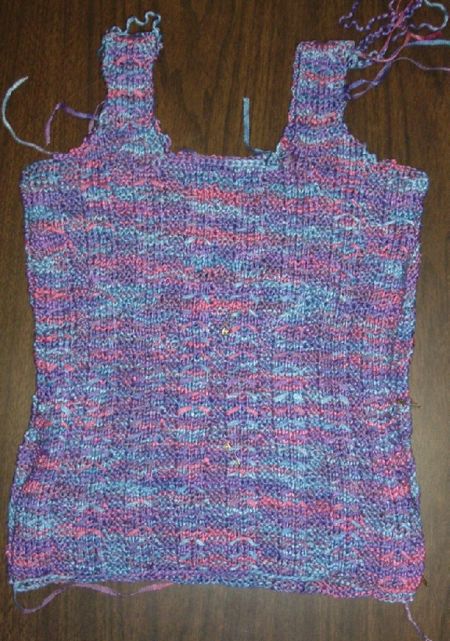 More detail of the neckline.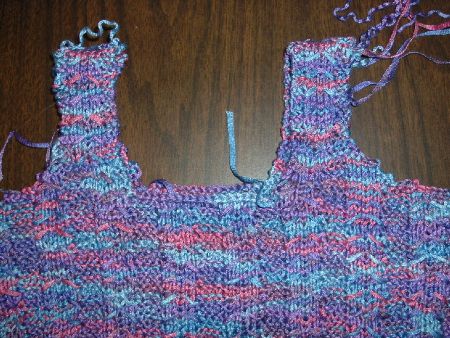 Meanwhile I'm in the middle of the second cuff of Socks for Dad.
Posted by Leigh Witchel at October 6, 2005 2:01 PM
Trackback Pings
TrackBack URL for this entry:
http://www.leighwitchel.com/cgi-bin/mt-tb.cgi/229
Comments
Post a comment