« Unfrozen Caveman Listens to the Hits | Main | Leigh's Dance Card »
December 12, 2005
Knitting Exhibition
My friend Gayle Roehm came up this weekend because her work was in a juried exhibition of knitting at the Kiana Malekzadeh Gallery in Chelsea. It's a small, spare gallery (ironically, right across the street from Cedar Lake) and the pieces hung either on the wall or on suspended hangers from the ceiling.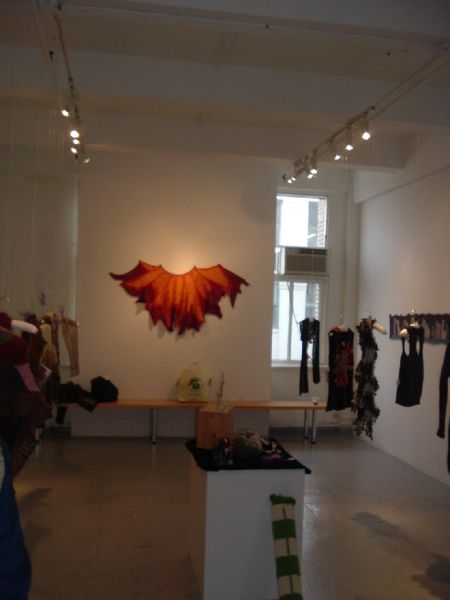 There was a variety of work from toys to garments; made by knitters at different levels of expertise. Now that I've seen knitting in a gallery setting, I found I look at knitting much like I look at dance: from the point of view of a practitioner. The first thing I look at instinctively is how it's made. I see the pretty colors, but first I see that it's Koigu Painter's Palette yarn worked up in Dayflower Stitch.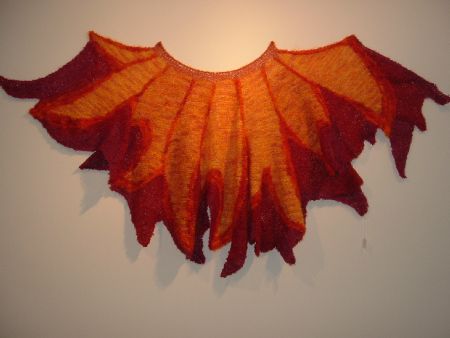 Gayle's piece is called The Wrath of Hell, and was inspired by The Queen of the Night's aria from The Magic Flute.
Yeah, pretty colors, but it's made in garter stitch using hand dyed wool bouclé loop that she got at Maryland Sheep and Wool. Gayle's a knitter after my own heart, she drew the design she wanted on a piece of paper and knit to it.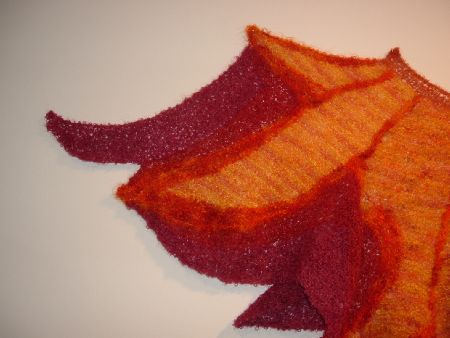 A closer look and a picture that shows it in a different configuration.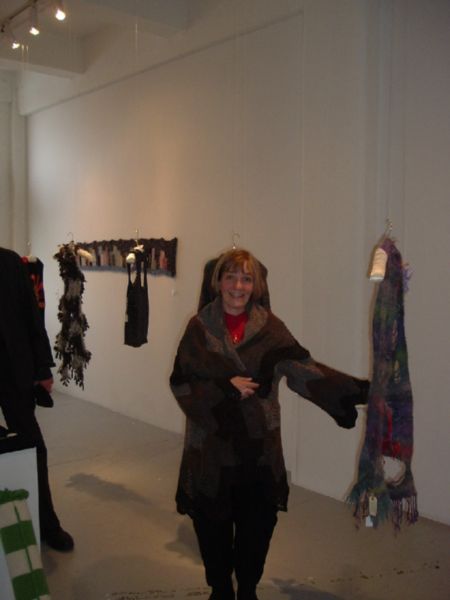 Here's Gayle, wearing a "Pi in your Sleeves" shawl of her own invention. It appeared in the Winter, 2000 issue (#61) of Knitters Magazine and an all-white version donated to Dance as Ever by Gayle was the top bid-getter at the 2001 auction.
Posted by Leigh Witchel at December 12, 2005 5:54 PM
Trackback Pings
TrackBack URL for this entry:
http://www.leighwitchel.com/cgi-bin/mt-tb.cgi/332
Comments
Post a comment