« A whole lotta eatin' and drinkin' goin' on. | Main | 500 Words »
February 28, 2006
I left my cell phone . . . in San Francisco . . .
Everybody sing along!
It started to rain on Sunday, making it a good day to leave but there was plenty to do before.
The burrito pilgrimage was to El Tonayense, a taqueria in the Mission district on 24th & Shotwell. We found it on a walk two years ago, and we've gone together on every visit I've made since. Peter gets the super carne asado burrito, affirming my Jewishness I get the super al pastor with grilled pork. Being adventurous and gluttonous, for the first time we ordered something else in addition – a chicken super quesadilla – just so we could explore the menu. The quesadilla was heavenly and unlike those I have had in NYC – this was closer to a burrito without rice. Mexican food in California puts the slop served in New York City to shame. Cal-Mex is a cuisine; NYC Mexican restaurants serve stuff only good as an excuse to soak up the alcohol in a margarita.
Balmy Alley is a few blocks from El Tonayense on 24th; an alleyway lined with murals including this one.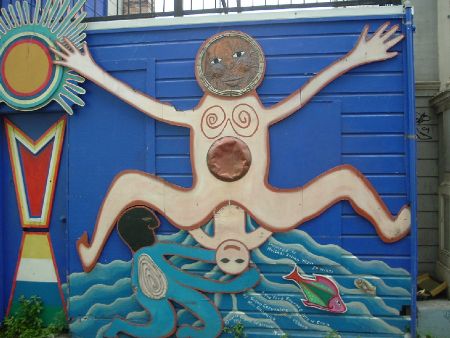 Oh happy womb!
Peter and I walked off our gluttony through the Mission District before I headed to the ballet. Alas, Peter's back was bothering him and he wasn't up to sitting through the ballet, so I gave his ticket to an usher who needed a seat. The program was the same as Friday night's with some cast changes – Katita Waldo instead of Muriel Maffre in Magrittomania, Kristin Long and Matthew Stewart for Rory Hohenstein in Rodeo. Alas, Damian Smith, a dancer I like very much, is replaced in his roles. Magrittomania holds up on a second viewing, though Waldo is not as extreme as Maffre. Spring Rounds looks negligible; as a friend said who saw it in Paris, paint-by-numbers Taylor. Long and Stewart do great work in Rodeo.
It was drizzling before the ballet but as we leave it is raining heavily. I take the short walk to the hotel to pick up my suitcase and then head to BART. The station is immediately next to the hotel – another good thing about the Ramada. I head across the bay to Berkeley to have dinner with my friend Paul.
Paul is one of the most beautiful thinkers I know. Every conversation is tinged with poetry. He's from the Deep South, which has something to do with it. Very good Thai Beef Salad and Chicken and Coconut soup at Racha Café wash down the conversation on Brokeback Mountain, Mark Morris, Frederick Ashton and aging parents. It's no use to try and explain what is so special about the way he thinks, just read his review of the programs I saw at SFB (but on different nights with different casts)
Paul drove me to Oakland Airport; when I got there I learned that the same headwinds that had made my outbound flight so long delayed this plane and projected departure was an hour late. I passed through security and headed for the gate. Searching around, I finally found a quiet place with an outlet, took out my charger to charge my phone – and realized I had no phone to charge. After ripping apart my bag, a kind soul let me borrow her phone and I left a message for Paul. He doesn't have a cell phone, so there was nothing more to be done.
The headwinds worked in our favor on the flight back; it was slightly more than four hours and I slept most of the way. Even with losing my cell phone it was a marvelous trip. I called my phone when I got home, and there was one mysterious message – no voices, just ambient noise. From that, I guessed that it had fallen out of my bag and opened, but did it happen on BART (I made a call to Paul to let him know I was arriving) or in Paul's car?
Right before I was about to order a new phone I got an email from Paul. My phone was under the passenger's seat. It beeped at him; it must have been lonely. I'll see it quite soon.
Posted by Leigh Witchel at February 28, 2006 11:11 PM
Trackback Pings
TrackBack URL for this entry:
http://www.leighwitchel.com/cgi-bin/mt-tb.cgi/406
Comments
Post a comment