« Friday Cat Blogging - Kitty Nirvana Edition | Main | A whole lotta eatin' and drinkin' goin' on. »
February 25, 2006
Mood Swings - A visit to San Francisco
Thursday 2:00 pm EST Mood: Frazzled. Preparation for a trip is usually last minute for me. Two things usually happen; I can be relied upon to not pack to the size of suitcase I had hoped to – (aimed for carry on, had to go one size up and check it) and forget one tricial item. This time, it was my belt, which I discovered as I absentmindedly hitched up my pants. I had to go to the post office anyway, I went to Daffy's bought one.
Thursday 5:00 pm EST Mood: Panicked. When I plugged my computer into a power supply at the terminal, no power came through and I figured the outlet was defective. My computer had been working this morning, after all. When I plugged it in a second time at a different part of the terminal with the same result, angst set it. I have an old computer and had two batteries, which would have had an hour of computing time at most between them. How to make that last over three days? I had my PDA and a folding keyboard with me that would suit for writing, but even that got recharged via the USB port by the computer. On the plane, I called my friend Peter for magic words. "Maybe I've already said them, Darling. So if the computer starts working in the hotel, I will take credit." "And I will be happy to give it to you, darling."
In Flight to OAK Mood: Irritated. This was my first time in JetBlue. It's a completely acceptable economy product, but nothing special. If the plane as packed, as this one was, all economy is cramped and irritating even with a 34 inch seat pitch. I do like the cookies. Flying into OAK instead of SF was not appreciably more difficult except that it involves about a 15 minute bus transfer ($2 exact change) from the airport to the BART station. It probably took an hour from de-planing to get to my hotel.
I alternately worked on an article for Ballet Review and a lace shawl I keep as a portable travel project. I saw the battery indicator on my PDA drop from full to ¾ and my mood blackened.
Thursday 11:30 pm PST Mood: Relieved. Check in to the Ramada Hotel on Market Street is fast and friendly and the hotel is an insane bargain ($45/night on Priceline). Amusingly enough, they gave me the exact same room, room 443 with a single queen bed that I had the last time.
In 2004, when they gave me this room the desk clerk announced that he had "a non-smoking queen for me." It was all I could do not to break into my Paul Lynde voice and say "Well, heh heh send him on up."
I plugged in the computer, pulled out the plug, finagled with the power supply, reconnected the pieces, plugged it in again. I've never been so happy to see a little green light. It's a bit sobering to realize how dependent I am on my computer and the Internet. The hotel has wireless service that isn't stunningly reliable, but it's free.
Friday 7:40 am Mood: Satisfied. The fitness center at the hotel isn't great – no elliptical trainer, but two treadmills, two bikes, a stair climber and creaky Universal weight system but it will do.
9:30 am Mood: Elated. I knew that Saigon Sandwich, was only a few blocks from my hotel, but no one told me that so was an entire Vietnamese neighborhood. I bought two heavenly Banh Mi, one roast pork and the other roast chicken and had a breakfast picnic under a flowering bush in a playground near the museum of Asian Art.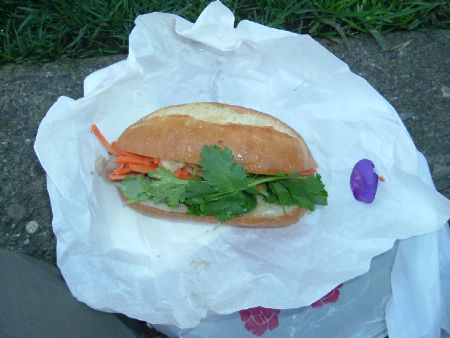 There is a show here of 18th Century painters from Kyoto, I am going to see it today.

11 am Mood: Confused. I'm supposed to meet my friend Rachel for lunch, but I only know her email and she hasn't returned my correspondence. Where is she and how can I get her phone number? I call one friend to get the number of another friend who might have her number and work on other writing in my hotel.

1:30 pm Mood: Resigned. No word from Rachel so I set off for Artfibers, one of the most well-known yarn stores in the city. The walk up Market Street is full of Beaux-Arts buildings and street freaks.
2:15 pm Mood: Covetous. I wasn't going to buy anything at Artfibers, but I want a souvenir of my stay here. I decide on two skeins of Shibori, a hand-dyed silk/kid mohair in forest colors.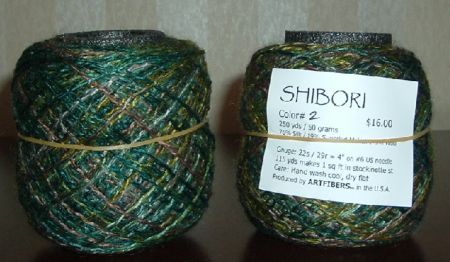 Though it's expensive, it has excellent yardage and 2 skeins should make a beautiful scarf to remind me of here. The staff is friendly and helpful and they keep sample balls and needles available for swatching as well as a comfortable place to knit. It ain't cheap here, but it's worth looking into.
2:45 pm Mood: Bemused. Poor Rachel called me full of contrition. She's not even in town, her husband and she went to Santa Barbara at the last moment. I'm sorry to miss her, but I'm having a great day anyway, so I do my best to absolve her.
5:45 pm Mood: Hungry. After picking up tonight's tickets I meet my friends Mark and Christopher and Christopher's ballet buddy Patricia for dinner at Absinthe. The restaurant is popular and expensive, but the food is commensurate with the price. After a cheese appetizer, we all chose the grilled sturgeon, rightfully recommended by our waitress. I split an excellent tarte tatin with Mark. Dinner with wine was $60 per person. More than I'd usually spend, but meals like that are great fun when shared with others.
8:00 pm Mood: Attentive. San Francisco Ballet Program 3. The most interesting dilemma is to figure out how to compress this into 500 words. I have 5 pages of notes already and two more performances to see. The Taylor piece is formulaic, Magrittomania is fascinating even if I don't love it and I have a soft spot in my heart for Rodeo. Muriel Maffre, who does the lead in Magrittomania with Tiit Helimets is the world's greatest Weird Ballerina. She does one wildly extended and arched tendu with a prehensile foot and you see she's a magnificent freak.
11:00 pm Mood: Flirtatious. We all head to Mecca, a lounge close to the Castro. Randy, whom I've known in correspondence for as long as I've known Mark but we've never gotten to meet in person, comes with his big hunky boyfriend Jim. Jim and I, well . . . hit it off pretty quickly. It went no farther than a flirtation and Randy didn't seem to mind one bit. It's confusing, but amusing. Where is Leticia Baldridge to advise on such things?
In any case, it was close to a perfect day. I headed back to the hotel at 1:00 am exhausted and satisfied.
Posted by Leigh Witchel at February 25, 2006 2:14 PM
Trackback Pings
TrackBack URL for this entry:
http://www.leighwitchel.com/cgi-bin/mt-tb.cgi/404
Comments
Where are your priorities??? There is no picture included of hunky Jim, however we do get pics of a Banh Mi and some yarn!
Posted by: Steve at February 27, 2006 1:42 AM
Post a comment