« Reminder | Main | Getting the best deal and most miles out of a rental car »
March 18, 2006
Wild Turkeys and Pork Uteri.
It's been that kind of day. Stopping off to grab dinner after seeing Paul Taylor tonight, the muzak in the store was a klezmer version of "Hazy Shade of Winter".
I went to see Mom in Mamaroneck. Seeing Mom means eating Chinese food, so I did some research and suggested that we try Aberdeen Seafood and Dim Sum in White Plains.
Aberdeen is in the Residence Inn at 3 Barker Avenue and not immediately obvious from the street. We went relatively late on Saturday afternoon so it was not painfully crowded, but reservations are suggested. For people who can't get into New York for dim sum, Aberdeen is probably the next best thing; respectable quality dim sum mostly comprising the standard hit parade.
Most of the dim sum were winners. The shrimp in rice crepe and shrimp shiu mai were as good as those I've had in Chinatown. I've not had fried shrimp rolls before, though it was a very simple and good dish – plain shrimp fried in a wonton wrapper. The baked pork bun with a paste-like filling was not particularly interesting but the fried one with a skin puckered with bubbles was delicious, as was the grilled bun. Turnip cake came to our table only lukewarm; it's a dish at its best freshly made. As in New York, it comes with Hoisin sauce. I asked for it with turnip cake in Toronto and they looked at me like I was nuts. Sticky rice was studded with what looked like dried shrimp and was also relatively disappointing.
Steamed dishes were brought round on carts, other dishes were carried by hand on trays round to each table. The salt fried shrimp looked delicious, but by then we were full. We did have the Chinese Greens in oyster sauce, which was a welcome accompaniment to all the starch; I'm glad places are adding it to the menu. Dishes range between $2.50 and $6; 11 dishes cost us $60 with tax and tip. Mom loved it, so mission accomplished.
There is a mall across the street from the restaurant with an enormous Asian grocery store, Kam Sen Foods. Inspired, Mom bought the same Chinese greens we had just eaten labeled Yu Choy. I needed soba, tamarind and rice vinegar. I didn't need Pocky, but then again, doesn't one always need Pocky? Besides the cognitive dissonance of trundling down the aisles with my tiny shopping cart while the loudspeakers blared Latino music, the best part was seeing these next to the really cheap beef bones: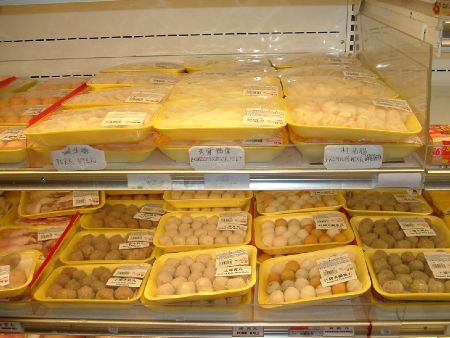 Pork uteri. Yep. And Boneless Duck Feet and Premium Pork UterusIntestines.
Mmmm. I didn't buy any, but you can put recipes in the comments.
The lady who was with Aicha el-Wafi (you know, the one I lied about meeting?) warned me that Goldman Yarns was going out of business and Mom asked if I wanted to stop by. That's about like asking a crack addict if he wants a little hit. We got there about an hour before the store closed its doors for good. Yarn was 70% off and needles 50% off. I regained consciousness about $70 later.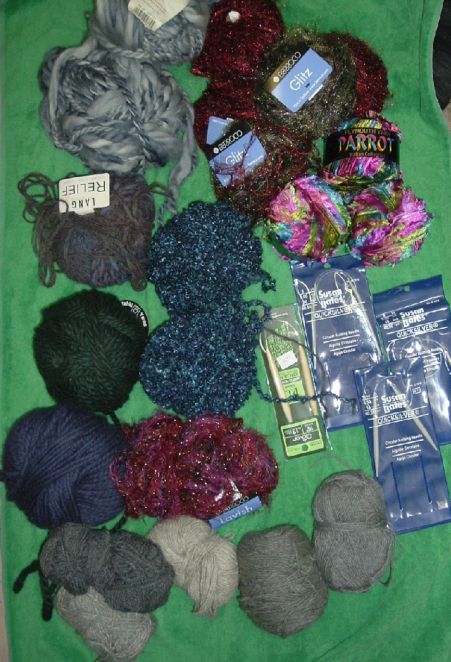 I know you're going to want to know: Two skeins Rowan Biggy Print, two skeins Takhi Baby, six skeins Berocco Glitz, three skeins Plymouth Parrot, one skein Lang Relief (I have another in that color that I bought at Patternworks about a decade ago), one skein Berocco Lavish and a few skeins unlabeled beige and gray stuff that will make hats for guys. It's all going to be made into hats and scarves.
We drove home via I-95 and exited at Playland Parkway near Rye. Heading off the exit, I noticed two large black birds at the side of the road. Bigger than pheasants . . .good grief. Wild turkeys. Something I have never seen before. I was driving so I'm afraid there's no photo.
Posted by Leigh Witchel at March 18, 2006 11:13 PM
Trackback Pings
TrackBack URL for this entry:
http://www.leighwitchel.com/cgi-bin/mt-tb.cgi/424
Comments
Technically, your turnip cake is radish cake -- main ingredient is daikon. And it's oyster sauce you request for it, also an oddity in San Francisco.
Occasionally, I've seen armadillo in those styropacks in Chinatown supermarkets. Goose intestines (eh) and fish bellies (mmm) are semi-regular dishes at my in-laws' dinners.
Posted by: eve at March 19, 2006 7:20 AM
Hi Leigh,
Re those "turkeys"..... are you sure they weren't vultures?

Joan in Eugene, OR
schrouderknits@clearwire.net
Posted by: Joan at March 29, 2006 12:44 AM
Post a comment