« Light posting for a while longer | Main | Easy Cold Cucumber Soup »
June 30, 2006
Friday Cat Blogging - Guest Kittysaurus Rex edition
This is Archie: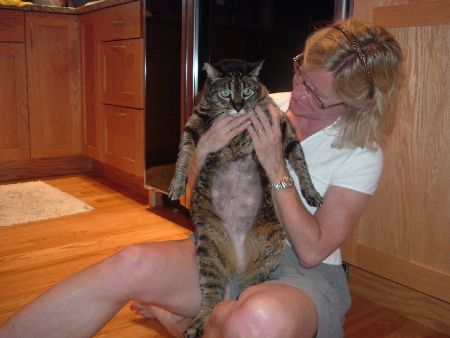 As you can see, Archie is a big boy - almost double the size of She Who Must Be Petted. Unlike her, his bald belly was not self-inflicted; the vet needed to shave poor Archie. Archie is being held by his companion, my Wicked Stepmother.
He is particularly fond of ham.
Posted by Leigh Witchel at June 30, 2006 11:03 PM
Trackback Pings
TrackBack URL for this entry:
http://www.leighwitchel.com/cgi-bin/mt-tb.cgi/499
Comments
I love it when there are guest kitties on the blog! Would Archie technically be Javi's uncle??? I do see a resemblence to a pic of Javi posted previously where you are holding her up like Archie is being held. They both seem to have the same look of total disgust on their faces!
Posted by: Steve at July 1, 2006 1:09 PM
Posted by: Your wicked stepmother at July 2, 2006 7:16 PM
Um, I gotta ask: WHY was Archie shaved?
Posted by: Grace at July 3, 2006 10:50 PM
In response to Grace, Archie was recently diagnosed with kidney disease and high blood pressure. His belly was shaved when an ultrasound was done to look at the kidneys. It's really a shame, since he has a particularly beautiful cheetah belly. He was shaved once before (when he had thyroid trouble), and I expect his fur to grow back without incident.
Posted by: Wicked Stepmother at July 6, 2006 1:56 PM
I would like to know how Archie is adjusting to his fame as an internet blog Kitty.
Posted by: Steve at July 6, 2006 11:37 PM
Archie is developing a swelled head about his new fame, which will probably make him more proportionate with the rest of his large body. He consulted a lawyer about his right to increased amounts of tasty food to compensate him for the use of his image. Discussions are ongoing.
Posted by: Wicked Stepmother at July 8, 2006 11:10 AM
Post a comment