« New Ballet Choreography at the Miller Theatre | Main | Culture, cheap. »
September 18, 2006
FO and Yarnapalooza
The Bamboo Sweater's final few ends were darned in Saturday before I taught a class on entrelac at the uncivilized hour of 9 am. Thankfully, the students were not uncivilized at all. I enjoyed the folks at the LI Knitting and Crochet Guild very much and hope they'll have me back in the future. I had one embarrassing brainfart; I teach workshops from a detailed handout and syllabus but haven't taught entrelac for a few years. I started to show entrelac in the round and realized I hadn't joined a round in a while. It took me a few tries to rejigger my brain to show exactly how the stitches needed to be picked up. That information got placed in careful detail in my syllabus, along with notes on what I want to add to the class to develop it.
The next day I braved the chaos of the Knit Out at Union Square. I met the perennially stylish Eve Ng (it's like "Millionaire Playboy Bruce Wayne" – I can't write Eve's name without putting "perennially stylish" in front of it) after a game of Cell Phone Marco Polo.
"I'm at the east end of the Fashion Show. Can you see me?"
"Marco!"
I ran into several of my students from yesterday who trekked in from Westbury to be part of the hoopla, and then went to the Soho Publishing Booth to say hello to Leslie Barber and the other staff. Stephanie Pearl and my editor Adina Klein were doing the fashion show with judicious skepticism. Neither of them are all that tall, so when a model swept by in a full length crocheted duster, both immediately asked, "How tall are you?" The model found time to answer – 5'9" – and Steph observed that if she wore it she'd be pleased to have a coat with a train so that she could sweep the floor at the same time. Another model walked past and Steph observed her with a gimlet eye. "I wouldn't let my 17 year old daughter leave the house in that, eh?"
Eve and I had lunch together, then met Stephanie after her book signing. She seemed a little fried; having been the performing seal at one or two knitting conventions I understood at least a little. She grabbed food and a beer and we headed into the park to illegally picnic on the grass, next to a boy in leather pants and grubby thrift store ties including one of – was it Donald Duck? As he stalked past working his rebellious punkitude, I learned over to Steph's friend Cassie and whispered, "Don't tell me, you're from Wisconsin, right?" Yep, I'm a cranky New Yorker.
Cassie said she needed to meet Joe at 4 pm at a statue behind the main stage of the Knit Out, and to memorialize the Bamboo Sweater, before it went away to the folks at Vogue Knitting for a year, Eve took a picture of me in it.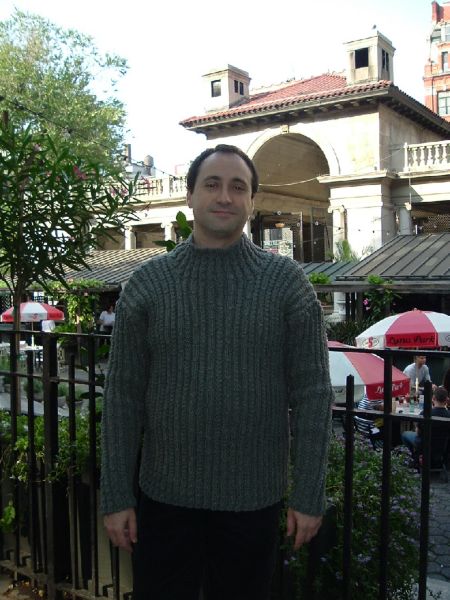 I loathe almost all pictures of me, but I look slightly less like the love child of Queen Victoria and Richard Milhous Nixon here, though no less constipated than usual. I'd also like to mention what a joy it is to wear that sweater in 80 degree weather. Ecch. I took it off immediately. If I made it again, I'd shorten the sleeves about half an inch and set the neck slightly higher - I began it about 4 ins. from the shoulders - I'd raise it 1/2 to 1 inch. (I'd also consider making it in Aurora 8 instead of Aurora Bulky to make it lighter and more affordable, but don't tell anyone.)
After handing off the sweater and I met the associate and tech editors and got to know the Soho Publishing folks a little better. Be nice to the tech editor, unless you want your pattern to have three backs and four sleeves. Michelle, the associate editor, and I discussed sock yarn, a topic knitters are about as fond of as the British are of discussing the weather. When in doubt or at a loss for polite conversation, discuss sock yarn. She's currently working in Trekking; I'm making my usual Twin Rib socks for my sister in law in old Brown Sheep Wildfoote I want to see out of my stash.
Eve went home and I bumped into Steph and Cassie again. I asked Cassie if she met her husband yet, assuming that was Joe – Steph's husband is also named Joe, which is what brought about that assumption. Whoops. Joe was Jo, Cassie's friend from Canada. After about 30 minutes of talking, Jo and I formally introduced each other and we immediately realized, laughing, that we had known each other from another knit list for several years. Cassie brought us on a short walk to Stuyvesant Square – a lovely little pleasure since I had never seen it before and we sat and knit for a few minutes before Jo had to leave for the airport.
Posted by Leigh Witchel at September 18, 2006 2:06 AM
Trackback Pings
TrackBack URL for this entry:
http://www.leighwitchel.com/cgi-bin/mt-tb.cgi/535
Comments
It was the Cat in the Hat that was on that punk kid's tie. Was he there for the college fair?
There were also a lot of latino gansta types with their girls. Interesting mix at Union Sq Pk.
Posted by: Eve at September 18, 2006 7:58 AM
Post a comment