« Eye of the beholder | Main | A Potpourri of Nether Garments »
September 3, 2006
Home Stretch (I)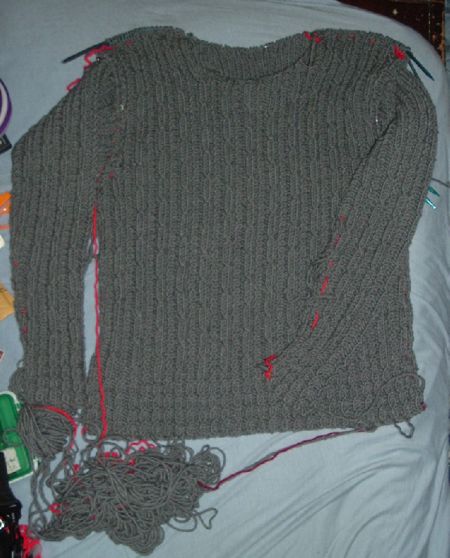 Frankenbamboosweater.
I've knit all the pieces of the sweater, and basted them together to check fit. Stitches are live, needles still in it; I've bound off nothing in case length needed to be added or subtracted. I'm knitting to the measurements of previous sweaters that fit me, so neither seems necessary.
Confession: If you knit the pattern of the sweater as it will be in Vogue Knitting, you will not knit this sweater. You will knit a better one, by and large. Things I didn't do in the knitted prototype (like centering the rib pattern so columns match at the shoulder) will be corrected in the pattern. Other things I will change for simplicity - I stepped the neckhole very slightly (one row) in the prototype. I'm going to make the neckhole square in the pattern.
Other observations. The yarn is heavy - it's taking every ball of yarn they gave me (29) to make a man's size L sweater. I'm hoping the twist stitch columns will help it hold its shape against the weight of the yarn. The yarn also feels delicious - soft like fur. Because of the ribbing, the sweater hugs the body with relatively little ease. It's going to look best on people who are slender.
Posted by Leigh Witchel at September 3, 2006 11:38 PM
Trackback Pings
TrackBack URL for this entry:
http://www.leighwitchel.com/cgi-bin/mt-tb.cgi/525
Comments
Ooh, a small will look _fabulous_ on me! I wonder if the yarn comes in pale yellow. I'll probably do it in the round up to the armholes--seaming sweaters is too much like useful work.
Posted by: TexAnne at September 4, 2006 10:04 AM
Ooo, I'm glad you like it! But don't do that, seriously. If it had been meant to be knit in the round I would have designed it that way. This sweater is much more sensibly knit flat in pieces.
I love Elizabeth Zimmermann's writing, but frankly the mystique she put on knitting in the round as some sort of perfect sweater construction method that magazines omit in some sort of conspiracy against innocent knitters to force them to purl and sew seams (horrors!) is just plain old wrong.
It's a heavy sweater and the seams stabilize it. You don't avoid any purling - the sweater is ribbed. Finally, if you make any fit errors in the body, without seams you're shit out of luck.
Posted by: Leigh Witchel at September 4, 2006 11:27 AM
Oh, I hated seams long before I read EZ! I don't object to purling, either--textured knitting is my favorite thing, and you don't get that w/o purls. No, what I object to is _sewing_. But since I want the sweater, I'll sigh and put up with it.
And I looked on the Flying Fingers website--NAYY except as a happy customer--and Aurora Bulky does come in a nice yellow, though it's a bit darker than I had in mind. There's also a peach and some delicious femme-y pinks. I must ponder.
Posted by: TexAnne at September 4, 2006 11:39 AM
Post a comment