« A Potpourri of Nether Garments | Main | Kschessinska's memoirs »
September 5, 2006
Home Stretch (II)
I'm fascinated by the home stretch of creation. Whether it's knitting, choreography or cooking, that's the point at which unknown variables make themselves known. There are things that just aren't apparent until the thing is put together, no matter how much you chart the pieces or do the dance in the studio or read the recipe. How will the garment drape on a body - will the audience laugh at that spot - is this dessert going to be too heavy for the entree? You can anticipate all you want; you often don't know until the sweater is put together or the audience is there or the meal is served.
I'm at that point now with the Bamboo Sweater.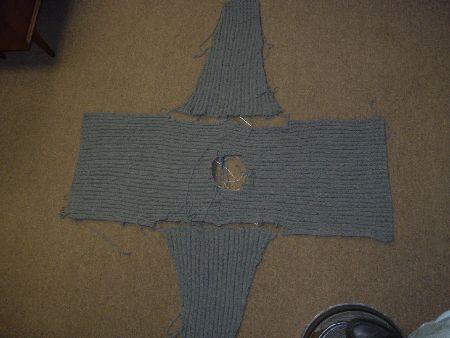 Basting threads are removed, pieces laid flat and the shoulders bound off together using a three needle bind off. The pattern, for standardization, will say to bind off the piece and sew the shoulder seams. If you're making the sweater, do the one you think is firmest - you might consider a backstitch here.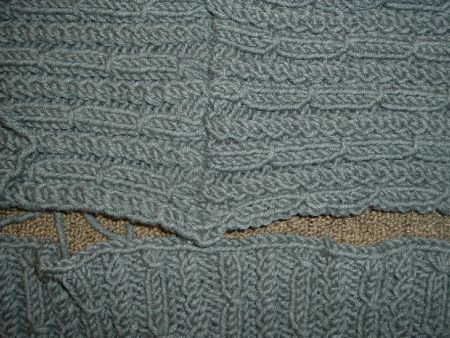 Close up of the shoulder seam. The corded ribbing and bamboo columns don't match at the shoulders. It's barely noticeable when wearing, but I've corrected the pattern to center and match the columns.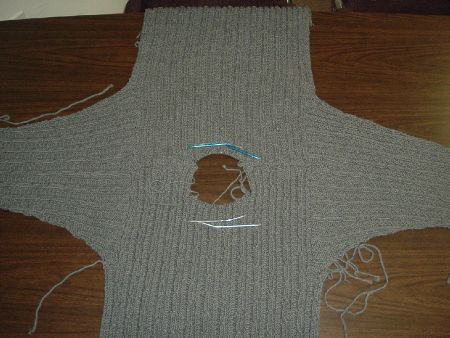 Sleeves set in.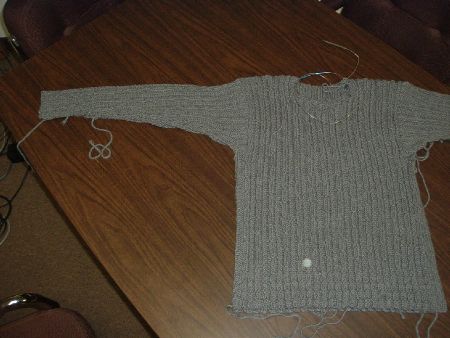 Sides seams sewn, on to the sleeves. It takes shape. The factors coming to the fore are the sweater's weight (more than three pounds), thickness, and relatively close fit.
The neckline - a stand up collar in the baby cable pattern at the borders is next, then working in all the ends. Et fini.
As an antidote to a month of solid gray knitting, I cast on this to knit while walking.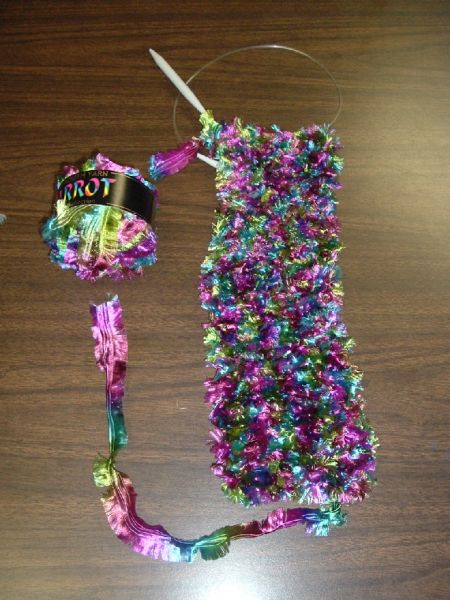 It's a scarf in Plymouth Yarn's "Parrot". The colors are even more deliciously garish than in the picture, think saris on crack. It's mindless, blindingly fast knitting in plain garter stitch on US 15 needles and soothes my Inner Carmen Miranda.
Posted by Leigh Witchel at September 5, 2006 11:12 PM
Trackback Pings
TrackBack URL for this entry:
http://www.leighwitchel.com/cgi-bin/mt-tb.cgi/527
Comments
Three *pounds*? Oog. Must start saving up now.
Posted by: TexAnne at September 6, 2006 2:18 PM
Seriously. The size you see here (which is about a 40-42) takes 29 balls.
If you choose to substitute, it should be something that knits on a US 10.5 and a multi-ply cabled yarn - besides Aurora, Filatura di Crosa Zara is similar (but in a smaller gauge) or Baruffa Maratona (if they still make it) would probably work
What I would try is knitting one of the largest sizes, but in Aurora or Zara (the plain worsted weight) instead of the bulky weight. The scaling down of the yarn gauge would be flattering to a woman; it would add less bulk and it would save significant bucks. The downside is it would take longer to knit and a lot of pattern reworking.
Posted by: Leigh Witchel at September 6, 2006 2:27 PM
"Takes longer to knit" is a feature, not a bug--more minutes per dollar. ;-) I don't care how complicated it ends up being, I want that sweater. I might be asking advice on how to rework the pattern, maybe, if you don't mind...
Posted by: TexAnne at September 6, 2006 5:11 PM
Aiya! Caramba! Everybody needs a parrot on their shoulder.
The sweater is fabulous. And since I've had the good fortune to finger its plush, lush, deep pile, rib cable grandness I can say 3 lbs seems about right. That will be the warmest sweater in captivity.
Posted by: spinneret at September 7, 2006 8:20 PM
Post a comment