« Latest Dance Article | Main | Portland: Coming and Leaving I »
October 19, 2006
Current Knitting: Oooh, baby, baby
Everyone is breeding.
Connie's second child, who when I last spoke to her still had his placeholder name of "Kangaroo," made his debut last Thursday. I didn't know this, but spent most of the flight the next day to San Francisco (en route to Portland) knitting his sweater.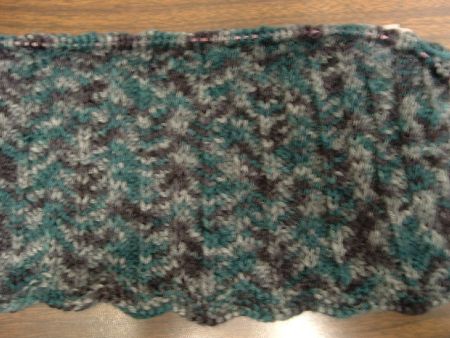 (Apologies, it's not your eyes, it's my lousy camera skills.) The yarn is Emu Superwash, bought in the basement sale room at Romni Wools in Toronto last year on a foray with Stephanie, Danny and Cassandra. Like most machine washable wools and cottons, it was bought with future babies in mind. When I use an ombre yarn, chevron knitting patterns are among the first I try; they tend to make the variegation more interesting.
I'm at the armhole division and was swatching for the yoke. I planned on using trinity (or blackberry, or bramble, or whatever of a zillion names you call it) stitch; in other sweaters it's also worked well with variegated yarns with short repeats, breaking the colors into little multicolored popcorns.
I've done the merest scrap of a swatch here, but I'm already concerned.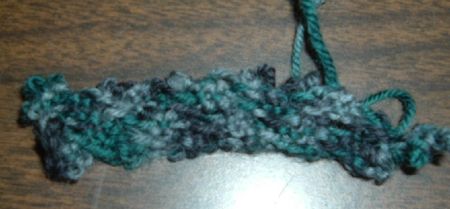 That's looking not very bobbly and suspiciously muddy. I may try again because I changed the way I increased for the bobbles. Usually I knit, purl and knit into the same stitch; this time I knit three times into the stitch. It makes a smaller hole, but it also throws the bobble off center, and that may be why it looks wrong. If not, I've pulled out my Walker treasuries to find other patterns to swatch on the plane.
Connie wanted something simpler than the Aran below.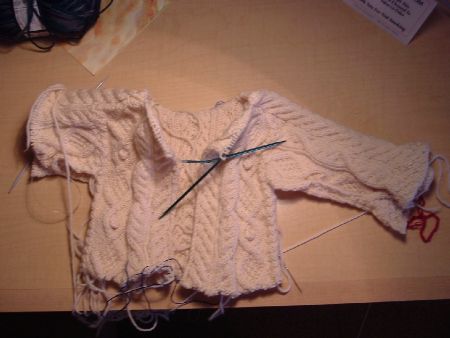 This will now go to Amy's boy to be, Owen Robert. That is how it looked after the flight to Portland. I redid the end of one of the sleeves that wasn't in proportion and flared too much, and finished the other sleeve and it looked like this yesterday: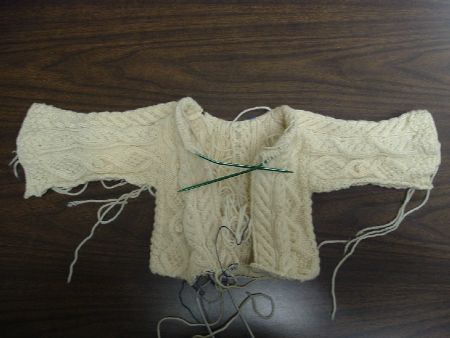 I'm now working on the bottom border. Connie's reasoning was kind; the elaborate sweater is more meant for a first baby. Indeed it was; it was originally knit for her first child Alex, and set aside about 3/4 done because I thought it would be too small for him (I was wrong, by the way.)
The back: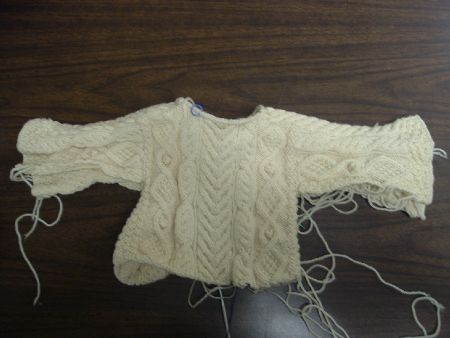 And in closer detail: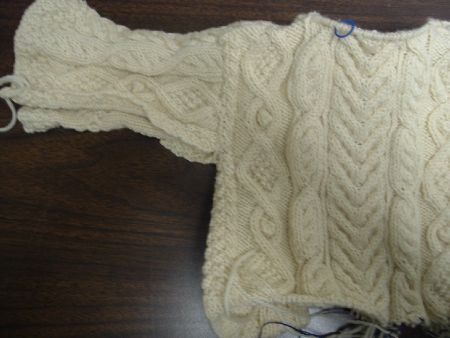 In the office, today was Jennifer's last day; she should be giving birth to Jay Dee in about two weeks time.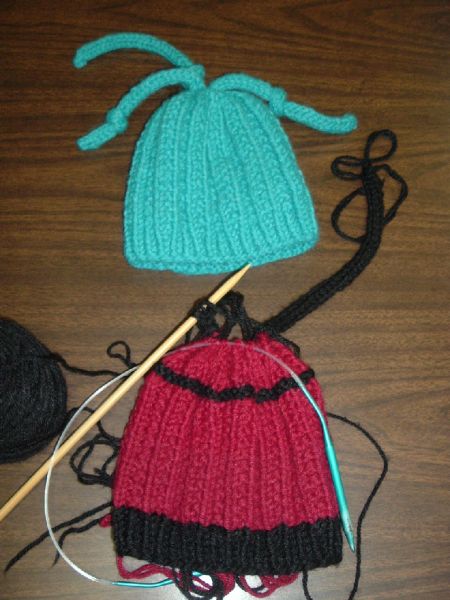 The blue hat was my gift; it's yet another toilet paper cozy cap, but topped off with I-Cord. Instead of decreasing down to 6 stitches, I decreased to 12 and worked 3 I-Cords of 4 stitches each, knotting them in different spots.
I made the same hat in the Turkish Fez colors I used in the Knit.1 article for a gift for Alex. I figured with all the attention Kangaroo will be getting, he may need some acknowledgment as well.
In non-baby knitting, the scarf for Rajika was quickly finished and presented to her when we both went to Shen Wei. I thought the brilliant colors were right for her; happily she was delighted.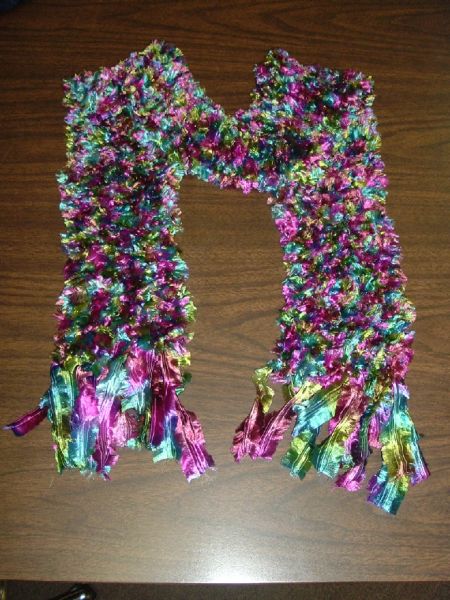 Currently on the needles, socks for my sister-in-law.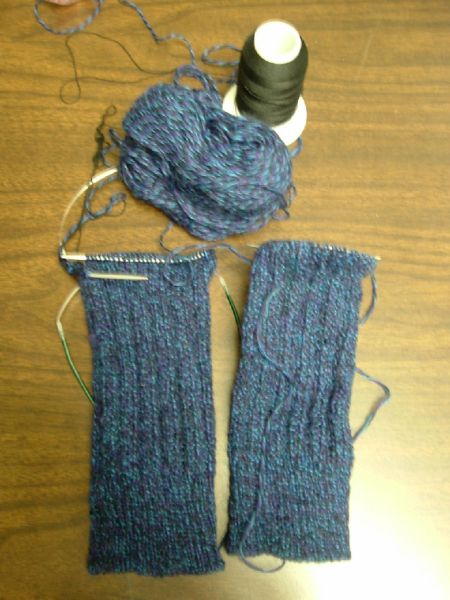 The usual pattern, knit on US1 needles in Brown Sheep Wildfoote; the older formulation that everyone complained about, so I figured I had best knit it to get it out of my stash. I can't say it is the most wonderful sock yarn I have ever used, but it isn't the worst. To prevent second sock syndrome, I do each sock part alternatively; first one cuff then the next, then one calf to the heel turning, then the other and so on. It also seems like the socks are more consistent than if I knit the first entirely and then the second.
Posted by Leigh Witchel at October 19, 2006 11:26 PM
Trackback Pings
TrackBack URL for this entry:
http://www.leighwitchel.com/cgi-bin/mt-tb.cgi/554
Comments
Post a comment