« Latest Dance Article | Main | Recent Priceline Bidding - no bed of roses »
October 5, 2006
Life Imitates Article
While in Seattle, I was working on both an article on caring for knitted items (including washing, storage and avoiding insects) and also this baby sweater: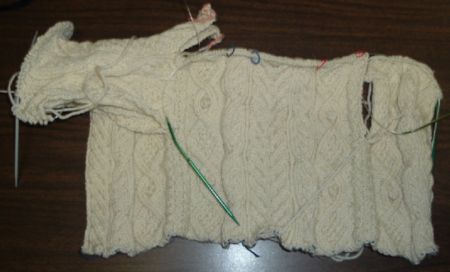 I had started it three years ago and abandoned it when I thought it would be too small for the baby in question. I was wrong, but didn't find that out until after I has made a second sweater.
The sweater is a rather elaborate cabled affair that feels part Irish, part Tyrolean to me. For the record, the patterns are Moss Diamond and Bobble, Sausage Cable and Staghorn Cable, all from the Walker Treasuries. These pictures are from before I left for Seattle.
On the plane I finished out one of the unfinished sleeves and picked up stitches for the second. Looking at this picture now, there was something there I didn't notice at the time. It's at the bottom right.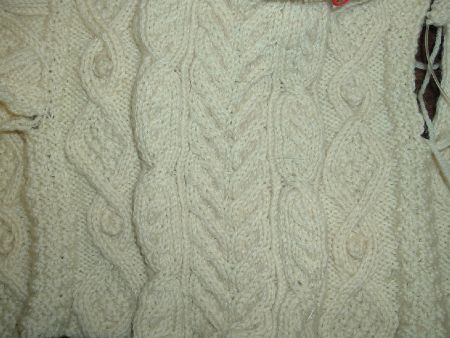 See it?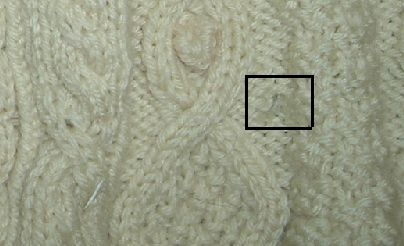 Yup, three years of indifferent storage took its toll. The evil carpet beetles found a spot to munch.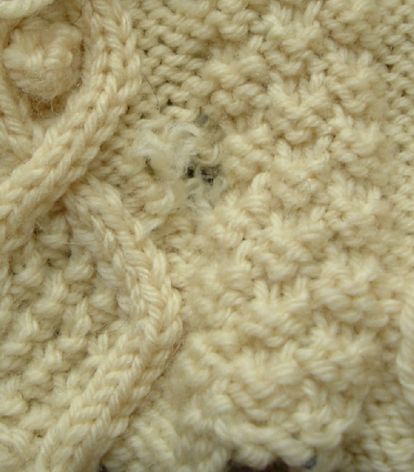 There's what the hole looked like after I had been knitting and handling it a bit and the weak spots gave way.
What to do? Microsurgery. This took double pointed needles and a yarn needle as well. Pick the hole apart until all the frayed and broken area is gone. Leave the threads, don't clip them back. Catch the loops on dpns.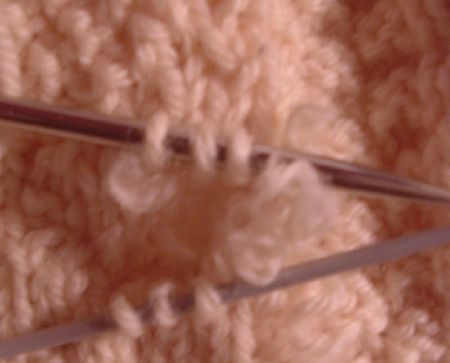 Thread matching yarn through the yarn needle. Duplicate stitch one stitch at the bottom corner, then knit the stiches on the dpn in pattern. At the other side, duplicate stitch to attach the yarn and bring the yarn up one row. Then work in pattern back on the dpns. Continue until all the rows are repaired -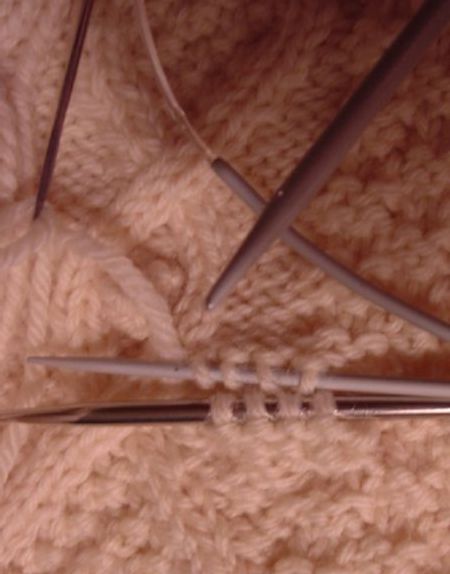 And you can graft the final row together as if you were grafting the toe of a sock. The fix is below the needle. It needs some neatening, and also looks much better at actual size.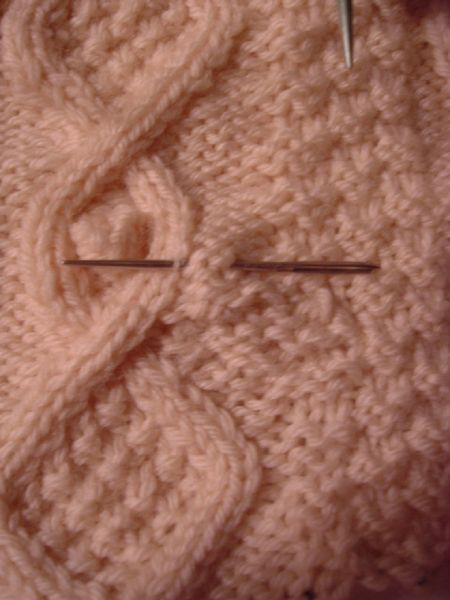 This is the back. They frayed sections stay unclipped so they don't work loose.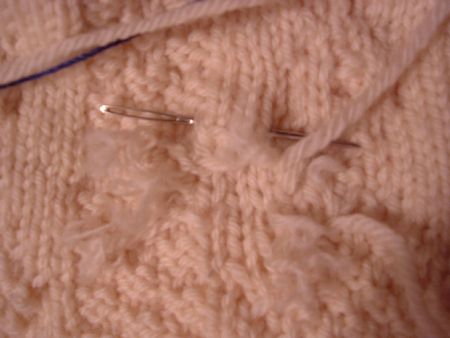 Posted by Leigh Witchel at October 5, 2006 11:03 PM
Trackback Pings
TrackBack URL for this entry:
http://www.leighwitchel.com/cgi-bin/mt-tb.cgi/547
Comments
Post a comment