« Out of Britain | Main | Leigh's Dance Card - the season revs up »
October 2, 2006
Seattle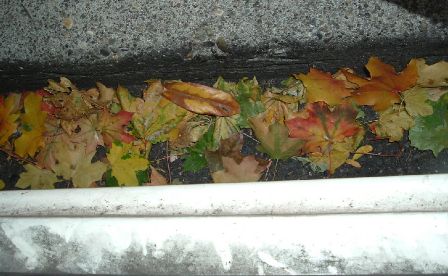 I sometimes wonder about my willingness to travel great distances for only a short period; it took as long to get here as to get to London. It was worth it; Seattle is quite pretty and it was a very productive weekend.
United Airlines flight 689 to Seattle involved a plane change at O'Hare but both planes operated with the same flight number. I packed lightly and dutifully put my toiletries in a Ziploc bag as part of our country's ongoing War on Moisture. Security lines were slightly longer than I recalled but this was a peak time. At 3 pm on Friday it took about 20 minutes from arrival to the gate. I had requested to upgrade my fare with miles, but United had sent the wrong plane; an Airbus 320 that was part of their TED fleet instead of a Boeing 757. TED planes are all coach seating; I got no upgrade but what the hell, the fare was $141 roundtrip. I bet there were at least a few mildly ticked off elite passengers. A fellow in my row was bumped out of Economy Plus into a middle seat of . . .what's the regular area called? Steerage? Economy Minus? Because of the late arrival of the incoming plane and runway delays at LaGuardia we were nearly an hour late into O'Hare; we arrived in B concourse and my connection to Seattle left from C17 in 33 minutes. I'm glad I packed light. I sprinted to C17 and said to the gate agent, "Hi, I just arrived from the New York leg of flight 689. Do I have time to pee?" Luckily, I did.
The ORD-SEA leg was on the proper aircraft (do they levy a fine for flying an Airbus into Sea-Tac airport, original home town of Boeing?). An hour into the flight I realized that the woman behind me was also knitting a sock, so that led to a very pleasant conversation that passed the hours until landing. We made up time on this leg so I only arrived in Seattle 30 minutes late and took the Kings County public bus into downtown. It's the most inexpensive way to get downtown ($1.25) but there was quite a cast of characters on the bus; several inebriated vagrants, one of whom shouted "WOLVERINES!" when we hit Michigan Avenue, a pack of black girls jeering the vagrants and in the front several hapless tourists including me, all clutching our suitcases bemusedly. It wasn't at all threatening. Just odd.
I arrived at the Renaissance Hotel at about 11:30 pm PDT. I left the office at around 1:45 pm EDT so it was more than half a day's journey and my body thought it was 2:30 am. Though I arrived late, luck was on my side. The nice desk clerk gave me a corner room (perhaps a junior suite? It's a living room and a small bedroom) on the 21st floor with views.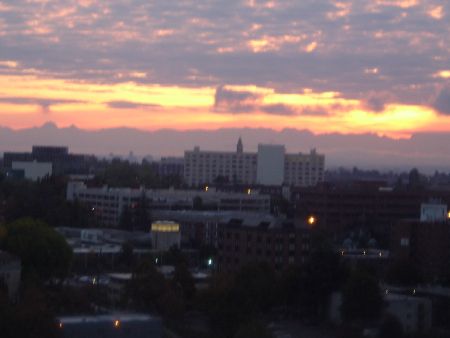 Sunrise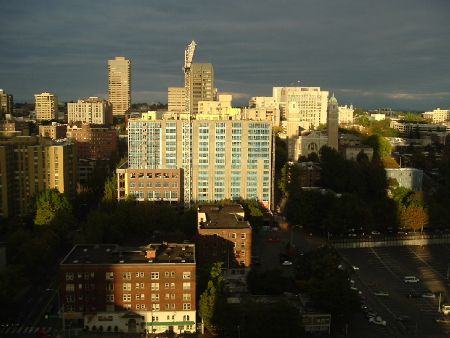 Sunset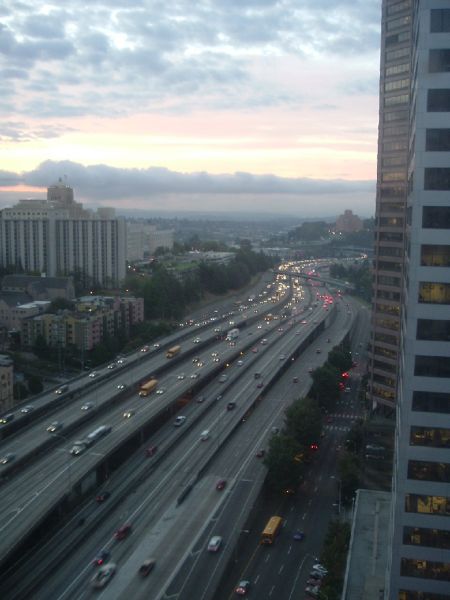 So they're of the highway, what the heck. The large buff colored building down the highway at the right is the headquarters for Amazon.
The Renaissance a nice hotel, though about due for a renovation; the decor feels slightly stale. At the price I paid ($65/night), no complaints at all. Free wireless in the lobby; a fitness center on the 28th floor. The fitness center is not great, not merely because the treadmill attacked me without provocation. There's one Universal weight machine and no bench so weight training is limited to impossible. If all you want to do is use a stair climber or treadmill, it should be fine. There is a pool and whirlpool as well.
My friend Sandi and I met the next day and we caught up and then played tourist. Lunch was at Maximilien in the public market; the food was good, the view of the sound lovely (Sandi obligingly pointed out the mad parasailors madly parasailing in the cold water). The service was fine until when Sandi requested the check and the waiter pointedly put it in front of me because I was the man. Dude, I know you're French, but it's Seattle.
We played tourist and walked through the Public Market. I got fresh doughnuts from one stand; Sandi went to her favorite bakery and got croissants; in between we went to a cheese maker. As Sandi noted, they eat well out here. I've been to Seattle for only three short visits, but it did seem to be a city that prides itself on lifestyle. After lunch, we did a drive along the water – several different waterfronts. Seattle's surrounded by them. In the evening, we went to PNB together.
I haven't seen Peter Boal since well before he left for Seattle; we spotted each other immediately as he came from backstage into the auditorium. It was a warm meeting, but we each were trying to be respectful of the fact that there was a professional conflict; I was reviewing his company. What the hell, at this point I'm used to it. I've written my review and honestly believe it's not different than what I would have written had I not known him. It was not, however, the review I thought I would write. I took a different angle. I assumed I would spend most of the review on Carla Körbes – for a New York audience she's the most newsworthy thing – but she only danced in In the Middle, Somewhat Elevated and did fine, but she's not a natural choice for the role; she's a little too soft. So the review became more general. The company looks fine; rather than coming in and overhauling, Peter has mostly continued the work Kent Stowell and Francia Russell started.
I saw the matinee the following day. Walking there I took Sandi's doughnut suggestion and stopped off at Top Pot Doughnuts, considered Mecca for the doughnutophile. I had a maple dipped old fashioned and a Double Trouble (a chocolate glazed chocolate doughnut). They were cakey and moist, but I'm about as discerning with doughnuts as I am with wine. I liked the ones I had in the Public Market more because they were still warm.
In the Middle got an electric performance from the first cast. Patricia Barker is retiring at the end of the season (Peter announced her farewell performance, which will be put together by him and Barker – as June 10, 2007); her performance in In the Middle was a fine way to say farewell to the role. Carrie Imler sailed through Theme. No surprise, she's another CPYB girl; I know of three in the company (Imler, Noelani Pantastico and Kara Zimmerman).
For dinner, I wandered to the waterfront because I had a fish craving. I tried Elliott's Oyster House and spent good money on good fish; a Dungeness Crab cocktail to start and a more elaborate grilled Coho salmon dish. The quality of the both the crab and salmon was quite good, but I still have nostalgia for when there were simple fish dives you could get a plate of broiled fish (and the plate had a blue or red rim), a baked potato in silver foil and two side dishes. I bet Seattle has them; I just don't know where they are.
I got a tremendous amount of writing finished on this trip; an article on knit care for Knit.1; two pieces revamped from this blog for the newsletter of the Dance Critic's Association and the PNB review. I even got plenty of knitting done (progress on a pair of socks and a baby sweater – I'll blog on both soon.) Put me in a clean hotel room with a handsome view and the possibilities are endless.
Posted by Leigh Witchel at October 2, 2006 12:53 PM
Trackback Pings
TrackBack URL for this entry:
http://www.leighwitchel.com/cgi-bin/mt-tb.cgi/544
Comments
Post a comment