June 12, 2008
Itemization
Patient #13194
"Javi", Feline, DSH
Spayed Female
4.49 lbs, 2.040 kgs, 14 years old.
06-06-08 Ult, Abdomen
06-06-08 Consult, Emergency Exam
06-06-08 Siemens Blood Gas Full Panel
06-06-08 Blood Typing, initial
06-06-08 Radiograph, 2 Views
06-06-08 Radiograph, Additional Views
06-06-08 Hospitalization - ICU2
06-06-08 Nursing Care - ICU2
06-06-08 Catheter, IV
06-06-08 Fluid Therapy, IV
06-06-08 Inj, Famotidine
06-06-08 Consultation
06-06-08 Euthanasia
06-06-08 Cremation Communal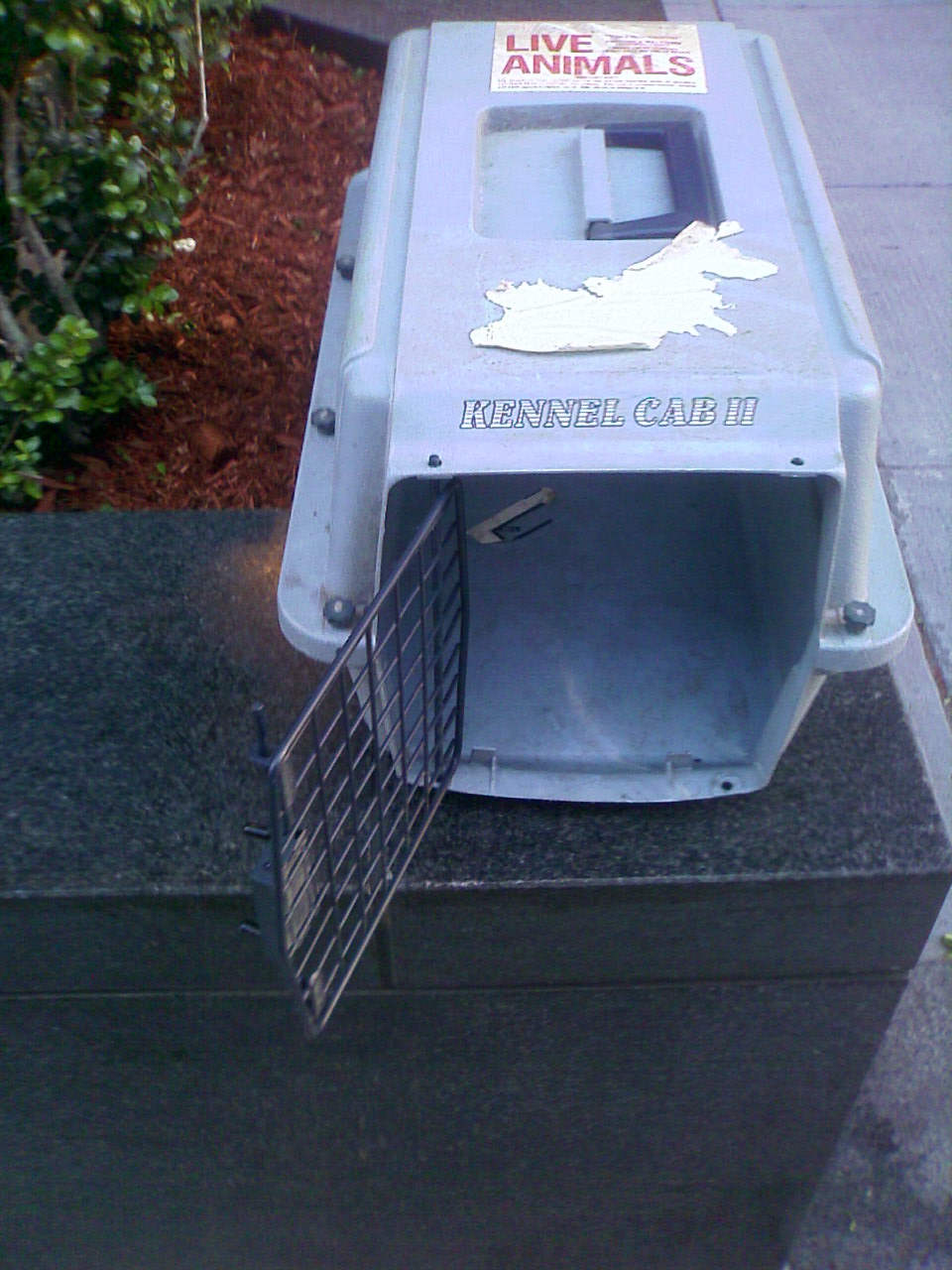 Posted by Leigh Witchel at 11:40 PM | TrackBack
June 6, 2008
Waiting
Several years ago, when I was visiting my friend John in Toronto, I was knitting a pair of socks for my brother. It was in my usual pattern (for the knitters out there, Twin Rib, short row heel, made out of Fortissima sock yarn) and I had finished the first sock and was about three quarters done with the second.
I lost the second sock somewhere.
I don't know where. It could have been at brunch with John, it could have been where we parked. It could have been walking around.
I spent portions of the next two days going back to places, calling and making inquiries to see if it had turned up. When you lose something, places need to be revisited; possibilities need to be crossed off the list. Until that point, the sock still might have been found – I couldn't allow myself to admit it was gone, I had to keep looking. As much frustration there was in losing the sock, dealing with that point before the loss is final was somehow worse. Sometimes, things turn up, like my driver's license a few days ago when an airline mailed it back to me. Usually they don't. In the interim, you're suspended, unable to deal with the loss, because it might not be lost. You just have to wait.
Javi went to the hospital today. She lost a serious amount of weight while I was traveling. I was haunted by thinking that she may have starved herself (cats do) because she was upset. Because she hated going out of the building so much, I tried to get her to eat first without involving a vet. I tried bribing her with different food. For a few days she'd eat temperamentally, eating one food one day and refusing it the next, or eating the same food on a plate but not in a bowl, or on the bed but not at her usual spot. Last weekend, she started hiding and refusing food.
I took her to a local vet. He tried to not be alarmist, but couldn't help saying, "You have a very sick kitty." Things yo-yoed. She looked awful that day and much better in the night. We went over and spent time with our neighbors Janet and Mozart and she was social, even though she was weak. The next morning I went to the vet and got food for feeding via syringe. She accepted it, not happily, but she did. I thought if I could feed her, maybe I could help her get better. I could do something. The vet suggested I take her to a nearby hospital for a sonogram.
When I saw her that night my optimism was gone. She came out to greet me listlessly and I really looked at her. She couldn't jump up and down and even climbing was hard. She needed to find flat surfaces to lie down on, and she had no energy. I had never seen her look like this. When I held her, she didn't resist, and all I felt was bones and fur. She had lost more than half her body weight.
When something is lost, you can't admit it is lost until you exhaust the possibilities.
My eyes kept closing and then snapping open. At 4:30 am I took a klonopin and passed out about a half hour later, getting up a little before nine. I didn't bother showering and took Javi to the hospital.
The female doctor there was very caring, but more aggressive than Dr. Fisch. She didn't want to do just a sonogram, but also chest x-rays and blood work, and then if treatment was possible, to keep Javi for the weekend for testing and transfusions. I didn't know what to say; I said yes and handed them my credit card.
When I got home, I called Dr. Fisch. "She's really very sick." He said. "I guess the x-rays make sense, I thought of doing them myself, as does the blood work to see if there's any movement. But I would have done the sonogram first to see if anything further was even necessary."
The hospital doctor called me about an hour later. "There are possibilities, but I promised, and I want to check in with you before we do anything." She explained that there was a mass in Javi's intestine, and bleeding. She was anemic but the cause of the anemia would require further testing.
A hundred possibilities opened. Were any of them not dead ends? When my last cat Winnie died, I took her to the Animal Medical Center. They made her life – and death – hell over a week with exploratory surgery and learned nothing. I asked if I could call Dr. Fisch. "Of course. He speaks to me three times a day. Just tell him to call Jenny."
Dr. Fisch is easy to read and he's not one to dissemble. "Well, she has some sort of cancer. They could do something but it would take further tests and at minimum surgery and chemo. Maybe she could live a year. Maybe she'd never get out of the hospital."
I asked if it was time to put her to sleep. I hate that term.
"I wouldn't talk you out of it, no."
I called Jenny and told her what Dr Fisch said. "Honestly, I wouldn't talk you out of it either. I want to give you every option."
When something is lost you need to exhaust every possibility before you can admit that it is lost.
I couldn't. I hope I did it for Javi. But I have to live with the fact that I also did it for me. I couldn't stay hostage to hope.