May 7, 2007
Money for nothing (cleaned up and updated)
Like a jerk I made the Free Stuff web page by auto-converting an Excel spreadsheet.
I've redone it as a series of pages that hopefully will be a good deal simpler to read. There are also some survey providers I inadvertently omitted.
Have a gander.
Posted by Leigh Witchel at 4:26 PM | Comments (0) | TrackBack
May 5, 2007
Money for Nothing and Your Clicks for Free.
I've been meaning for ages to do a post on shopping portals and other sources of free and nearly free cash and points, since I am officially an eggspert on them. Now that I'm avoiding writing a review, it seems like the perfect time. If you like the information here, could you join the programs through my links, or send me an email to refer you? It won't cost you a thing and I get some points or cash for my effort. Thanks!
(I'd put it on the blog, but it's too complicated to fix the formatting - sorry.)
Posted by Leigh Witchel at 8:01 PM | Comments (0) | TrackBack
January 14, 2007
$17 off a jetBlue flight one way, $34 off r/t
From an Ad in Seventeen Magazine

Receive $17 off the purchase of one-way jetBlue air travel

800-jetblue or jetBlue website

Enter promo code SEVENTEEN between 1/13/07 & 2/14/07 and receive $17 off
all published one-way fares between above dates. Travel must be complete by 2/14/07.

Only available for new travel directly through jetBlue.

Ad States "limited availability".

I checked and it does take the $$ off both ways on a round trip. I am not sure if this is helpful for anyone, but if you need a quick trip from one of the locations jetBlue travels... hopefully this can save someone a few dollars.
This is an OK deal for a transcon, but a great deal for a less expensive short hop. JFK-Pittsburgh roundtrip is $45 with taxes, Chicago is $65.
Who can afford to stay home?
Posted by Leigh Witchel at 11:37 PM | Comments (0) | TrackBack
January 3, 2007
Fare Glitch on CO - JFK/LGA to SFO for $158 + tax
This smells like a mistake; someone may have loaded a round trip fare for the one way cost.
LGA or JFK (not EWR) to SFO via IAH (translation for those who do not speak Airport Code - JFK or LaGuardia in NYC to San Francisco airport via Houston) is available for $158 roundtrip plus tax - a major sale. I grabbed it on Travelocity for $195 total, but it's now shown up on continental.com. I grabbed it for the first weekend in February to see San Francisco Ballet programs 1 and 2.
Dates available through March 9; my guess is it will be pulled very soon.
Posted by Leigh Witchel at 4:35 PM | Comments (0) | TrackBack
December 26, 2006
Good Deal - Discover gives 5% back on travel from 1/1/07 to 3/31/07
Discover Card was one of the first cashback cards I had, but was eclipsed by cards with better offers, and as I learned more about how to work them, by assorted mileage offering cards. Discover began a competitive deal; the "Get More" program. For 3 months, a limited range of items earns 5% cashback. So far, that's been online retail purchases, medical expenses, automotive expenses. It's presently restaurant expenses and from January 1 to March 31, it will be travel.
There are of course terms and conditions to the offer, and Discover will clarify when asked. Here's what Discover wrote me:
From January 1, 2007, through March 31, 2007, Discover Cardmembers who participate in a Cashback Bonus Program can get a 5% Cashback Bonus Reward on qualifying purchases. The transactions must post as hotel, travel/entertainment (Priceline and Hotwire are not classified as such).

To take advantage of this free benefit, simply sign up on our home page, discovercard.com, or respond to this message. Once you sign up, you will begin receiving the 5% Cashback Bonus Reward on travel purchases including airlines, hotels, cruises, car rentals as well as on Amtrak and Greyhound tickets. You may schedule your trips for any time, as long as your purchases post to your Discover Card Account by March 31, 2007.

There is a cap of $1,000 in purchases (for a total Cashback Bonus Reward of $50), but after you reach this cap, additional purchases will earn the regular Cashback Bonus Reward of up to 1%. Remember, you have to sign up to receive this special Reward!

Following are the terms and conditions of this offer:

1. Sign up for this offer and receive a full 5% Cashback Bonus Reward when you use your Discover Card for the qualified purchases listed above.
2. The 5% Reward applies to purchases made from January 1, 2007, or the date you sign up (whichever is later), to March 31, 2007.
3. We are not responsible for merchant delays in processing transactions. While your 5% Cashback Bonus Reward will normally be processed a few days after your purchase, we ask that you allow up to five weeks for your Reward to post.
And the way you know I'm a total deals whore is that I keep putting my reservations to Chicago on a 24 hour hold on AA - I've done this three days running in the hopes of making it all the way to January 1, so I can pay for the tickets with Discover! I keep putting them on hold in case the fare disappears before then, then I can buy the tickets I've held. [Update: which I just had to do for my February flight, so I got Starpoints instead.]
Posted by Leigh Witchel at 10:44 PM | Comments (0) | TrackBack
December 22, 2006
NYC- Chicago fare sale
There are really good deals right now from all NYC airports to O'Hare. I believe jetBlue started with a promotion fare of $49 each way that the major carriers matched, then Airtran upped the ante to $39 and several carriers matched, including Continental and American, which has convenient non-stops and is discounting every day including weekends. I priced leaving 4/6-9 (out late Friday, back early Monday) $98.60 total. At that price, why stay home?
If you're a true miles whore, register for this AA promotion, take three round trips before February 28 and get 25,000 bonus miles. Note to balletomanes: The Joffrey is doing Destiny's Dances a triple bill of Les Presages, Apollo and The Green Table from Feb 14-25. It would be eminently worth traveling to see, but they are also doing almost the same program (Deuce Coupe instead of Les Presages) nearby at the Tilles Center on March 9 and 10 and SUNY Purchase on March 11. Alas, it's Les Presages that I want to see, so I just may be going to Chicago in February. American's flights at that time are about $148 total, but Continental has the $78 sale fare on 2/16-19.
Posted by Leigh Witchel at 10:59 PM | Comments (0) | TrackBack
September 19, 2006
Culture, cheap.
Thanks to Flygirl555 at Flyertalkfor this one.
The Smithsonian Institute is sponsoring a free museum day on September 30 and museums across the country are participating. You can look on an interactive map to see what museums in your area are participating, then print out a card to admit two people for free. So take someone you like to a museum. Culture is good.
If I were in Pasadena, California, you can bet I would be hopping right over to The Bunny Museum.
If September 30 isn't a good day to go and you're in NYC, many museums have a period set aside for free admission. For MoMA and the Morgan Library, it's Friday night. Sunday morning at The Frick Collection is pay what you wish.

I blogged about the Fall for Dance Festival at City Center last year. It's back and tickets are going fast – October 3 is already sold out. I can't go to most of it due to schedule conflicts, but there is something for everyone each night. I'd love to finally see Trisha Brown's Set and Reset, being done the first two nights. So get your tickets before they're gone.
Posted by Leigh Witchel at 5:23 PM | Comments (0) | TrackBack
August 28, 2006
Cheap fares JFK-Gatwick and vice versa
Delta is inaugurating their JFK Gatwick nonstop service with really cheap fares - $305 r/t with all taxes from JFK-LGW and £160 all-inclusive from LGW-JFK. If you prefer to go business class it is a bargain at about $1000 r/t (before taxes)
I'm betting this sale will only last a few more days.
Allowable travel dates are Nov 16-Dec 14 and January 8-March 21
The Royal Ballet's season:
BRB is in London before these dates.
ENB is doing Giselle in London Jan 10-13.
For the Londoners who never ever EVER visit us (wimps) - NYCB is in season.
So come here for a change. It's still a bargain.
Posted by Leigh Witchel at 5:57 PM | Comments (0) | TrackBack
August 26, 2006
Thank you Messrs. Olmstead and Vaux (and good art too!)
For Central Park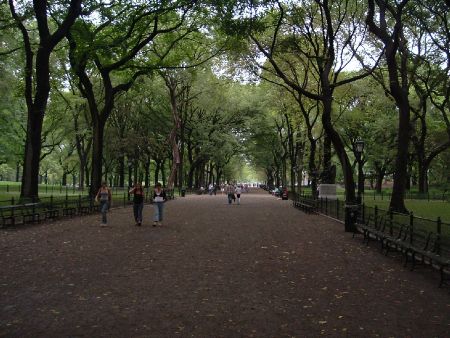 The Mall. It was a gray day, but that meant everything seemed greener.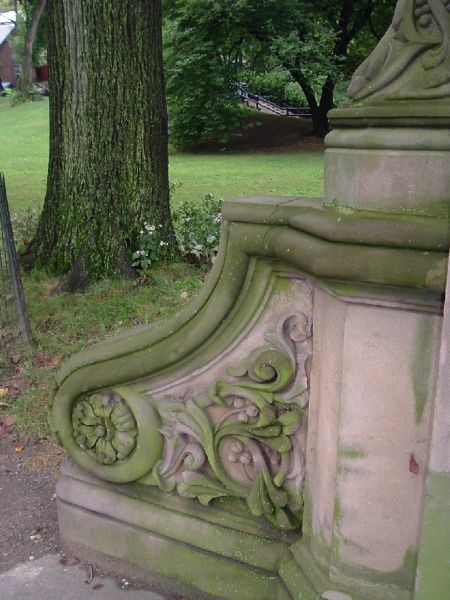 Even the stone work.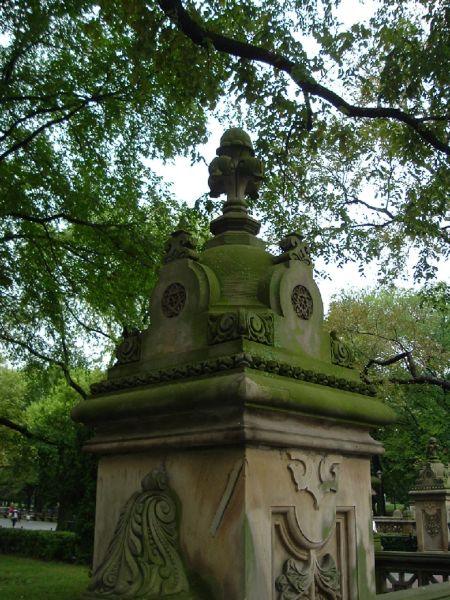 I was walking through the park this morning on the way to the Metropolitan Museum, where my friend Matt and I spent the afternoon. We both marveled at the efficiency of the visit. Usually visits to that vast hulk of a museum involve a lot of getting lost and aimlessly wandering. This time, we headed straight up the stairs and hit the exhibition of Rembrandt drawings and etchings first. Walking out of that brought us right to his objective for the visit, the Raphael Colonna Altarpiece. From there, we headed out to the Impressionist collection - right down the hall and looked at the Greatest Hits - Monet's Rouen Cathedral series, Seurat's Circus Sideshow, Vuillard, Toulouse-Lautrec, Van Gogh. From the impressionist area we went through the Great Hall (the Islamic art has been relocated there while its exhibition area undergoes renovation) and into the Chinese galleries, where we both gawked at the massive Buddha painted on the side of a wall and wondered how they got it to the museum. The Astor Court - a Chinese scholar's garden had him staring at the woodwork and me marveling at the calmness of the architecture. From there, we both went nuts over the Japanese screens, particularly a comparatively modern one of morning glories that looped right back to the Impressionist paintings we had just seen.
From there, as a lark, we looked at the Anglomania exhibition of traditional and "transgressive" fashions set in period rooms, which was insubstantial in comparison but fun nonetheless (albeit crowded). Heading to the exit, we finally got lost. It isn't an afternoon at the Met without getting lost once.
Matt and I make excellent museum companions; we both move at about the same pace when looking at art so one of us isn't racing ahead or lagging behind. We also know each other's taste very well, and it's been interesting to watch both of our taste evolve and influence each other. Matt helps me appreciate the offbeat; I get him to appreciate the more classical. We passed a small drawing Rembrandt made of the execution of a young woman on a gibbet; I knew he was going to love it - sure enough I was right.
Ironically, I had gone with Valerie the night before to the Morgan Library, where many of the same Rembrandt etchings (though often in subtly differnt versions) were on display - it is the 400th anniversary of his birth.
The Morgan is free on Friday nights after 7 p.m., and the collection is very high quality - medieval art, books and manuscripts and early religious art including reliquaries and ciboria. It's not crowded, the museum is a lovely setting (although a bit aggressively brand spanking new still - it seems all atrium in its new design that moved the entrance from 36th Street to Madison Avenue). A great way to spend a friday night, and free, to boot.
Posted by Leigh Witchel at 9:56 PM | Comments (0) | TrackBack
May 1, 2006
Go to a museum for free this month
via Flyertalk: An MBNA or Bank of America Credit Card will get free admission for you and a guest to several museums throughout the Northeast, including the Guggenheim in NYC, Philadelphia's gorgeous Museum of Art and the MFA in Boston.
Offer valid from 5/1/06 to 5/31/06. Photo ID and Bank of America credit card, ATM card, Check Card or MBNA credit card must be presented. Excludes fundraising events and ticketed shows. Free admission limited to cardholder and one guest per participating institution. Not to be combined with other offers.
Posted by Leigh Witchel at 11:36 PM | Comments (0) | TrackBack
March 19, 2006
Getting the best deal and most miles out of a rental car
I don't often rent a car, but I'm going to Palm Springs, CA for a fast weekend and will need one. I'm flying JetBlue into Ontario, CA. A little comparative shopping worked wonders.
The Entertainment Book has many discount car rental offers, so I have finally gotten to put the book I bought primarily for the Goldpoints to use. Several companies offer a free weekend day on a three day rental; my rental was slightly under three days (2 days 14 hours or some such) but National Rent A Car would still accept the coupon at booking. A compact car was $17.90 per day - total cost of rental with the discount and fees - $49.
Since rental car companies allow cancellations without penalty, it makes sense to book whatever fee you see that's acceptable and shop again later on. I looked again this week; the same reservation came to $44 with the Entertainment Book discount, or I could have chosen a Northwest Airlines promotion that would get me triple miles and a full size car for $61. I'm one person and one suitcase so I think a compact should be fine.
Most car rental companies partner with several travel providers to offer miles or points. Which one to take? Because of the small amount of miles earned, my first thought would be to earn miles in the programs where I have fewer miles and infrequent earnings rather than in my strongest programs. For most U.S. and many international programs, earning the miles stops the clock on mileage expiration for 36 months. Check each program for their specific rules. My hotel stay will also earn 250 miles; I'm opting to put them into Aeroplan for this reason. I have some British Airways miles that will expire this year; I'm not using any of their partners so I will extend those miles by having a meal at a restaurant in the Executive Club Dining program.
I'm opting to earn miles for the car rental on Northwest because of the specials they are running. Their base earnings are nothing special, the standard 50 miles per day that most rental companies offer. However, NWA is having a 100,000 mile Dash offer where completing even the minimal offer such as one car rental will earn you 500 miles. It takes completing a few more offers to get the next level of benefits, so I won't bother.
On top of that, NWA is partnering with National and Westin Resorts for a Fairway Flyaway Sweepstakes. National Rentals through April get 1,000 bonus miles.
On top of that, National Car rental is waiving their membership fee in the Emerald Club for a limited time.
1,650 miles, free Emerald Club membership and a car for the weekend for $44. Can't beat it with a stick.
Posted by Leigh Witchel at 9:13 PM | Comments (0) | TrackBack
March 6, 2006
Super cheap fares from NYC-Portland OR and vice versa
Don't know why or for how long (fares like this usually are pulled in under a day), but American Airlines is having an unadvertised sale on airfares to Portland, Oregon from NYC for $99 + tax ($138 total). Pretty darn good. Sale fares start in late May, are spotty through the summer and very open in the fall. I've got one for Columbus Day weekend on hold. You can find the dates at Yahoo Travel (use a "my dates are flexible" search) or by searching at American Airlines (I'd suggest searching for dates at Yahoo and then booking at aa.com)
Just in case you wanted to visit Portland (or NYC!)
UPDATE: Just heard back from the folks at Oregon Ballet Theater. Their performances are Oct. 14- 21 so I moved my dates to 10/14-16
Posted by Leigh Witchel at 9:19 AM | Comments (0) | TrackBack
January 26, 2006
Hello, Delhi
American Airlines is having a sale to Delhi - JFK-DEL is $769, or about $840 including taxes. Other departing cities also available, but they only fly ORD-DEL. I think an even better deal would be to upgrade the fare ($500 rt + 50000 miles) so you get business class to Delhi for $1340 rt + 50000 miles, and you earn back 14,600 miles on the flight (more if you have status). Admittedly AA business class is not palatial, but for the price it's a decent deal.
Purchase your tickets on AA.com by February 11, 2006 for outbound travel from April 1 through May 15, 2006. Return travel must be complete by May 31, 2006.
Posted by Leigh Witchel at 6:30 PM | Comments (0) | TrackBack
January 17, 2006
Really cheap fares to Osaka on United
New York to Osaka for $486 roundtrip including taxes. Other cities as well. Book by January 24, travel outbound by March 31, seven day advance purchase, six nights minimum stay. Travel by January 31 and get 5,000 bonus miles.
I'm not even going to pretend this year that I have time to do this myself, but if anyone goes, send me a postcard from Kyoto!
Posted by Leigh Witchel at 7:33 PM | Comments (0) | TrackBack
November 5, 2005
NYC-Chicago or vice versa $131 tax included
Every now and again an airline will have an unannounced sale for reasons only known to them, but usually in response to a comptetitor lowering prices. Right now, ATA is offering NYC-Chicago Midway for $98 r/t ($103 on Travelocity including their fee) and American and Northwest are offering NYC-O'Hare (LGA-ORD) for $112.50. With taxes it comes to $131.40. Occasionally AA will have a weekend special for $139 not including taxes, but this allowed advance planning and leaving any date. The dates on AA are wide open and go through next October, so I picked a late April weekend next year to visit Chicago for the first time. Act fast, these sales often only last a day or so. When they pop up, grab them.
One way to find these sales is at Travelocity Dream Maps. You can customize the URL as follows: http://dps1.travelocity.com/dreamMap.ctl?dep_arp_name=NYC&maxFare=150 - change the NYC to your desired airport code and the 150 to the desired fare cost.
And Dad, if you're reading, not to worry. I picked the dates (out late Friday back early Monday) so I don't miss any work!
Posted by Leigh Witchel at 2:57 PM | Comments (0) | TrackBack
October 17, 2005
Dance Bargain in NYC
The Fourth Ring Society.
Pay $20 now. Get up to two fourth ring tickets for any performance for $15 each for the entire winter and spring seasons. That's half price. Also includes other small benefits. Though you're relatively far from the stage, fourth ring sightlines are unobstructed. Large Balanchine ballets with intricate patterning such as Symphony in C have a differentbut illuminating look up there and if you're in the first few rows of the fourth ring it's not unacceptably far.
Posted by Leigh Witchel at 2:43 PM | Comments (0) | TrackBack
August 30, 2005
Great fares to London
British Airways is offering these prices now through Sept. 5 for travel through March, 2006. $358 to London from NYC including taxes. I'd be very surprised if it got any lower than this for the fall. I didn't even think it would get this low; I just bought a ticket on AA for $455. If you're a miles whore, BA's frequent flier program sucks for those who travel economy - you get 25% of miles flown in deep discount, compared to AA's 100%. Much as I like miles, it is odd to reward travelers by the number of miles flown - common sense would suggest you'd reward them by dollars spent. But if you travel infrequently and just want the lowest fare, this is probably it. You could also pay about the same price as the other airlines - around $500, but you'd be in BA's premium economy section with extra legroom, World Traveler Plus, and that gives you full mileage as well. A good deal. There are attractive deals to other cities in Europe as well that may include stopovers in London, and hotel and other add-ons. For a solo traveler, Priceline will probably beat most packages, acceptable hotel rooms in London in chain hotels will go on Priceline for around $70, and that is about $85 inclusive of taxes and fees.
Hat tip to Flyertalk.
Posted by Leigh Witchel at 1:06 AM | Comments (5) | TrackBack
February 26, 2005
75% off sale
At Housing Works Thrift Stores, at least the Columbus Avenue branch.
I picked up a three button Armani blazer for $12.50, and shoes from Barney's and Kenneth Cole for $3.75 and $5 respectively. I wouldn't have paid the original price ($50 for a used jacket? Nope, not even Armani) but it's a good deal at 75% off.
The sale is on until tomorrow only.
Posted by Leigh Witchel at 7:21 PM | Comments (0) | TrackBack