October 31, 2006
London update
After whining about not wanting to stay in Kensington a $131/night bid was rejected for Mayfair/Bloomsbury, though with a "raise your bid by $22 and we'll let you bid again" offer, which tends to mean that one is in striking range. All the same, I knew that Kensington would go for around $85 and the price differential was starting to get to me. Moreover I have a Flyertalk buddy who'll be in London, we'd like to meet up and he is staying in Kensington.
So I relented. Bid $83/night, worked up by $1 intervals, hit at $85 at the Millennium Gloucester. I've stayed there before (it's just fine) and that's where he is as well, so getting together will be easier and it was $208 total for two nights instead of upwards of $320. I'm glad to be staying in Central London on Thursday, but I think it will make less of a difference on Friday especially, when I'm just coming back from Bristol in the afternoon and then heading to Covent Garden.
On top of that, another Flyertalk buddy will be in London at the same time as I found out from my other friend. The funny thing is this third friend just moved to NYC and we've been meaning to get together for dinner for months. So I guess we'll do so in London instead!
As is my wont, I'm enjoyably, stupidly overbooked for this trip.
Arrive London Wednesday morning.
See Lynette for lunch
See Alexander for dinner
See the Wheeldon/MacGregor/Balanchine triple bill at Covent Garden (for Pointe Magazine)
Head to Bristol to visit family Thurs am.
Head back to London Fri afternoon
See Schlepping Beauty (Tamara Rojo and Carlos Acosta) at Covent Garden Friday night.
Drinks with Bryan and Albert afterwards?
I've never seen The Changing of the Guards, so I think I may try to do that Sat morning before heading to Covent Garden again.
Another Schlepping Beauty (Marianela Nunez and Thiago Soares)
I've kept Saturday after the ballet open in case Alexandra is free.
Get on a plane home Sunday mid morning.
It won't all get done, but I'll have fun trying.
Posted by Leigh Witchel at 11:20 PM | Comments (0) | TrackBack
October 25, 2006
London dithering, again.
Once again I'm dithering on London accommodations.
I will be there in November on the evening of the 22nd and from the 24th through the 26th. Priceline isn't giving me love. Well, it would give me love if I loved Kensington, but that isn't the love I want. It's pretty obvious I could get the Millennium Gloucester for about $85/night plus taxes+fees but staying in Central London last trip convinced me that I just don't want to stay in Kensington. For me, it would be like vacationing in Manhattan but staying in Queens; I have nothing against it, but nothing I want to do is there.
Usually hotels in the Bloomsbury zone go for around $100-105/night but the counter offers I've gotten have been $140 for the weekend and $210 for the 22nd. The usual counteroffer for a $100-105 win is about $10 higher. I've bid up to $120; no dice, so I am now looking at other alternatives.
This means scouring the other booking websites; here are my findings.
Three other sites offer opaque booking, Hotwire, Lastminute.com and Lastminutetravel.com or Easyclicktravel.com – their engines are the same. The most useful tool for navigating Hotwire are the hotel lists at Better Bidding, which give some idea what a hotel might be based on featured amenities. 4* in Bloomsbury are offered at $138 on the weekend, but taxes and fees jack that up to $150 or more, which is starting to not be enough of a savings to justify losing control of the process.
Lastminutetravel and Lastminute.com (they are very different sites; try both) offers "Top Secret" and "Off the Record" hotels respectively. Both give enough of a description of the hotel to make a very educated guess what it is – Better Bidding has an invaluable reverse search that takes the URL from Easyclick or Lastminutetravel and tells you which hotel it thinks it may be.
The pickings at Lastminute.com are rather expensive for these days; the Off the Record hotels in Bloomsbury at lastminutetravel.com turned out to be those of the Imperial Hotel chain – several large budget hotels up Southhampton Row and Woburn Place around Russell Square and Tavistock Place. They're a good location for me, but the hotels themselves get mixed reviews. Price range is between $106 for a single at the Royal National and $148 for a double at the Imperial – in all cases tax and breakfast included.
Two rate comparison websites that are useful are hotelscomparison.com and kayak.com. No booking engine had consistently lowest rates; they each have their own advantages.
Of the big US engines (Expedia, Orbitz, Travelocity), Expedia seemed to turn up the best bargains. With all of them you really need to get outside information; their star ratings for hotels seems to be created with a dartboard.
The best possibility on Expedia was a single room at the Strand Palace for $154 including taxes and fees. It will be small, but the location is close to perfect for someone going to Covent Garden. Similar low prices were also found at hotels.com.
Orbitz occasionally has promotional code offerings, but the booking engine itself is rife with inaccuracies; hotels that are available on other sites are listed as without available rooms on Orbitz (which only means that Orbitz no longer has an allotment of rooms)
Octopus Travel and Hotel Club offer an option very useful for the solo traveler to the UK, the separate "twin for sole use" category. Single rooms are like cupboards in England, the ability to get a double room at a discount is helpful. Hotel Club's rates weren't the lowest in any category; Octopus Travel had great rates on the Bonnington Hotel, a more modern alternative to the other hotels on Southhampton Row with more facilities as well; but they were "on request" – where Octopus needs to check with the hotel for availability and the Bonnington turned it down. Because I have time, I tried Asiarooms.com, a Singapore based travel agency that Kayak.com turned up with similar low rates for the Bonnington. Like Octopus, they also only have the rooms "on request". Their inventory may not be different, but it's worth a try. Octopus also has the Thistle Marble Arch available on the 22nd in a Twin for Sole Use category for $158 with breakfast, taxes and fees included.
If the Bonnington doesn't pan out at Asiarooms, I'll make a decision trying to balance location, price and quality. If you're wondering why I'm not investigating B&B's, the truth is I don't like them. Give me a clean, chararacterless hotel with wireless internet access and a good fitness center any day over charm and character. I get that from the city itself, I want my hotel to be a calm, neutral place where I can get things done.
Posted by Leigh Witchel at 11:33 PM | Comments (0) | TrackBack
June 9, 2006
Homeward Bound
This will probably be my last entry from London. I leave for home at 6 pm GMT, arrive in NYC 8 pm EDT. You'll hear from me again when I am home.
Posted by Leigh Witchel at 4:26 AM | Comments (0) | TrackBack
I hate to admit it, but Balanchine was right
With every trip to see the Royal Ballet my affection grows, but there's one way in which I do agree with Mr. B. on the company. I know the English think our hands look like claws when we dance, but to me, their hands, with the fingers held together, DO like mittens!
Posted by Leigh Witchel at 4:25 AM | Comments (0) | TrackBack
I saw the Queen!
Last night was a gala for the 75th anniversary of the Royal Ballet that was also part of the celebrations for Queen Elizabeth II's 80th birthday. Security was higher at the Opera House (sniffer dogs and policemen) though I practically walked right in. The Queen arrived last to the Royal box – which is in the Grand Tier on house right – the large box that is third from the stage. It was decorated with her herald and a large garland of flowers. The assembly stood as she entered; the orchestra played "God Save the Queen" and we sat after she was seated. From my vantage point in the Stalls Circle I could see her enter and sit - people to my right could not see her at all. She's in millions of photos, and as is no surprise, she looks like her pictures. Another way to mark an American – I did know the etiquette on what to do when royalty attends an opera house (in 2000 I was caught unawares when Queen Margrethe attended the Bournonville Festival in Copenhagen. "Why is everyone standing? OH!!") but the only words I know to that anthem are "My country, 'tis of thee . . ."
After the gala (Carlos Acosta can certainly work up a stir. He outdid himself in the Corsaire pas de deux with astounding elevation) Monica Mason led the assembled company and school in what I thought might be a formal defilé but was a modest and charming moment. "Your Majesty, we have danced for you tonight. Now we would like to sing for you." And they sang "Happy Birthday, Your Majesty."
The Queen has a Queenmobile – it's assumedly a Rolls Royce (but it may be a Bentley – I don't know car grilles by sight) with her insignia on the roof, and the insignia is lit. Had she been driven in New York, it most resembles a taxi light both in size and placement. Someone probably would have tried to hail it.
Posted by Leigh Witchel at 4:20 AM | Comments (1) | TrackBack
Familiarity
On Wednesday night, I was seated next to dance researcher Stephanie Jordan, who asked me as a greeting, "Are you based here now?" It made me smile; I guess I've been there a reasonable amount. We sat in the orchestra stalls; I'm only seated there as press infrequently. Generally I am in the Stalls Circles. The view is slightly different; one main difference is that one can't see the ceiling, which is Wedgwood blue with gold trim. From the Stalls Circle, one's impression of the house is entirely red velvet and gold.
My friend John once said his travel was based on people rather than buildings. Mine is mostly based on dance, but what he said is also truer for me than I once realized. At present, the three cities I return to most often (London, Toronto and San Francisco) are as much for friends and family as for dance. Each has a strong ballet company, but taken equally with no other claims of friendship, London is the one that would prompt a dance aficionado to travel the greatest distance.
This trip has given me even more familiarity with the city. There are still things I don't get. Crossing the street will probably always be harrowing; I rely on the "LOOK LEFT – LOOK RIGHT" signs they paint in the center of London for tourists from places where traffic flows on the right. But I better understand the layout of city; coming from a city mostly on a grid, it was once was an opaque jumble of streets. I'm starting to know where the main thoroughfares (Oxford Street, Euston Road, Knightsbridge and others) where they go – and what names they have in different sections. Like 9th Avenue becoming Columbus Avenue, streets change names here – but they do it more often.
Posted by Leigh Witchel at 4:17 AM | Comments (1) | TrackBack
June 1, 2006
Transit II - The Great Race
10 pm 5/30 St. Petersburg Time. Get call from airport transfer. Traffic in St. Petersburg is awful, they want to move their pickup from 2 pm to noon. This is my only chance to see the Hermitage. We compromise on 1 pm.
7:00 am St. Petersburg Time. Wake up. Pack.
10:30 am. Go to Hermitage. For piece of mind, decide to look at it as a palace, not an art collection. If I had to really look at the art, I'd start crying in frustration.
Noon. Return to hotel and check out.
1 pm. Car picks me up.
2:06 pm - get to Pulkovo II. Pass through initial security, but one is not allowed to check in until 2 hours before flight, so I get to sit in the airport for the hour I could have used to see more of the Hermitage.
3:10 pm. Flight check in. Visit the palatial Pulkovo Lounge for cheesy potato chips and second hand smoke.
4:30 pm. Chaotic security screening and pat-down.
5:10 pm BA 0879 takes off on time.
5:30 pm GMT - BA 0879 lands ten minutes early without any circling over Heathrow.
5:43 pm - Through Passport Control
5:50 pm Baggage Claim
5:54 pm at Heathrow Express
6:02 pm HEX arrives at Terminal 1
6:17 pm HEX arrives at Paddington
6:25 pm Cab to Cumberland Hotel, Marble Arch
6:40 pm Check in at hotel
6:55 pm Marble Arch Tube
7:10 pm Holborn Tube
Walk to Covent Garden - arrive at 7:21 pm.
The dash cost £23. £14.50 for HEX, £7 for the cab, £1.50 for the tube (I am glad I saved my Oyster card from my last trip!) The ticket itself (a standing place because I wasn't sure I would make it) only cost £9. I have to say it was all worth it. I woke up in Russia. I went to sleep in London. I was at the Hermitage and Covent Garden. My body had no idea what time it is, and I was so tired during Act III I might as well have hallucinated purple bats. The cosmos may have taken pity, because a couple left only a few minutes into the prologue directly in front of me and I slipped into their seats at the interval and sat for the rest of the performance.
The embarrassing thing to admit is a palpable relief to be in familiar London, where I know the language, the transit system and the theater. Some of it is my mood, some of it is the actual performance, which taken in full beat anything I saw at the Mariinsky for quality - but I think that's the luck of the draw, not the position of the two companies. The Mariinsky was having an undistinguished weekend, and the Royal was working at its best.
Posted by Leigh Witchel at 12:16 AM | Comments (0) | TrackBack
March 8, 2006
The perils of dithering
I had decided to splurge on the Kingsway Hall Hotel after asking about it; I admit I was leaning that way even as I wrote the query - writing the question helped me know what I wanted. But I waited until Tuesday, when I had completed ticket arrangements at Covent Garden before going back to Lastminute.com to purchase the room.
Gone.
With no trace.
And a few weeks earlier, when the Waldorf Hilton (another place that was exactly what I wanted) was coming up at $109 on Hotwire, I waited as well for my credit card statement to end. It was gone before then.
The lesson, which I may never learn but I'll say it anyway is:
If you're shopping with some clue of what you're doing and you see what you want at a price that you think is fair, don't wait forever to buy it.
Posted by Leigh Witchel at 6:53 PM | Comments (3) | TrackBack
March 5, 2006
Trip Progress, London Dithering
Here's where we are on the St. Petersburg - London trip:
Airfare: Ticketed. Business class on BA via Asiamiles JFK-LED-LHR-JFK. Cost was taxes - $306 and 60,000 Asiamiles (exactly what I had, what a coincidence!)
St. Petersburg Hotels: Renaissance St. Petersburg. Two nights redeemed. This was very dicey. Between the time I had reserved the reward and the time when I came to redeem the points needed for it a few days ago, the hotel raised categories from a Reward Category 4 to 5. For the part paid with Marriott points, this is no problem; Marriott honors the rate at the time the reservation was made. The problem was that one night is to be paid for with a VISA promotional certificate good only up to category 4. At first, the rewards desk told me it was no longer good. Speaking to a supervisor there got an offer of 7,000 points, which was useless. Calling the customer service department, however, got the problem entirely solved. They will honor the certificate and it is documented in my reservation. I will call the hotel directly before leaving, however. I'm not going to find out this did not work when I am in St. Petersburg. I should note that even though this took a few calls to unscramble both the rewards desk and customer service at Marriott are unfailingly polite and make every attempt to be helpful. Total cost will be the taxes, $50/night upgrade fee to a suite, the certificate (which I earned for applying for the VISA) and 20,000 Marriott points (it would have been 25,000, but they honored the earlier rate). I had 18,000 points total and Marriott allows you to buy 10% of a reward in 1000 point increments at $10/1000 points, so I bought 2,000 points for $20 rather than having to charge $2,000.
Radisson Baltic St. Petersburg. We're still earning points. I'm at 37,500 so far. I've converted 25,000 Continental OnePass Miles to 25,000 Amtrak Points to 25,000 Midwest Miles (It's all done via Amtrak Guest Rewards). When the miles land at Midway, I will convert them via points.com to Goldpoints. It should be about 25-26,000. I've got about 1250 Goldpoints pending from online purchases and about 4000 from purchases. My guess is I will have around 70-75000 of the 120,000 points I need, and the rest will be converted from AA miles via points.com
Got that?
I still have to apply for my Russian visa. I have the documents assembled, I just need to get a photo, and the fee in a money order.
On to planning for London:
Given my tendency to overstrategize travel to the point where the hourly cost of my dithering is astronomical, I thought I'd ask you all what you thought.
I've stayed in Kensington most of my trips to London but there's almost nothing in Kensington I do. When I go to London, I live at Covent Garden. At this point I'm getting kind of tired of spending an hour a day on the tube or not being able to get back to the hotel room for a break. So I was trying on Priceline for a room in the Mayfair-Soho or at least within walking distance of Covent Garden. (I'm a good walker)
Lastminute.com has the Kingsway Hall Hotel as a "top secret" special (I'm positive about the ID) for £79 per night - that would be $139/night and VAT is included but there is a credit card fee and currency conversion to be considered. It is *exactly* what I want. 1/4 mile from Covent Garden, Free Wireless in the Lobby, Fitness Center. To beat that on Priceline, I would have to get a Mayfair hotel for under $115 per night with fees thrown in and it may not have those amenities. The Waldorf Hilton was coming up on Hotwire for those days for $109 (that would add up to about the same with taxes and fees - around $138), but I waited too long; now it's $338.
Some cities regularly show "counteroffers" on Priceline. These are very useful markers on about how much you will need to bid - it will (except in circumstances I have not yet encountered) be less than the counteroffer. In London, if you have the time, you can get a lay of the land by lowballing several zones one at a time and seeing what the counteroffers are. BE SURE TO REALLY LOWBALL. If your bid is accepted, you're stuck. In zones I didn't really want to stay in, I was bidding around $50 for a 4*, which I have never seen accepted in London (though I have seen a few dollars more get accepted recently - so check recent bids on Bidding For Travel or Better Bidding)
This is what came up:
Mayfair 4* No counteroffer for bid up to $85
3* $110 Counteroffer on bid of $60. My guess is this is the Thistle Trafalgar, which is a mediocre hotel with a good location and no facilities.
Bloomsbury 4* $101 Counteroffer on bid of $50 - My guess is the Thistle Marble Arch. This is a long walk, but possible.
Westminster 4* $85 Counteroffer on bid of $50 - My guess is the Jolly St. Ermins. This is within (a long) walking distance, also no facilities.
City 4* $76 Counteroffer on bid of $48 - not sure what this is; if it is the Tower Hotel it is not in walking distance.
Kensington 4* $68 Counteroffer on bid of $50 - not sure what this is; if it is Holiday Inn Kensington Forum (which is coming up again on winning bids) I like the place and it has all the facilities I want, but it means a 20-25 minute subway ride.
What would you do? Bidding on a Kensington hotel is a savings of about $65/day - or double. The first four nights hotel on Priceline at $63/night comes to $306.35 - the total for the Kingsway Hall on Lastminute.com will be about $570 with currency and credit card fees but it is also exactly what I want. However, over 7 days that is a very healthy sum.
Help me stop dithering!
Posted by Leigh Witchel at 9:08 PM | Comments (3) | TrackBack
October 30, 2005
Tube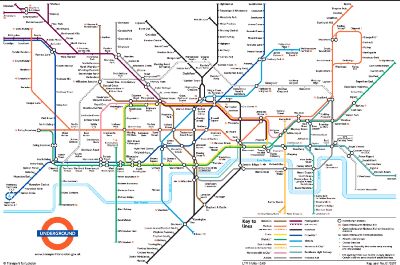 This visit, London was the Tube.
It seemed I went everywhere on it and on more lines than usual.
I don't need to take the subway often at home - work is only about a 20 minute walk from my home and Lincoln Center only 10 minutes. The fact that I take the tube more here contributes to the distorted sense I have of the city being more cramped than NYC.
My hotel is in Kensington, which is on the western side of central London. Covent Garden is slightly east of the center. Sadlers Wells is in Islington, to the north. I've traveled on the Piccadilly, Circle, District, Hammersmith & City, Northern, Central and Victoria lines. There's no traces or aftermaths of the July bombings anywhere I've been, but it has been several months. Queensway Station on the Central line is closed until May, 2006 but I'm not certain it's related.
Instead of a paper Travelcard, you now buy a magnetic Oyster card, which costs the same but can be refilled and can be quickly scanned by a magnetic reader. The card is £18.50 for 7 days unlimited travel in zone 1. If you're coming in from or going to Heathrow, an extension of the card for that trip will cost £1.80.
The London subway is low and cramped - cramped differently than NYC's cars. The cars are smaller, narrower and more frequent. Worse than the cars themselves are the elevators ("lifts") down to the platforms. They're worse than packed; there's little or no crowd control so constantly someone is wandering into them and stopping mid-elevator blissfully unaware that there is a huge pile of people behind him or her needing to get on.
If you're heading to Covent Garden on the Piccadilly line from the west, stay in the back two cars, the exit is there. The lifts will be painfully crowded. If it's more convenient than changing to the Piccadilly Line, there are several alternative stops on other lines close by including Leicester Square, Holborn, Charing Cross or Embankment.
Posted by Leigh Witchel at 6:25 PM | Comments (0) | TrackBack
October 29, 2005
The fastest five days ever
It went by in a flash.
I leave tomorrow morning for Bristol to rest for a day with my brother and sister in law, then back home.
There were more substitutions today. Rojo did not dance; I saw Lamb a second time instead.
All told, I think Sylphide was a success. None of the casts was perfect, none were bad. All had different virtues. All the men looked better coached than they have before. Englund did two performances, each different. The final one was the most explicit playing of an attraction for James by Madge I have ever seen. I don't think it's the best reading, but at this point I think Englund has a right to it. Kobborg hasn't given them a Danish Sylphide either, he's given them the one that seems to suit the company, and one they look good in.
Off to bed.
Posted by Leigh Witchel at 7:02 PM | Comments (0) | TrackBack
Copthorne Tara, London
The Copthorne Tara is considered a booby prize hotel in the Kensington zone by Priceline aficionados. Since I'm a booby, I got the prize by impulsively adding the Kensington zone when I was angling for the Thistle Marble Arch. I've spent several days here now, and it's been as acceptable as any other Priceline experience I've had. This has happened before. The Radisson Harborview in San Diego, the Westin St. Francis in San Francisco and the Boston Park Plaza are also considered booby prizes; the former because of quality, the latter two because they are older hotels and unload their smaller rooms as distressed inventory on Priceline. In all cases I had a good stay; I think many of the complaints are because two travelers find themselves in cramped quarters. If you're traveling alone, it's not an issue.
[continued as an extended entry with room pictures]
The Copthorne Tara is located right off of the High Street Kensington tube station. Turn left out of the main tube entrance and make another left immediately on the corner at Wrights Lane. At the end of the block you will see the Kensington Close hotel, bear left and the Copthorne Tara is the large yellowish brick building immediately to the left. It will be obvious. There's also a faster shortcut, but it's through a poorly lit alleyway. Turn left right out of the tube turnstiles and head to the green "fire exit" sign. I would not use this the first time you go to the hotel, or if you're chary about unlit areas at night.
Check in was polite and speedy. The clerk only had twin bedded rooms, but without asking switched me to a higher floor, and also allowed me to check in at 1:00 pm. This may be the luck of the draw; a man checking in at the same time with another clerk was told to come back at 3:00 pm. My room was a standard twin bedded room, about the same level and design as the Holiday Inn Kensington Forum in London.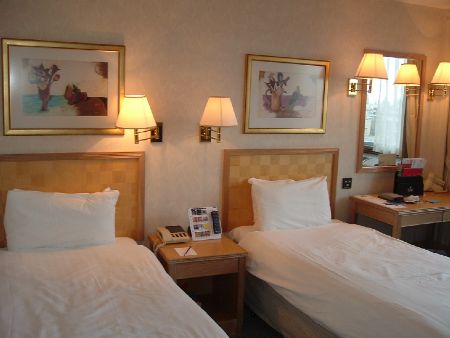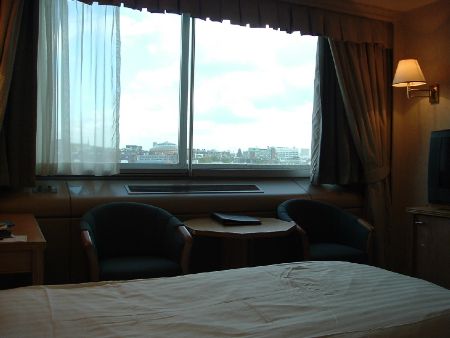 Amenities are basic; there is coffee maker with coffee, a combination trouser press/iron that did not work (I called housekeeping and they promptly brought an iron and board) and a television I never used. The air conditioning unit is similar to those in the U.S. and effective, but not necessary at the end of October. The bathroom had a smallish tub and the hotel provides bar soap, shampoo and shower gel as well as bath and large face towels. If you use conditioner or a small washcloth, bring your own.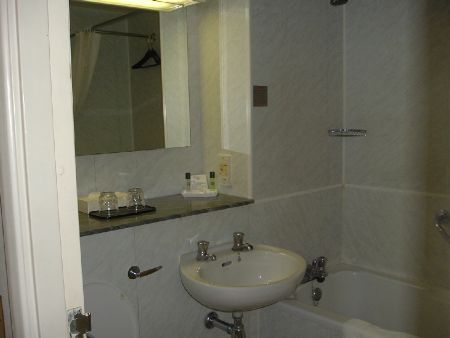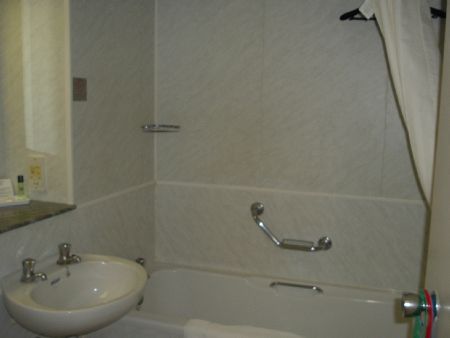 Most conveniently, the room had a small cube refrigerator in it instead of a minibar. Two blocks to the left on the High Street there is a Somerfield market that is well stocked with produce and prepared foods and there are several other options as well. I found with careful shopping I was able to eat healthily and well at my convenience.
Internet service is painfully expensive. WiFi is available only in the lobby and at the cost of £8 per hour. I found that if I walked up the block past the Kensington Close hotel and then crossed Cheniston Gardens and walked another block up Abingdon Villas to Iverna Gardens I found a stray wireless signal on the corner. My guess is there are several others in the neighborhood as well. There is a fitness room in the hotel that costs £5 per visit. I shamefully admit that after packing workout clothing I just never had time to use it.
I'd have no problem staying here again. I liked the convenience to the Tube and the in-room refrigerator. I did not like the high cost for other incidentals (wireless, exercise room) and the location should be considered. Kensington (and presently Marble Arch) seem to be currently the least expensive Priceline zones in London, but Mayfair Soho is the most convenient for a tourist. Most of the central London attractions are there, as is the theater district. I was spending at least an hour daily traveling on the Tube on various trips. Hotels like the Thistle Charing Cross can sometimes come up for around $95/night (I got the Copthorne Tara for $69) but the extra expense may be worth the convenience and offset by the decreased transportation costs.
I'm usually a terrible food shopper in London, and end up coming home feeling like I've eaten only sausage rolls and other junk. I was more careful this time. Here's my shopping list (as much so I remember it for future travel as for your benefit!):
Grapefruit Juice
Bottled water (a six pack of 500 ml bottles)
Fruit (plums, pears, bananas)
Whole grain bread
Yogurt
Bagged mixed salad greens
Carrot sticks
Low fat sliced cheese
Sliced ham
Sliced turkey breast
A small bottle of salad dressing
A small jar of mustard
Plastic cutlery
Paper bowls (for salad)
Posted by Leigh Witchel at 7:34 AM | Comments (1) | TrackBack
October 28, 2005
A tale of one city blogged in the rain
I'm sitting on my corner at Iverna Gardens and oh my it is raining. It wasn't when I started. Blogging is a harsh mistress.
Paris and London seem to trade off in my affections. Since my brother's marriage I've gone to London often, at this point four times since October 2003. The city has become inspiring to me in a way Paris has also been. Alas, Paris Opera Ballet's seasons for the past two years haven't caused me to want to travel there, and in London not only have the seasons been exciting because of the Ashton Centennial, there is the added enticement of my brother and sister-in-law nearby in Bristol.
It's an odd view of a city – hotel rooms, subways and theater interiors, but I think one learns a great deal about the city nonetheless – who goes to the theater, how and to what they go. Londoners have much more of an affection for high culture than New Yorkers; Covent Garden is always better sold than the State Theater. Then again, between the Metropolitan Opera and the New York State Theater, Lincoln Center has about 7,000 seats to fill on any given night compared to around 2500 at Covent Garden.
At each of my trips, the Royal Ballet keeps looking better. They company looked underrehearsed in 2003 in La Bayadère. The Ashton Centennial improved their classical dancing and La Sylphide looks attentively coached. Word seems to be the company dancers are also happy with La Sylphide for the same reason. I've only seen two casts of four (Lamb/Bonelli and Marquez/Samodurov – I see Rojo/Pennefather and Putrov/Cojocaru tomorrow – Kobborg is out and Putrov taking his place.) Both Bonelli and Samodurov have looked better coached dramatically than I have ever seen them; they both are clear on what the plot is and how to communicate it. Nobody looks remotely Danish (I'm not sure Lamb or Marquez could if they tried – it's a totally different way than either of them trained), but they're doing good work within their own styles.
Birmingham Royal is a more modest company in comparison, but just as necessary an institution; they are doing ballets the Royal isn't doing and in at least one case (Scènes de Ballet) BRB did it better. They don't have better dancers; they've got some decent ones, but much less at the top and the bench isn't very deep. But a triple bill of works by MacMillan, de Valois and Cranko filled many gaps in my viewing in one sitting. It was a very pleasant surprise; I didn't know the ballets were as well formed as they were.
Another La Sylphide doubleheader tomorrow; I will be at Covent Garden from 2 pm until 11 pm. Let's see if I can get the iron in my hotel room to work so I can press my ties.
Posted by Leigh Witchel at 6:50 PM | Comments (0) | TrackBack
October 27, 2005
Don't try this at home, kids.
8:15 am Wake up
1:15 pm – lunch with Jane and Roy
2:30 pm – Sadlers Wells Theatre. Birmingham Royal Ballet – Solitaire, Checkmate, Lady and the Fool
5:15 pm – matinee ends. Get on packed No. 38 bus to Holborn, walk to Covent Garden.
6:00 pm – sit in Vilar Floral Hall and transcribe notes. Note running times of ballets carefully. Solitaire is 27 minutes, La Fête Étrange is 35 minutes long.
7:30 pm – Miss Solitaire at Sadlers Wells.
7:30 pm – See La Fête Étrange at Covent Garden with alternate cast you won't see otherwise.
7:57 pm. Solitaire ends at Sadlers Wells. 20 minute intermission begins.
8:07 pm – Attempt to leave Covent Garden during applause. Realize you are penned in by placid applauding couples and infirm ladies.
8:10 pm – Applause ends. Permanently cripple only two infirm ladies as you clamber over them, to be penned in on the stairs out of the stalls circle by waddling men.
8:12 pm – Break free of waddling men and chattering ladies on stairs, head out to Bow Street.
8:14 pm – Catch cab while heading towards Strand.
8:20 pm – Arrive at Sadlers Wells.
8:23 pm – Checkmate begins, blessedly slightly late.
10:25 pm – program at Sadlers Wells ends. Walk to Angel, take extremely circuitous route home because of infrequency of subway trains (Northern line south to Moorgate, Hammersmith Line to Edgeware Road finally after passing up three previous Hammersmith trains when you realize that the Circle Line train you should take just isn't coming, District Line to High Street Kensington)
11:30 pm – arrive at High Street Kensington. Grab a salad to take back to hotel room.
midnight – head for my stray wireless curb at Iverna Gardens to quickly download email.
12:15 am – back to room. Eat late supper, finish note taking and other writing for the day.
1:45 am – bed.
It was quite exhausting, but a very illuminating day filled entirely with English character ballets that I would never see otherwise. No one is making one-act narrative ballets any more. We seem to only think now in terms of full-evening story ballets or one act abstract works. La Fête Étrange has links to Tudor's Lilac Garden, Solitaire to Robbins' Interplay. I found Checkmate the most interesting; I had never seen Ninette de Valois' choreography before, and it is very competent. It's very much of its time (immediately prior to the Second World War) and uses a chess game as a metaphor for negotiation and combat. It isn't like The Green Table but you can tell they were made in the same era.
Posted by Leigh Witchel at 4:19 AM | Comments (4) | TrackBack
October 26, 2005
In London
Back in London again. The weather is lovely. Sitting on the tube last night heading from Kensington into Covent Garden feels as familiar as if I had never left. I'm sitting on a curb in Iverna Gardens about a block from my hotel to save the £8 they want for an hour of wifi. Call me cheap, 'cause I am. The best news is the production of La Sylphide is an honest one. If every night is like the last I'll have no problem watching four. Will blog again as I can.
Posted by Leigh Witchel at 4:37 AM | Comments (0) | TrackBack
September 10, 2005
English Roses
Leftover pictures from my trip to England. I thought we could use something beautiful this week.
A Kensington rose, growing in front of a building near my hotel: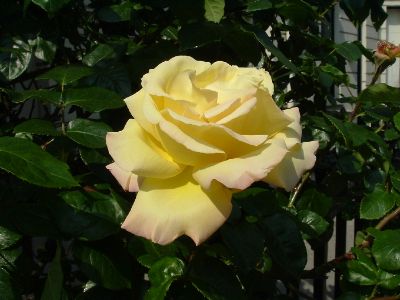 A Bristol rose, from my sister-in-law's garden: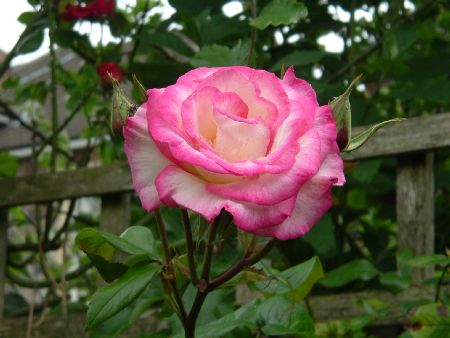 Posted by Leigh Witchel at 1:24 AM | Comments (2) | TrackBack
June 6, 2005
Interlude: Bristol
One travel bargain left in Britain is the bus. National Express has a series of Funfares that take you to most major destinations to or from London for as little as £1. If you know your destination and times of travel well in advance they are very reasonably priced and comfortable for short distances, if not remotely glamorous. I'm using them them to and from Bristol and to Birmingham.
The Victoria Coach Station was confusing to locate; it is not contiguous with Victoria Station or the Underground station. It's about 3 blocks down the road and not clearly marked once you leave Victoria Station. Cross the street and walk about 3 blocks to the left to find it. You will pass a mall on the other side of the street that is very confusingly marked. The Green Line buses depart from it, but not National Express.
Bristol is a two and a half hour journey due west on the M4 through verdant and pastoral landscapes once one passes Heathrow. Most service is nonstop. My brother and sister-in-law were waiting at the bus stop and we went to their home in Redland.
They live in a great Victorian pile of a house on a street with a row of similar homes; this one was built in 1894. It's got seven (!) bedrooms on three floors.
Here's the garden: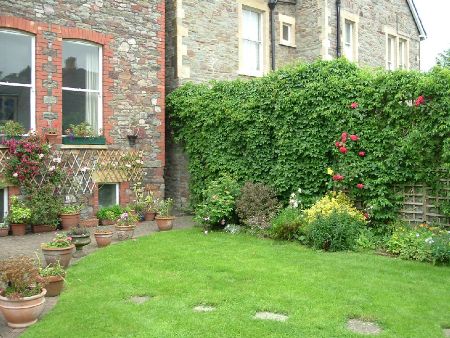 A view of their street. Their house looks similar.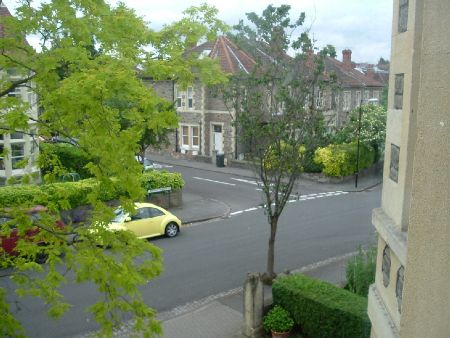 It was my brother's birthday; my present was dinner. We went to Sands, a Lebanese restaurant and I spent the most I ever have on a restaurant meal. A very tasty dinner for three included appetizers, mixed grill, a bottle of wine and a hookah (really!) after the meal. £110. I'm still not used to the prices here. I guess it's balanced out by the 25 peso meals in Buenos Aires.
The next day we went to Dyrham Park, (pronounced like Durham) a grand manor house a few miles away in South Gloucestershire. The house was William Blathwayt's transformation of an inherited Tudor house into a 17th Century Dutch style mansion.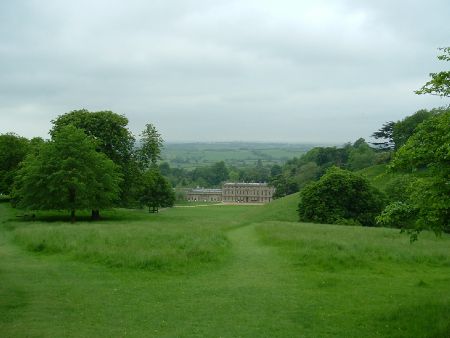 This provides a perfect opportunity for Monday Peacock Blogging.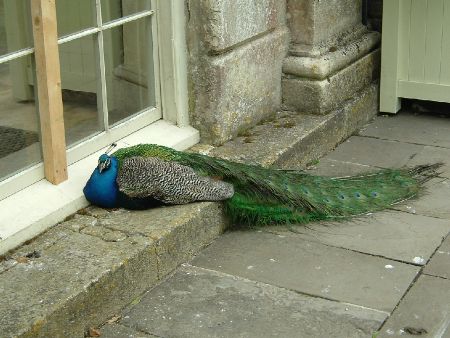 This fellow was lounging by the orangery. There are about six of them that live on the grounds. Peacocks are noisy as hell. You can hear them from a long way off when they hoot.
Posted by Leigh Witchel at 7:07 PM | Comments (3) | TrackBack
Notes from the semifashionable
I might as well admit, I think a suit makes almost any man look more handsome. I do like London, as the British are suit wearers. Double-breasted suits aren't in evidence. I packed one (an Andrew Fezza suit that I picked up in Philadelphia on my eternal thrifting for $10) and feel quaintly old-fashioned.
Standard business drag here: A single breasted three button suit with side vents, worn with a French cuffed shirt with a spread collar. Shirts tend to be striped (lots of tattersalls both square and on the bias), also ties with woven bias stripes. There is an unfortunate trend toward wiiiiiide ties with fat knots. More men seem to wear suits as a matter of course, so you see lots of cheap suits on the tube.

Shirt and tie patterns here tend to be more fashion forward, probably because more men wear suits. I often wear thin cotton turtlenecks under a jacket because of the ease of packing and care. I felt utterly American, or practically Canadian, as one person thought when she saw the combo. Nobody wears knits under suits here. If not wearing a tie, men wear the same shirts unbuttoned.
As Chris mentioned when we went to dinner, London is a great shoe town. I blessedly have not worn my cruel shoes for two days and the blisters (on both little toes, on the back of both heels and on the top of my right big toe) are healing. Given that many of my friends are female dancers, I get absolutely no sympathy. They smile sweetly and say that now I know how pointe shoes feel.
Posted by Leigh Witchel at 6:59 PM | Comments (0) | TrackBack
June 3, 2005
A perfectly British day
The ballet was not performing yesterday. I began the day by writing notes from the night before, then going out to stalk the wild wireless signal. I must look quite eccentric sitting in a shady corner by the church, tapping away. One fellow came up to me to ask what I was doing, and would he not need his broadband either if he got a wireless card? No problem, says I, if you'd like to walk about the city like a homeless person to get your email. A second older man came up to me to warn me that the neighborhood was dangerous and that marauding bands of thugs would come up to me and whack me to get my expensive laptop. I told him I would be careful.
It was sunny and lovely out so after working out and some food I headed into town to take a walk and be a tourist, something I don't do much of in London, oddly. I got off the tube at Covent Garden and headed to St. Martin's Lane. First stop: Freed of London on a pointe shoe mission. Mary has teeny tiny feet and needs a size 2.5, single X, deep vamp. Capezio no longer even makes that size, because it's considered a child's size and they don't want to encourage pointe work at too early an age. Alas, no luck for Mary. There were none.
St. Martins Lane takes you past several theaters including the London Coliseum where English National Ballet performs. St. Martins-in-the-Fields is where the road ends at Trafalgar Square, opposite the National Portrait Gallery. I went in to the Gallery to look at the queens and kings.
The gallery is as much an art exhibit as a history lesson. It begins at the War of the Roses and continues through the upheaval of the Reformation and the Act of Settlement on to the present times. The thing that struck me was how placid one likes to think of English history – a succession of rulers down history from William the Conqueror through to Elizabeth II – and how scandalous it actually was. Wars, beheadings, bastards, abdications, infidelities, intrigue and treason . . . English royal history seems anything but regal. The current crop we think of as so debased are only following in their ancestors' footsteps. I made it through the Tudor and some of the Hanover galleries when the building was evacuated due to a minor power outage. I took that as a sign to keep moving.
Trafalgar Square was jammed with people enjoying the sunny day.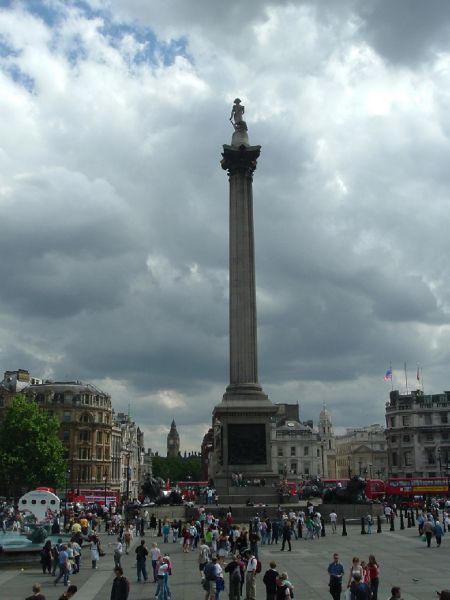 Crossing it, I walked down Whitehall past the Queen's Horse Guards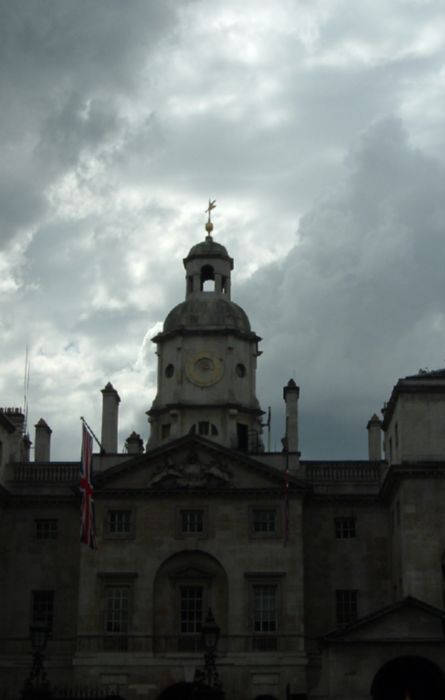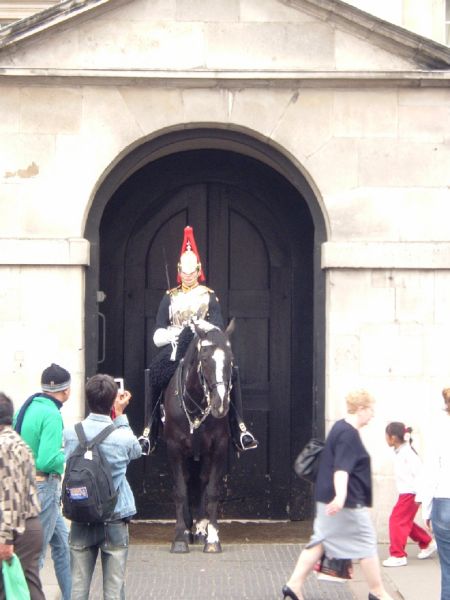 And the Banqueting House, all that remains of Whitehall Palace. King Charles was beheaded here. There are major occupational hazards to being royalty.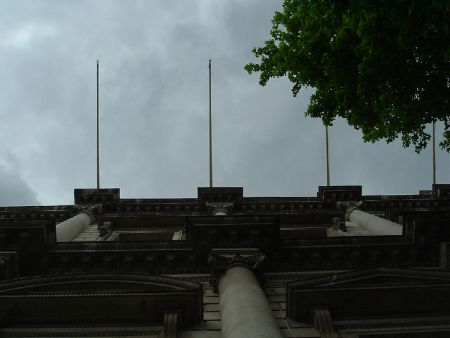 More views of the walk - The London Eye and a War Memorial.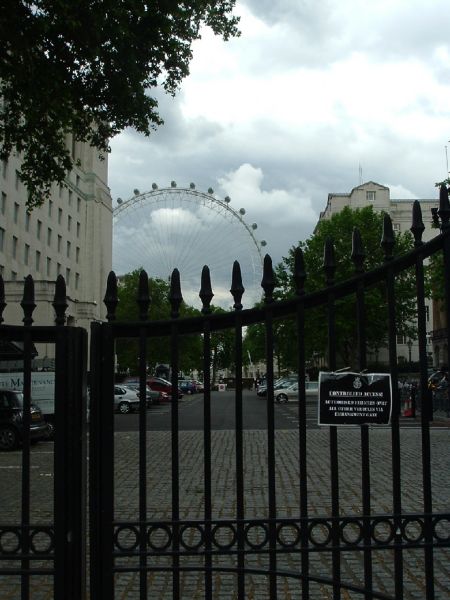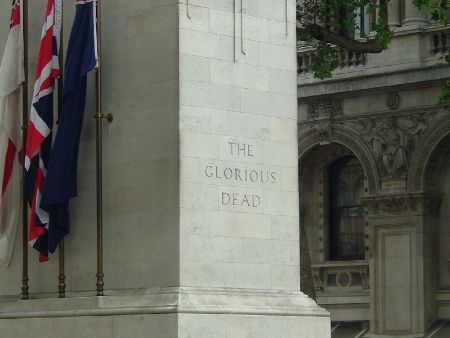 And I ended at Parliament.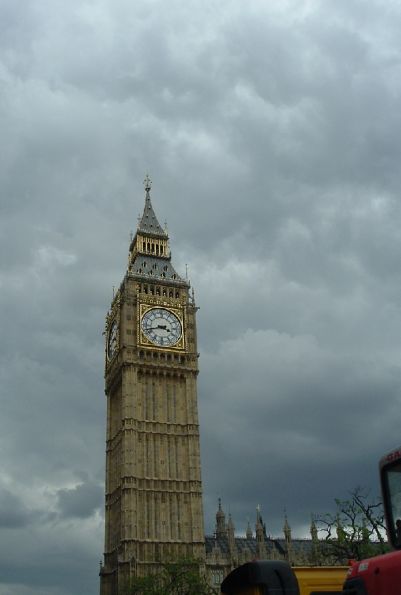 I took the tube from Westminster Station on the District/Circle line back to the hotel. Some of those stations are above ground and are quite interesting because they seem to be quite old.
After returning, I turned on my computer, which decided to be cranky again. It turned on, but refused to illuminate the screen. I considered searching for any handy marauding band of thugs to beg them to take it off my hands, but a torrential, though brief, downpour stopped that, and after a brief rest my computer screen lit up as if nothing had been the matter. It's as eccentric and cranky as me, but perhaps it's time to replace it.
Dinner was very special. At half past six my friend Brendan picked me up and we headed to St. James to meet his wife Susie at the Athenaeum Club.

I've never been in a British club before, but it's exactly as one would imagine it. High ceilings, large heavy furniture, wide marble staircases. We had a champagne in the lounge, then went downstairs to the Garden Room. Here Susie proudly pointed out two costume renderings done for Pavlova, one of a doll. Though the doll looked like the costume for Karsavina in Petrouchka, I think the renderings were for the small divertissement solos that Pavlova did on her tours.
On to a very rich dinner in the main dining room. I had steak, which they did awfully well. I'll let you know in two decades if I get Mad Cow. The conversation ranged throughout dinner; I found it amusing that Susie was most interested in (and brought up) Friday Catblogging. Love my cat, love me.
After a dessert trolley, coffee and tea were served upstairs in a reading room rather prosaically out of vacuum thermoses. I guess I expected china and urns! Susie took me through several of the libraries that also serve as smaller private dining rooms. There are several Gentlemen's Clubs on Pall Mall, the Traveler's and the Reform Club are adjacent. Susie was one of the first female members of the Athenaeum; the club only admitted women from 2002.
After dinner the sky was perfectly clear and a perfect shade of intense but light blue that indicated nightfall. By the time we got back to Kensington it was still clear, but lapis. Night had come to the end of a perfectly British day.
Posted by Leigh Witchel at 5:49 PM | Comments (1) | TrackBack
A New Yorker in London
Last night during the interval at Covent Garden my friend Lynette remarked that London must be familiar to me by now. I smiled and she added, "So what still seems strange?"
London is a horizontal city, New York is vertical. The buildings are London are low and take up full blocks.
Nothing makes your own class system more obvious to you than seeing someone else's. I'm so used to how class is structured in New York that it's almost invisible to me. Nothing throws it in relief more soberly than switching the cues. I don't know if this is true, but class feels more race-based at home, probably because there's an extra social layer on top of race in London, and there's also a white underclass here, something that in NYC seems to be largely minority. Accents mean a lot here, I'm only beginning to distinguish them by class.
Far more trivial things: Shower fixtures. There are too many damn knobs in London. It's not as bad as Buenos Aires, though, where the shower stall at the BelAir also had some sort of needle spa shower heads randomly placed to attack my eye with a stinging jet of hot water if I turned the handle incorrectly. It took three days to figure that out.
The London tube is cleaner than the subway, but it's also more claustrophobic as the cars are more cramped with lower ceilings. Also, take your pick – the London stations are cooler but the cars themselves are hotter and in New York it's the reverse.

Posted by Leigh Witchel at 6:22 AM | Comments (0) | TrackBack
The Royal Ballet
Apologies, because I'm on assignment the notes will be cursory rather than detailed.
The 1987 Anthony Dowell production of Swan Lake is not considered one of the better British productions. It shows the state of Swan Lake in New York that it's heads and shoulders better than both of ours. At least it's an actual Swan Lake with only minimal Freudianism. Ivan Putrov, their Siegfried, ought to be better known. He has the best ballon I've seen in a while - airy jumps with beautiful soft silent landings. He's admirably refined for someone with that sort of pyrotechnical ability. You don't often see soft virtuosi, at least in America. He also uses his weight extremely well; he really dances into the floor. I'm a bit surprised he isn't better known outside of the UK, he is good enough. He's interesting because he is a light dancer with breadth and weight. I can imagine he would be a fine Spectre. I would like to see his James.
Last night's mixed bill had two ballets by Ashton and one by Nijinska, and I'm delighted I'll be seeing it twice more. I'd like to see Symphonic Variations sixteen more times from every area of the theater just to know it better. I didn't know what to expect from Les Biches; the most interesting thing to me was how topical it was compared to the timelessness of Les Noces. I had last seen A Month in the Country in 1983. I had only been watching ballet about a year and had no clue what I was looking at, so it's a delight to see it with more experienced eyes. Ashton's dramaturgy is brilliant, there's a scene where sets the entire cast to turning a room upside down looking for a key – you know exactly what's happening, and it's all ballet.

Posted by Leigh Witchel at 6:18 AM | Comments (0) | TrackBack
Dinner in London
We had dinner at a Chinese restaurant, Y Ming, right behind the Palace Theater on Greek Street. It's a pleasant Chinese restaurant a few steps up from the neighborhood variety. Some of the dishes are less familiar in NY (more lamb dishes, though we have them, the same with stewed as well as fried dishes) and after some convincing Chris prevailed on me to have the aubergine with garlic despite my childhood prejudice about eggplant. An excellent choice, it was delicious, as was the chicken with lemon and coriander. I was less interested in the Empress Beef, which are small chunks of beef stewed with anise. It's similar to the Vietnamese Bo Kho, only the Vietnamese version is wetter and also more interesting.
There's no way of getting around it, an American in London is going to have sticker shock. Because Priceline helps so much on hotels, mine usually arrives at the food bill. The only way to avoid it is to stop thinking in dollars to pounds. A dollar and a pound both have the same purchasing power. The meal we had would have cost somewhere around $40-$50 in NYC. It was £50 here. To economize on days when I am not eating with friends I grab food from the markets.
Posted by Leigh Witchel at 6:16 AM | Comments (0) | TrackBack
Soho
On Tuesday night I met with with Chris, BAHumbug from Flyertalk, in Soho. The area near Old Compton Street seems to be the epicenter of London gayness. Chris kindly put up with my hobbling about in new shoes (I never learn. Don't pack new shoes, but at least I also packed bandaids) and the attendant indecisiveness provoked by the pain of open blisters. So I put myself in his hands and we strolled (well, I gimped) to Soho Square, which is jammed with boys, including one boy who seemed to be using a stroller as a prop for cruising. Someone needs to tell him that a small baby does not make other men want to have casual sex with you. Chris was more sage about the child. "Borrowed from a lesbian friend" he intuited with the perspicacity of his countryman Holmes.
Posted by Leigh Witchel at 6:14 AM | Comments (0) | TrackBack
June 1, 2005
An English Miscellany: I - London Nuts and Bolts
A London Miscellany
Packing for the trip: I could have made it down to a single very stuffed bag, but I decided (and I was right) that two lighter unstuffed bags are better than one overly heavy stuffed bag. The thing I'm most delighted I brought so far was a well packed toiletry kit, including remembering Band-aids, which came in handy when I had new shoe blister angst.
I had been upgraded to business class (thanks, Wayne!) and was thinking of being all sassy and wearing leather pants on the plane. You would think I would learn, right? Happily, I did. I had the brains to do a quick test wearing the night before and realized they were both too tight and too warm to wear for an 8 hour flight. No regrets on that decision; I chose an outfit that was comfortable, but sufficiently put together and queer-friendly. You never know who you'll met on a plane. Six pages of stories about sitting next to the randy lad or the horny businessman who does unspeakable things with you under the flimsy blankets. I, of course, get the NASCAR dad from Nashville. So I did not waste an outfit.
I was taking a morning flight so didn't even bother going to bed. My car service came at 4:00, we were at the airport by 4:20. Day flights for eastbound transatlantic journeys are a great idea. I still have some jet leg, but far less than with an overnight. One other thing I did that ended up being a very good idea was to have some champagne with the final meal service at the end of the flight. It gets me sleepy enough that I could go to bed at the hotel.
For the first night I chose to stay at Heathrow airport instead of making my way into London. This is a mixed bag. It would have been less expensive had I not made an error about transportation. I knew that most London transit buses went to the airport hotel areas for free – but after no sleep and a long flight, I couldn't tell exactly what to do. There are not explicit markings at the Central Bus Station. There's also a "Hotel Hoppa" bus at terminal 3, but by the time I doubled back after going to the Central Bus Station the last of those buses had already left. A cab was necessary, and bitterly expensive – one blocked off road cost £5 in detours. The cab driver kindly knocked down the fee and it was still £10 for a short local cab ride.
For the record, to get to the Holiday Inn Ariel or the Sheraton Skyline (the two main Priceline hotels at Heathrow), go from stands 18, 19 or 20 for any of the red two-decker London buses. #140 for instance will take you. They run quite late. So even with a day flight, it might make more sense to get a London hotel as long as the hotel is easily accessible via the Piccadilly line – like the Millenium Gloucester or any of the other Gloucester road hotels.
The Sheraton Skyline is a perfectly serviceable airport hotel that goes for between $55 and $65 a night on Priceline. Continental breakfast is £15 or £17 for English. That's a bit much for my taste. High-speed cable is £14.10 for noon-to-noon access. I opted against all of them. You might want to pack a snack bar or some other food if you do this, there's no place to get food near the hotel that I saw. There is a large fitness room open 24 hours a day, it does not have an elliptical trainer (which is what I prefer) and there are several less-familiar weight machines that come without instructions.
I took the free bus back to Heathrow to take the tube into the city. I don't take the Heathrow Express, rather the Piccadilly line. I bought a 7 day zone 1 travelcard and an extension for one journey from the airport (you need this because the airport is in zone 6. It's £2.10 extra) £20.60 total. Time into the city is about 45 minutes.
The Hilton London Olympia is a rather drab, labyrinthine, but serviceable hotel. It's a good hike from the Kensington High Street Station (a long 10 block walk of about 25 minutes) There are better, more convenient choices but for $73 on Priceline, who am I to complain? For those who like this (like me) the beds are very firm. Continental breakfast is £13, high-speed is £15 daily or it just might be free if your window faces the right direction.
I haven't seen any ballet yet - my first (Swan Lake) is tonight.
Posted by Leigh Witchel at 10:43 AM | Comments (0) | TrackBack