« Yes, we do Friday Cat Blogging here, too. | Main | Reason Prevailed »
February 18, 2005
Current Knitting
I usually have three active works in progress (WIPs) –
A simple portable project – socks or a hat.
A larger simple project – often an afghan like John and Chris'
A complex project (that languishes unfinished because I never have time for it)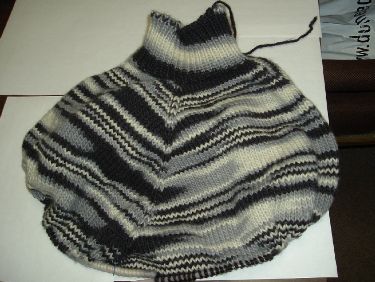 This poncho started small and portable and graduated to large and simple. It lives in the office on weekdays and I work on it for a few stitches if I'm fielding a phone call or my office computer crashes and reboots randomly for the fifth time during the day.
There's no pattern here: Start at the top with a loose cast-on (I use the tubular one) and enough stitches for the neck. Once the turtle neck is the right length (about 4 inches here), place markers at 4 evenly spaced intervals. Every other round, increase on either side of the stitch immediately after the marker – so I increase a stitch, slip the marker, knit the "spine" stitch in between the increases and then make the other increase. Keep going until your poncho is long enough. Cast off loosely, fringe if desired. Voilà.
It's made out of a handpainted single ply yarn with a loose twist called "Matisse" – I snagged it at a yarn swap a few years ago from the ever-stylish Eve Ng. The long color repeats from hand painting mean that again one wants to watch for color pooling, or make it a feature in the alternative. My hunch was that knitting with angles would work best, and I think that hunch was right. The changing number of stitches from the constant increasing also helps to avoid pooling but I very much like the Ikat-like effects of the yarn in this project.
Posted by Leigh Witchel at February 18, 2005 2:21 AM
Trackback Pings
TrackBack URL for this entry:
http://www.leighwitchel.com/cgi-bin/mt-tb.cgi/12
Comments
Post a comment