« Recently Finished Knitting - Simple Afghan | Main | Current Knitting »
February 18, 2005
Yes, we do Friday Cat Blogging here, too.
Call it Internet Peer Pressure.
So for our inaugural Friday Cat Blogging, I offer you -
The Blair Kitty Project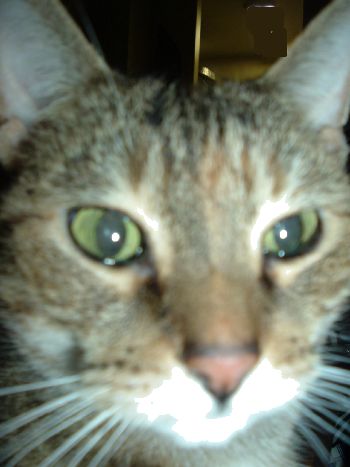 Posted by Leigh Witchel at February 18, 2005 12:48 AM
Trackback Pings
TrackBack URL for this entry:
http://www.leighwitchel.com/cgi-bin/mt-tb.cgi/11
Comments
Posted by: Anonymous at February 22, 2005 12:36 AM
How do you keep the cat away when you are knitting? My kitties don't even like it when I read!
Posted by: Jeannie at February 22, 2005 1:10 AM
Amazingly, Javi doesn't molest me when I am knitting. She does think, though, that a circular needle makes a marvelous cat toy - and since mine are made of plastic (and therefore smell and taste wonderful) they must be kept away from her. What she hates is when I talk on the phone. She's hardwired like a toddler: "Pay attention to me. Pay attention to me! Don't make me run through your apartment howling and knocking things over. . .PAY ATTENTION TO ME!"
Posted by: Leigh Witchel at February 26, 2005 9:17 AM
Post a comment