« Choreographers on Parade | Main | Friday Cat Blogging »
February 25, 2005
Knitting Bee
Knitting is a great solitary pastime, but it's more joyful when it's social. There are informal "knit-togethers" throughout the city; the one I'm lucky enough to attend (when I can, which is less frequent than I would like) is organized by the perennially stylish Eve Ng. Charlotte Quiggle is in town. She's a native Minnesotan who lived in New York for a long while, but then moved back home last year. She's here on a visit, so Eve arranged a get-together.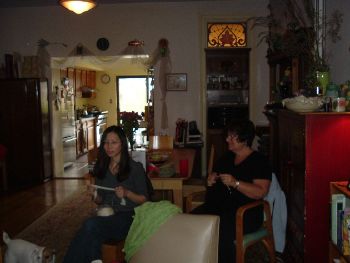 I used the time for finishing rather than knitting, bringing along several AFO's to turn into FO's – Finished Objects.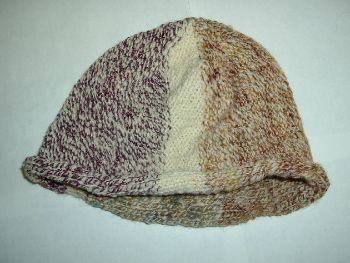 I had left this mitered hat from Nancie Kremer's pattern to languish for 18 months with only the side seam ungrafted. This is a fun pattern for a relatively new knitter, and a good way to learn short-rowing if you'd like to tackle socks later on. The stockinette version has an attractive rolled edge because of stockinette stitch's tendency to curl, just remember that stockinette has a greater row gauge than garter stitch. You may only want to short row until 22 stitches on each wedge to cut some rows in compensation. I also did a provisional cast-on and grafted the sides rather than binding off or sewing. The yarn was handspun that was a gift to me from another friend, Cynthia Davis.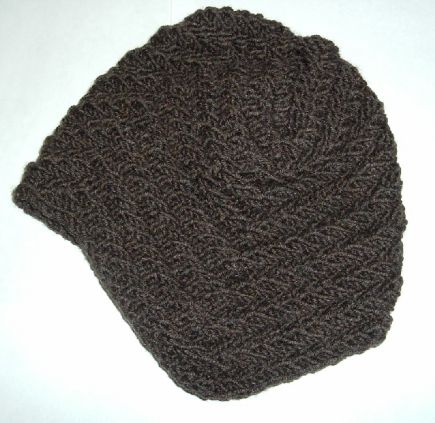 Flor's website has some of the best free patterns around, including one of my favorite, the Amelia Earhart Cap. It has everything to recommend it. It's clear and well written, in both chart and written form, it's ingeniously designed and it's a great combination of interesting shaping and simple knitting; it's just a k2p2 rib that steps on the diagonal and short-rowing at one end. It works up extremely quickly and you can take it anywhere; it's simple enough to work while walking. There's a similar pattern also in "Homespun, Handknit", the cap in the "Bouncing Baby Set" by Jean Scorgie. She says she derived it from a Finnish pattern. Scorgie's pattern uses garter stitch instead of a stepped rib and sews the seams instead of short-rowing.
Flor's pattern looks great in a solid color cabled yarn; it really shows off the pattern. I've used Baruffa Maratona and Filatura di Crosa Zara so far. The photo below is of the model in Zara, which has few short rows omitted because I was running out of yarn. It uses a bit more than a single skein. The provenance of the yarn is from the stash of my friend Cynthia, who occasionally gets stricken with Feng Shui and heaves things out.
You can reduce your need for the knitting chart if you place a marker after the 14th stitch from the edge where you are short rowing. When you hit the marker, it's time to reverse the shaping. For the central lobe of the pattern, place the marker after the 7th stitch. I also tried seeing if slipping the first stitch of the straight edge from rows 56 to 85 produced a neater edge over the forehead. It's six of one, so see if you like it. My one caveat would be that it looks best on women with long hair or bangs. When worn, it's shaped similarly to a bathing cap. If you don't like the way you look in a swim cap; you won't like the way this hat looks. But knit it anyway for the fun of it and inflict it on a friend who would look cute wearing it.
Posted by Leigh Witchel at February 25, 2005 12:00 AM
Trackback Pings
TrackBack URL for this entry:
http://www.leighwitchel.com/cgi-bin/mt-tb.cgi/23
Comments
Hey Leigh, you got Zoe in the picture too, but I think I'm going to have to pull down that swag the girls put up. And now I'm going to have to dig up an odd ball of yarn for Flor's hat.
Re: the gates, monk's robes were my first impression too. Like an odd clothesline running through the park.
Posted by: eve at February 25, 2005 9:56 AM
Just be sure to dig up an odd ball-and-a-quarter about, so you don't do what I had to do, which was run out about three short rows before the end and have to rip back to right before the middle of the first lobe to make it smaller and symmetrical. If I remember my estimates, with sport weight yarn it takes about 170 yards.
I kinda liked the swag. It's just the photograph.
Posted by: Leigh Witchel at February 25, 2005 10:11 AM
Post a comment