« Knitting Bee | Main | Leigh's Dance Card »
February 25, 2005
Friday Cat Blogging
Let sleeping kitties lie.
Lascivious kitty (Note the overgroomed belly. That's from more than two years ago and it's finally growing back.)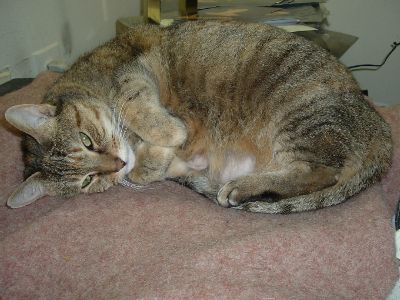 Posted by Leigh Witchel at February 25, 2005 12:19 AM
Trackback Pings
TrackBack URL for this entry:
http://www.leighwitchel.com/cgi-bin/mt-tb.cgi/24
Comments
PISICUTA!!!! KITTY!!!!
Maybe you can get a pic of her doing Kitty yoga before the weather warms up!
Posted by: Steve at February 26, 2005 1:22 AM
Post a comment