« No Place Like Home III - Night in Buenos Aires | Main | Sunday Cat Blogging - Kitty Australis Edition »
April 10, 2005
No Place Like Home IV - Necropolis
The tour guide on Friday described Recoleta Cemetery as the third most beautiful cemetery in the world: an odd distinction. I think Père Lachaise came before it, along with one I didn't catch. I found the cemetery more creepy and fascinating than beautiful. It's jammed side by side with monuments and mausoleums, some lovingly tended to, some near collapse.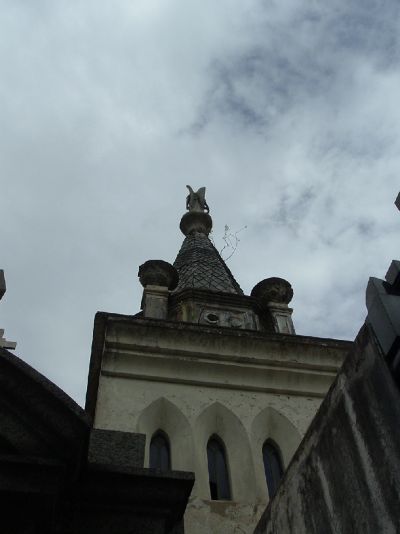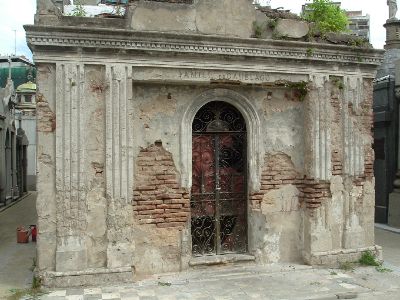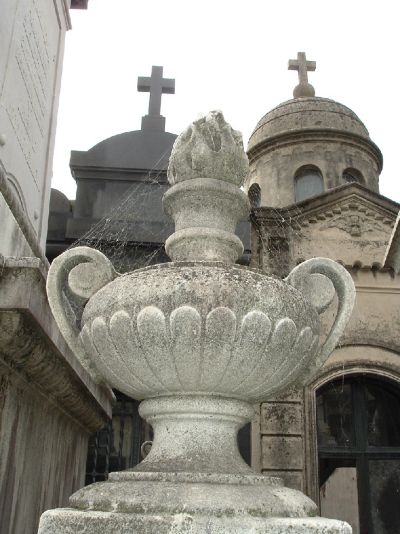 Bodies are not buried; coffins or urns are placed on view in the mausoleums, which seem to be for entire families rather than single individuals. Often, the glass panes to the doors are broken, and there is a smell to the entire place that suggests decomposition.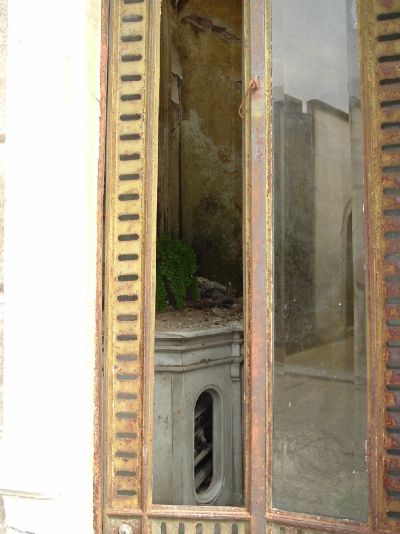 The most visited tomb is unsurprisingly Evita's. It is labeled "Familia Duarte" and is neither particularly ornate nor particularly central. I was more struck by the gawkers than the tomb itself.


This picture was taken at the tomb for the Leloir family, city patricians. The effect was caused by the glass door of the mausoleum. "What I am, you will become."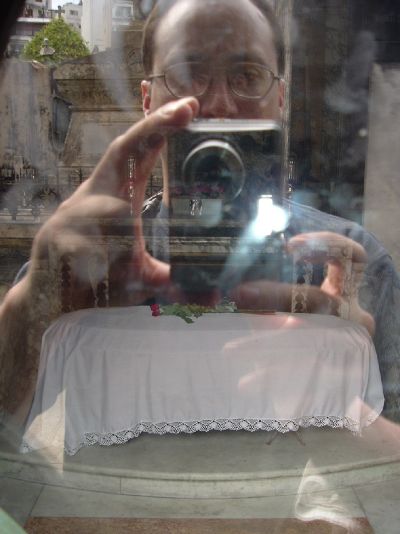 Just burn me, OK?
The rest of the day was spent on a walk to the center getting tickets for performances that night and Sunday. One hazard of being a tourist; the tango show I decided to see at the Borges Cultural Center turned out to be primarily a recital of young students; I slipped out quietly at intermission. The walk home via the Plaza San Martin, filled with lovers and dog walkers, was more memorable than the performance. Buenos Aires lives for nightfall.
For tonight I had a choice between the Ballet Contemporáneo del Teatro San Martin in mixed rep or the Ballet Neoclassico de Buenos Aires in Romeo and Juliet. Because I knew the former's reputation and because Romeo and Juliet is not a ballet that is close to my heart in the way Giselle is, I chose the contemporary company. Reports tonight.

Posted by Leigh Witchel at April 10, 2005 8:44 AM
Trackback Pings
TrackBack URL for this entry:
http://www.leighwitchel.com/cgi-bin/mt-tb.cgi/76
Comments
I have always been fascinated by Evita Peron. That anyone (especially a whore) could be so mass captivating (absent the persuasive terror of a Hitler) just amazes me. Anyhow, so I am curious, what do you see when you peer inside her mausoleum?
Posted by: Steve at April 10, 2005 12:21 PM
You know, there was a crowd of people surrounding it and I never pushed my way past them.
Posted by: Leigh at April 10, 2005 6:56 PM
Post a comment