« My powers are awesome | Main | Return of a UFO »
October 20, 2005
Multi purpose blogging
I had to post this picture of my dear friend Connie's son Alex.
First off, the cat looks remarkably like a less impeccably groomed version of She Who Must Be Petted.
And Connie, smart friend that she is, has dressed Alex in a sweater I made for him.
There's no pattern. It's a raglan cardigan in stripes knit from the top down according to an article from Hand-Knitting Techniques from Threads Magazine,"The Magic Raglan". The yarn is various oddballs of cotton and machine washable wool; some is doubled sock yarn. The sleeves have no shaping to make it easier for the parents to put them on a squirmy toddler. The borders are five rows of garter stitch in stripes, with the cast off on the wrong side. I put shank buttons on the original sweater, Connie immediately replaced them with standard buttons sewn on firmly. She says it is harder for a baby to chew and swallow them.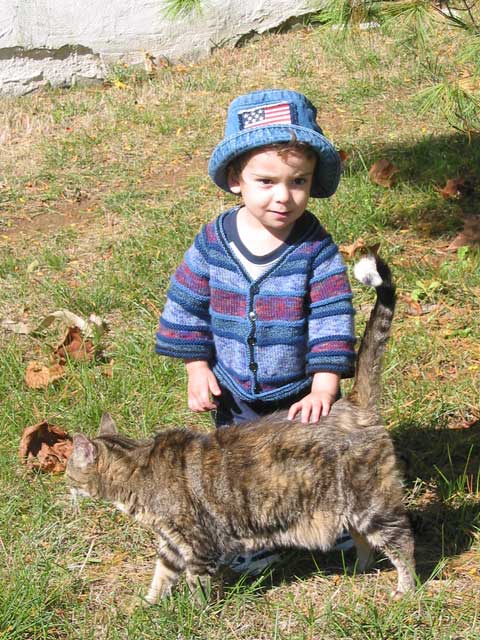 Posted by Leigh Witchel at October 20, 2005 12:43 AM
Trackback Pings
TrackBack URL for this entry:
http://www.leighwitchel.com/cgi-bin/mt-tb.cgi/240
Comments
I hope this signals a return to cat blogging. Alex is a cutie and the sweater definitely makes him the well dressed toddler for Autumn!
Posted by: Steve at October 20, 2005 2:14 AM
Post a comment