« Multi purpose blogging | Main | Carrot soup and Broccoli soup »
October 21, 2005
Return of a UFO
UnFinished Object in knitter slang.
Time spent traveling is my best opportunity to tackle substantial knitting projects, particularly UFOs. However, substantial projects usually take up a substantial amount of space. Last year, I deeply regretted having to take an extra bag for a multicolored project that got dragged from Paris through the Low Countries on planes, trains and buses.
With Alexandra's camisole completed, I hope to cross yet another project off the unfinished list, but not add bulk when I go to England next week. This project fills the bill.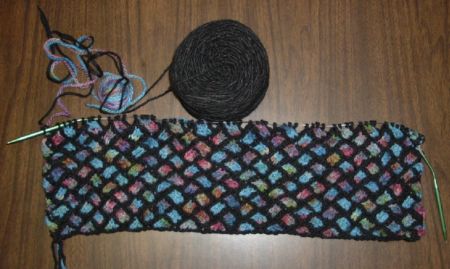 Entrelac knitting is beautiful in effect but painstaking, particularly the way I force myself to do it. Large individual squares are much faster to knit, but I think they look ungainly. I want the effect of a mosaic, so I do tiny squares that require many more turnings and hand movements. The results are almost worth it, at least once enough time has passed that you forget the hassle. That's probably why I go years between entrelac projects.
There are two different yarns in this project. I bought the variegated yarn, Colinette Skye, at a fair near Washington DC when I taught in Bethesda in 1998. The marvelous colorway is aptly named Blue Parrot. The black yarn is a mill end, a silk/cashmere blend that I bought a year later at School Products. I'm knitting on a US 10 (6.5mm) needle.
Per my knitting journals I began this sometime before October '99 and took it with me to Seattle when I covered my first Balanchine Interpreters Archive taping. The entrelac section will be the yoke of the sweater, the bottom of the sweater will be a slip stitch pattern called Royal Quilting that echoes the entrelac squares, only with black centers outlines by variegated slipstitch diamonds. I'm hoping the positive/negative effect will be handsome rather than overpowering.
The sweater probably got put aside because of the tedium of the entrelac, but also because the black yarn was coned, and cumbersome to carry. On Wednesday I did the painfully obvious and snipped the black yarn so I could wind the remainder into a pull skein. It all fits neatly into a small bag now, so it and an extra skein or two of Colinette will be accompanying me to London. Before it is completed I estimate this sweater will have traveled 12,500 miles. To bad it doesn't earn frequent flier miles.
The squares in closer detail: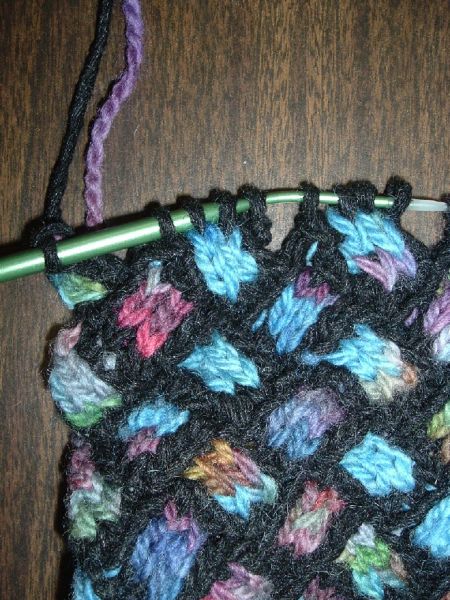 Posted by Leigh Witchel at October 21, 2005 11:02 PM
Trackback Pings
TrackBack URL for this entry:
http://www.leighwitchel.com/cgi-bin/mt-tb.cgi/241
Comments
You are out of your everloving mind.
You know that?

Posted by: stephanie at October 22, 2005 7:41 PM
This is absolutely beautiful! I found this while looking for a beginners afghan knitting pattern. What work must have went into this! I would love to see the final project! Again, it's just amazing!
Posted by: Jodi at October 23, 2005 9:52 PM
Wow, that's gorgeous. My first thought was, why not just do a slip-stitch mosaic, it would be way easier, till I scrolled down and saw the close-up. Oh. Now I get it. Gorgeous, Leigh. If it turns out too small, I'll help you find it a good home...
And, Bethesda? My hometown. Out past the Beltway, by the ten-mile-long Cabin John Park. Piece of heaven. Yes, if that's Bethesda yarn, I'm glad you're doing justice to it. Even if Stephanie's right.
Posted by: AlisonH at October 24, 2005 1:38 AM
Alison - Believe me, I tried *any* other method to get an analogous effect before giving in and realising that it had to be entrelac. So yeah, my process was similar to your thoughts.
Thanks for the kind words, Jodi. I'll post occasional pictures here to spur progress on.
Steph - I'll take that as a compliment! I'll bring it up to TO next month so you can take a closer look.
Posted by: Leigh Witchel at October 24, 2005 9:40 AM
uh, like, WOW!
that's spectacular, Leigh. You make me reconsider entrelac, and that's saying a LOT!
Posted by: Grace at October 28, 2005 10:02 PM
Post a comment