« Jennifer Homans on Ashton | Main | Terpy »
November 2, 2005
My favorite sweater project
My most successful sweater got its inspiration from Kaffe Fassett's "Small Steps" sweater from Glorious Knits. I took the basic geometric design and placement, then used my own colors, details and construction methods.
The sweater has a long history. I bought the variegated yarn, Noro Sarubia, in January of 1998 on a foray up to Webs. It is a 60/40 Silk-Kid Mohair blend in saturated jewel tones. The black yarn is a very light wool bouclé, Lana Cervinia Mimosa. I bought it in late November, 2001 at the annual Manhattan sale for Smiley's Yarns and immediately swatched it with the Sarubia. Like other yarns with color changes every few feet instead of every few inches, Sarubia works best in projects that have relatively large areas of color, such as intarsia or entrelac. I was originally thinking of a slipstitch pattern, but as in Fair Isle knitting, it didn't make big enough areas of color to show the shadings. I had the sudden inspiration to try one of Fassett's intarsia designs, and Small Steps seemed perfect. I began the sweater on 11/30/01 and played with it all afternoon and evening.
Noro yarns are the Ferraris of yarns: Stunningly beautiful but cantankerous. You need to swatch until you find the stitch that brings out their gorgeous colors. Then you have to deal with the idiosyncrasies of the yarn. There was tons of chaff that I had to pick out as I knit and irregularly spun areas that became way too thin, necessitating that the yarn be broken and rejoined. But oh, those incredible colors. Fassett's sweaters are made by using small amounts of many colors, often upwards of 60. Variegated yarn eliminates the work. Sort of. I realized within an inch that to look its best, the colors needed to be symmetrical on the left and right of the sweater and the yarn changed colors progressively from blue to purple to green and so on. To get more or less symmetrical steps, I wound off one long color change from the skein at a time and used half on each side. It looked much better and gave me control over the color changes but there were consequences.
As in my current entrelac project, I like to frame saturated colors with black. Like stained glass, it makes the colors richer. When using several colors in a single project, one way to keep them harmonious is to think less about the hue and more about the value. Pale blue and pink together will be a quieter combination than pale blue and dark blue. All the saturated colors in the sweater are around the same value, so the result is a sweater that is dramatic, but still wearable. And for people like me who can't be bothered with trivial things like accurate gauge swatches, intarsia sections (like entrelac) can be carefully unraveled to make the sweater narrower.

I put the sweater away for much of 2002 while I was working on the Dance as Ever concert, and took it up again in November once the concert was over. I don't usually enjoy intarsia knitting because it often doesn't move in a regular rhythm. But Small Steps moves in a very regular pattern and the slow color changes in the yarn provided little milestones to keep your stamina up. I started on the sleeves by mid-November and finished them by New Year's Day, 2003.
Because I divided the skeins into several individual color changes, I had ends to darn in. A lot of ends. I do not weave in the yarn as I go as I might in a Fair Isle project. With intarsia, it is important to make sure the ends are sewn into a section in the same color to prevent them from showing through from the inside. Darning does this better than weaving though it takes longer. A lot longer. I started darning in the ends on a bus trip to Newport, RI but then took another hiatus. To prod myself to finish, I decided to assemble the sweater first; hoping that I'd be more motivated to darn in ends on a completed garment. The sweater was completely assembled and all the borders were knit by April 6, 2003. Darning the ends in took several months more, because I once again put down my knitting during Dance as Ever (I never could relax enough to knit when I was making a concert) and resumed it again after the concert was done and I went to England for my brother's wedding. I worked on the ends in earnest on the bus from Bath to London and the following morning; about 40% of the ends took six solid hours of work to darn in. The sweater was finished on 10/21 and worn two days later for my fortieth birthday.
I brought the sweater again with me to England and photographed it in Bristol on top of the wedding afghan that I gave to my brother and sister-in-law. Here's a closer look at the detail.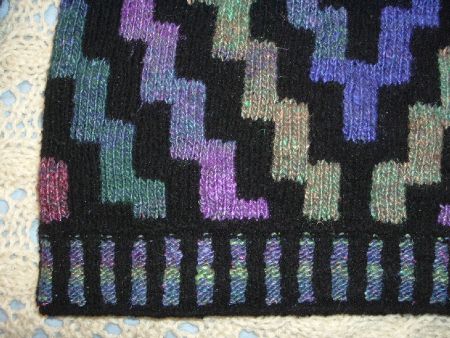 Posted by Leigh Witchel at November 2, 2005 11:29 PM
Trackback Pings
TrackBack URL for this entry:
http://www.leighwitchel.com/cgi-bin/mt-tb.cgi/252
Comments
Oh wow! This turned out amazing!
I remember you knitting on this, back in 2002. I think I even still have the picture you sent of all the ends hanging down from the sweater - waiting to be darned in. I think you referred to it as your Portuguese Man O War sweater at that point.
It must be the point in my knitting carreer when Kaffe Fassett is taking hold. Some many people and events are all pointing towards him right now. And having bought a couple of his books cheaply recently probably doesn't hurt!
And I was thinking about this sweater just yesterday and LOOKY! It arrives on my screen today!
I think it's a sign I may be knitting this one. Only I have grant delusions that I'll spin the yarn to do it. [g] Yes, I live in a fantasy world sometimes. [g]
See you in a couple weeks!
Posted by: Danny Ouellette at November 3, 2005 5:27 PM
I had the privilege of seeing this sweater in person. It is a truly spectacular sweater. Absolutely gorgeous in all respects.
Posted by: Grace at November 3, 2005 11:08 PM
Post a comment