« To the IRS: | Main | Malai Murgh »
January 12, 2006
Current Knitting - Silk Mosaic Purse
The neckwarmer is an AFO (almost finished object)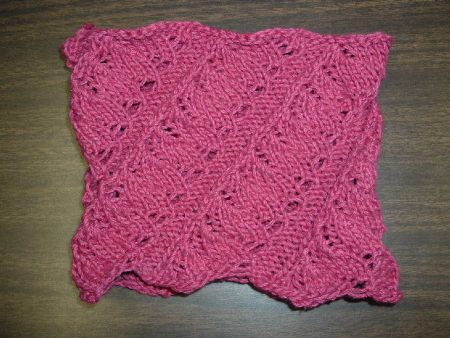 It needs the ends darned in and strenuous blocking; it's quite tight. I think I have enough yarn to make another but the next one will be one repeat larger in circumference. I like the lace pattern very much. It's easy to work (it would have been a heck of a lot easier to work had I just done all yarn-overs!) and interesting as it's based on stockinette not garter, but every row is still a pattern row. Most lace patterns in stockinette stitch have pattern rows alternated by a plain one, usually just purling back after the pattern row.
I cast on a new project on Saturday. I bought two remnant cones of silk way back around 1990 at a place called Yarn Blenders long gone from 46th Street. It was in an office on the second floor of a small building and sold, true to its name, novelty mixtures of various yarns stranded together as well as some remnants like these. The yarn is a cultured silk called "Sumatra" in two shades of blue. It glows beautifully and I wanted to find a way to show off the two tones.
I had never tried mosaic knitting, Barbara Walker's elaborations of slip-stitch colorwork. I thought it would be perfect for a purse. It's based on garter stitch so it produces a stable and flat fabric. In the luminous silk, the little pearls of garter stitch could be like bead knitting without needing beads.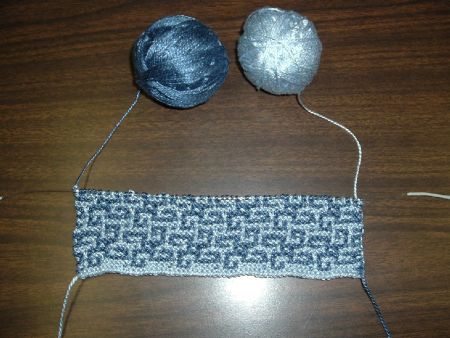 It's been a great project so far, the perfect balance of simplicity and complexity. Mosaic knitting, like Fair Isle, spurs you on by constant small changes so that you keep knitting to see them but the knitting itself takes less attention.
This pattern is called Curled Cross. Walker's charts are simple to read, though I translate them to counts in my head - knit 3, slip 1, knit 5, slip 1 etc. One thing to remember: the patterns look boldly graphic as black and white charts. In order to get that feeling, you need to use very dark and very light yarn at a heavy gauge. I'm knitting on a US 3, at this gauge a pale blue and a deeper blue in a single stitch pattern don't really pop; it's more of a subtle visual motion.
I'm planning on a simple envelope purse and will save enough silk to make a multicolored cording. I'll ask the Mom-o-rama if she has some silk fabric for a lining.
Posted by Leigh Witchel at January 12, 2006 12:21 AM
Trackback Pings
TrackBack URL for this entry:
http://www.leighwitchel.com/cgi-bin/mt-tb.cgi/362
Comments
Wow. This is absolutely lovely.
I think I've only done one ... maybe two? mosaic patterns. Not out of any disdain for them at all - this is a classic example of how beautiful they can be - but just because for some reason I don't think of them.
I obviously SHOULD think of them!
I hope you'll post a picture of the finished object?
Posted by: Grace at January 13, 2006 10:11 PM
Post a comment