« In training | Main | Current Knitting - Silk Mosaic Purse »
January 11, 2006
To the IRS:
I would like to commend the security guards at your Midtown Manhattan branch for preventing me from entering your building to get 1099-MISC forms today [January 10, 2006] because I had in my possession a fork.
This fork, with its five metal tines dangerously blunt, looked like a common lunch fork. Most people might have mistaken it for that. But sharp-eyed security guards and Jewish mothers know, "You can put an eye out with one of those things!" Who knows what havoc I could have wreaked with that seemingly ordinary fork? I had been in two banks prior to attempting to enter the IRS building and amazingly enough the tellers did not object to my fork, even though I might have robbed either of them with it.
I asked the security guard if he would let me leave the fork and go up and get the forms, but bravely, he would have none of that. He knew the rules. The Fork Must Stay Outside the Building. Chastened and banished, I left, but the building remained fork-free and safe.
Your guards are admirably vigilant in protecting the Internal Revenue Service from potentially dangerous lunches (though were that the case, I'm amazed they missed the beans I was going to eat with that fork) but would it be at all possible to inject a bit of common sense in your otherwise understandable desire for safety?

Very truly yours,

Leigh A. Witchel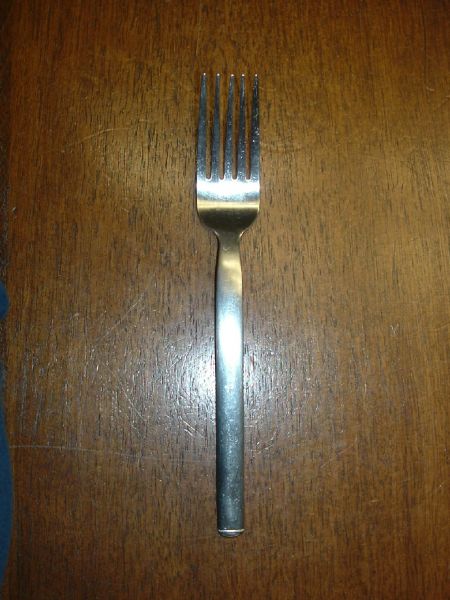 DANGER! FORK OF MASS DESTRUCTION!!!1!
Posted by Leigh Witchel at January 11, 2006 12:05 AM
Trackback Pings
TrackBack URL for this entry:
http://www.leighwitchel.com/cgi-bin/mt-tb.cgi/361
Comments
Next time you might want to try a plastic fork, with your beans. And maybe see if you can get into the IRS building with a plastic fork. If the guard still says no, then you KNOW that the IRS is beyond the realm of stupidity, the IRS are nothing more than COWARDS!!!
Posted by: Francesca at January 11, 2006 11:26 AM
I would never attribute to cowardice what can be more easily be attributed to massive layers of bureaucracy!
Posted by: Leigh Witchel at January 11, 2006 10:40 PM
I still think that by signing your name to such a letter that you become an audit looking for a place to happen!
Posted by: Steve at January 12, 2006 1:20 AM
I'm wondering if a spork would elicit the same response?
Posted by: Anonymous at January 12, 2006 10:50 PM
Perhaps in the future, you should eat your beans with chopsticks?

Posted by: Connie Foster at January 15, 2006 10:47 AM
Post a comment