« Rank your Seven Deadly Sins! | Main | Good Luck Kitty »
January 2, 2006
First knitting screw-up of 2006!
I'm getting a jump on things.
I was looking for a fast and portable project and cast on a neck warmer in a brick silk-cotton blend by Stahl that I found close to a decade ago in the sale bins at Patternworks. I thought originally it would knit stiffly like some cotton but the stuff feels almost like brushed suede when knit, hence the idea to use it for something that would benefit from that tactile quality.
I chose a pattern from a Mon Tricot stitch dictionary that Mom unearthed at a garage sale.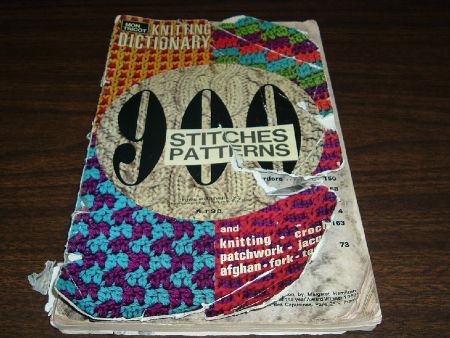 Yes, it's quite well-used. There's one page of patterns specifically for circular knitting and Spiral Stitch looked feathery and interesting.
Here's the pattern as written:
Multiple of 12
Round 1: *P3, won to make 1, k4, k2tog, k3*
Round 2: *P3, K1, wrn to make 1, k4, k2tog, k2*
Round 3: *P3, K2, m1, k4, k2tog, k1*
Round 4: *P3, k3, m1, k4, k2tog*
Not too hard and quick to knit, but I didn't figure out my mistakes until this morning when I was getting the photos ready to blog this.
When I see "m1" in instructions, I interpret it as "place the left needle through the running thread between two stitches and knit the running thread through the back". In short, make an invisible increase. This was pretty hairy on Round 3 because the increase comes directly after a yarn-over and there is no running thread. So I did a lifted increase on round 3 (the first time I ever had to use one) and a m1 on round 4.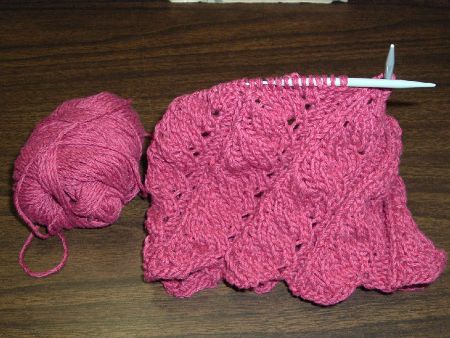 When I looked the picture of the pattern (after knitting a good 4-5 inches) I saw that the picture clearly had open holes at each increase rather than only the first two.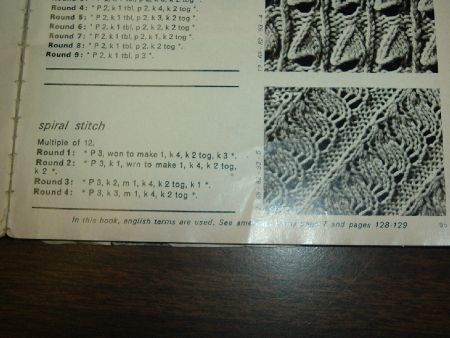 Oh good grief. I looked at what I knit so far, which wasn't bad looking, and at the picture. The pattern in the picture is prettier. Rrrrrrrrrrip.
Casting on again, I assume that m1 here means knit through the running stitch untwisted. That would cause a pretty effect of holes that decreased in size much like the picture. Well, same problem. There's no running thread to knit into on Rounds 3 and 4. To do a m1, I need to alter the pattern as follows:
Set up round: *P3, yo, k4, k2tog, k3*
Round 2: *P3, K1, yo, k4, k2tog, k2*
Round 3: *P3, K6, k2tog, k1*
Round 4: *P3, k2, m1 open st, k4, k2tog*
Round 1: *P3, yo, k3, m1 open st, k2tog, k3*
delaying the open increases for Round 3 and 4 until the following round, doing what I call an "afterthought yarn-over", which I've often had to do on lace when I forgot a yarn-over on the previous round. It looks quite pretty and seems to be what's in the picture. But with delayed increases and an inconsistent stitch count, it's fiddly for what ought to be a simple pattern. It looks like a traditional pattern; would they really have done this in such an indirect fashion?
If you're looking closely at the picture, you may have already guessed the answer. "In this book, english terms are used. See american terms page 7 and pages 128-9"
wrn – wool round needle
won – wool over needle
m 1 – make one, by taking thread over or round needle
Yes indeed. The pattern uses not just two, but three different terms for the exact same thing – yarn over. Yes, a yarn over is done slightly differently depending on whether the stitches involved are knit or purl, but even in that case, wouldn't the first two terms suffice? My version of a m1 looks almost the same as a yo, only slightly smaller, so I shall stick with it through the pattern, but I may have enough yarn to knit two neck warmers. If so, I'll try the simpler, all yo version on the next one.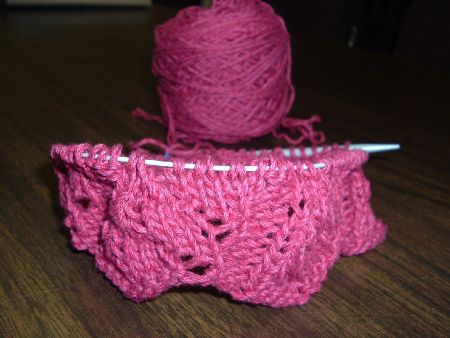 And hunt down the person who wrote this pattern and kill her.
Posted by Leigh Witchel at January 2, 2006 9:30 PM
Trackback Pings
TrackBack URL for this entry:
http://www.leighwitchel.com/cgi-bin/mt-tb.cgi/351
Comments
Leigh, when you start to do something, and it looks good, then don't go looking for trouble!! Stick with it. Someone told me long ago: if you repeat a mistake, it becomes a design feature! Be consistent!
One other lesson I learned long ago, and sometimes still use, is: Always read the directions!!
I have that book too! Mine is in better shape - hehehe. And I have some of the later editions.
Whatever you do, it looks terrific! Love that yarn, and pretty colour. You'll look ravishing in it!
Posted by: Tallguy at January 4, 2006 1:25 AM
Post a comment