« Latest Dance Articles | Main | I'm here »
March 23, 2006
Filling the Gift Basket
I've been doing a lot of knitting recently, very little of which I've recorded here because it's been so basic, almost all hats.
People have been so welcoming to me when I travel so I have been trying to have small gifts to take with me to thank people for their hospitality; hats fill the bill. They're good for birthdays and other occasions and don't take so long to make they feel more like an obligation than a thank-you. I've been making them in advance and then letting people choose the one they like best from a selection. My goal for the stockpile is ten hats in reserve, and then to replace them as they are given away.
Here's the selection that went to San Francisco with me: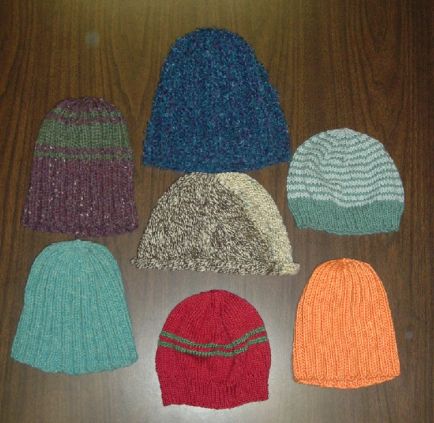 Half of these are ribbed caps I make with a standard formula:
Leigh's Hat Recipe
(An earlier version of this recipe lives here.)
I cast on using Helen Fleischer's "nifty join" (scroll down to the "nifty join")
Knit the hats in P2, K2 ribbing (I start with purl stitches because of the way I decrease for the crown.)
Using appropriate yarn (or several yarns combined), the following number of stitches on these size needles gives me the right circumference for an average head.
(Superbulky) US Size 15 - 48 or 52 stitches. Note: I've gone as low as 40 stitches, depending on the bulkiness of the yarn. The blue cap at the top is done with 44 stitches on US 15s
(Bulky or Superbulky) US Size 13 – 52-60 stitches
(Bulky) US 11 - Metric 8 mm – 58-64 stitches
(Chunky to Bulky) Metric 7 mm – 60-68 stitches

(Heavy Worsted to Chunky) US 9 – 72-80 Stitches. The orange hat is made from a doubled strand of Lion Brand Microspun – 76 stitches on US 9s, the purple hat is from unknown scraps, same needle size but 72 sts.
(Worsted) US 8 - 88 Stitches. The hat in light blue tweed wool is 88 sts on US 8s.
(Sport) US Size 6 - 96 stitches
Knit a P2, K2 ribbing tube. If you're knitting a watch cap with a turned up cuff, knit for 9 inches. Right now, shorter caps without a cuff are fashionable. Those would be between 6.5 and 7 inches long before the crown decrease.
Decrease for crown
First decrease round: P2tog, K2tog across round (You've made a P2, K2 ribbing into a P1, K1 and decreased by half)
Second round: P1, K1
Third round: K2tog. Again, you've decreased by half across the round. Putting the purl stitches first makes the K2tog look smoother, as they swallow up the purl stitches and leave only knit stitches.
Fourth round: K
Fifth round: K2tog.
Break yarn, thread through remaining stitches and pull tight.
There you go!
*
The other hats are Mark Thrailkill's London Beanie.
These are snapped up by my male friends, especially the trendy gay ones. They really like them. The red one is from a leftover skein of Lang Palace (a very yummy merino/cashmere blend) and the blue is two skeins of ancient Columbia-Minerva needlepoint wool.
I work the hats on US 6s instead of US 7s, begin with 81 sts and increase to 90 by doing the following increase round: K9, m1. At the crown, I put a plain round of knitting between the decrease rounds.
The mitered cap in the center is another Emergency Christmas hat based on Nancie Kremer's original pattern.
In San Francisco, Mark snapped up the red beanie, Chris got the blue one. David's favorite color is orange (go figure) so that cap was made with him in mind – and his birthday was shortly after so it served double duty. David also knows how to flatter a knitter. When we met in San Francisco he was wearing the blue socks I had knit him a few years before, and when he visited New York a week later he showed up wearing his hat. Peter got the purple cap, which looked very fetching and butch on him with just a small cuff and Paul got the mitered cap from homespun, which he referred to as a "doughboy". The blue caps both are saved for later, but I've got to refill stock now.
I haven't made one in a while because I've had more men than women to knit for, but I love knitting Flor's Amelia Earhart cap. Her page seems to be sadly down, but you can still find the pattern at archive.org.
I could always use some new simple hat patterns; if you have a favorite, mention it in the comments!
Posted by Leigh Witchel at March 23, 2006 3:59 PM
Trackback Pings
TrackBack URL for this entry:
http://www.leighwitchel.com/cgi-bin/mt-tb.cgi/427
Comments
Gift giving tip #1... knit caps (while VERY thoughtful and personal gifts) are not very useful in Texas. Well, possibly in Amarillo :-)
Posted by: Steve at March 31, 2006 11:41 AM
Post a comment