« A Short List of Things about St. Petersburg | Main | Mariinsky »
May 30, 2006
Last Day in Petersburg
I need to apologize - I've had trouble writing about this trip. I'll keep trying, but simple chronology isn't working.
St. Petersburg was alternately magnificent and frustrating. It was a hard city to visit alone, especially during a city holiday. I had a similar problem in Amsterdam two years ago when I was there on Queensday; I don't like parades or crowds, and a mob celebrating in a language you don't understand can be a frustrating thing. The smartest thing I did was hire a guide (as much a guide as someone to talk to and have lunch with!) for the last two days.
Architecturally, the city is drop-dead gorgeous; the pastels of the city and the classical proportions of the low, long buildings match the light.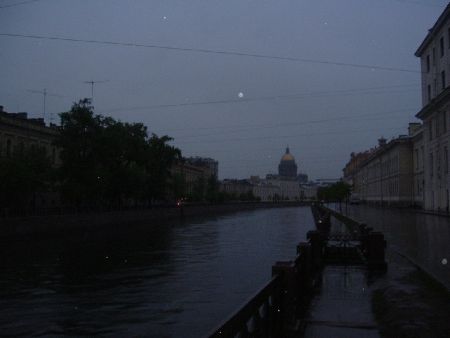 10:15 pm - May 29, 2006. Walking back along the Moika Embankment to the hotel from the Mariinsky in a light rain.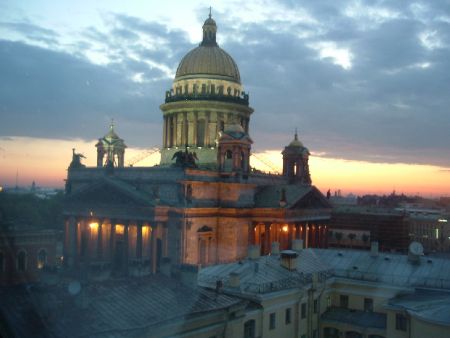 4:09 am - May 31, 2006. St. Isaac's Cathedral from my window at the Renaissance Baltic.
I need to pack shortly. My car to the airport was originally scheduled to leave at 2 pm. The service called last night to try and move it to noon because of horrendous traffic. I explained that was the only day I could see the Hermitage and we compromised at 1 pm for a flight leaving at 5 pm. I will have to speed through portions of the Hermitage this morning.
Posted by Leigh Witchel at May 30, 2006 11:37 PM
Trackback Pings
TrackBack URL for this entry:
http://www.leighwitchel.com/cgi-bin/mt-tb.cgi/472
Comments
Post a comment