« Homeward Bound | Main | I. am. TRAUMATIZED. »
June 16, 2006
В пятницу котенок блоггинг
(Friday Cat Blogging)
по-русски!
Seen on the wall of an alley in St. Petersburg: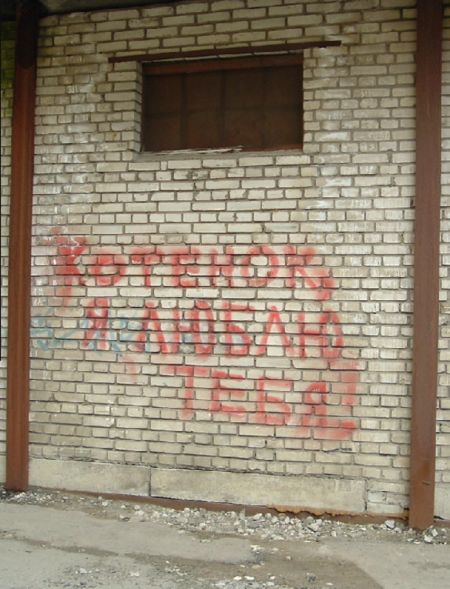 Котенок, я люблю тэбя!
Kitten, I love you!
But then again, who doesn't?
Posted by Leigh Witchel at June 16, 2006 5:13 PM
Trackback Pings
TrackBack URL for this entry:
http://www.leighwitchel.com/cgi-bin/mt-tb.cgi/494
Comments
Reminds me of a bench I saw on 79th & Broadway that said "Teddy bear and Teddyette forever" ;)
Posted by: Denise at June 17, 2006 8:22 AM
I love this! It's the best cat blogging not featuring a pic of an actual cat ever!
And you are correct! Who doesn't love the KITTEN?
Posted by: Steve at June 17, 2006 12:59 PM
Post a comment