« Pictures at an Exhibition (I) | Main | Food for thought »
August 21, 2006
Beat the clock knitting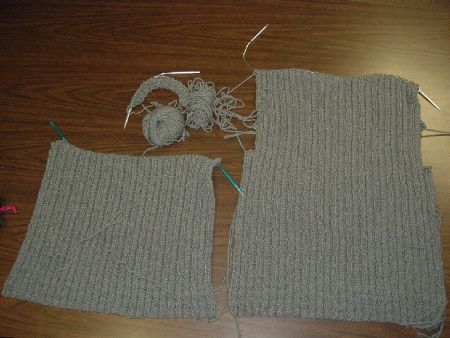 The back is completed, the front is at the underarm bind off, and I've completed the ribbing on one sleeve.
Most of the knitting is being done on the walk to and from work - it's 40 minutes of useful time there and back. That's why I have multiple pieces going. At this point the front is too cumbersome to knit while moving, so I will work on the sleeve while walking and save the front for long phone calls. When this sleeve gets too big, I'll cast on the other. Real planning (like approaching the underarms and shoulder or plotting the increases on the sleeve) gets done as a foreground task.
Aurora Bulky is delicious to work with, but there's going to be about $250 of it in this sweater, which makes it the most expensive sweater I have ever made. All the better that I didn't have to buy the yarn! The yarn has good stitch definition, but swatching is necessary; a stitch pattern that looks good in finer wool may look overbearing. All the ribs and cabling in this are only 2 stitches wide, but that is about 1/2 inch - wide enough.
Posted by Leigh Witchel at August 21, 2006 11:02 PM
Trackback Pings
TrackBack URL for this entry:
http://www.leighwitchel.com/cgi-bin/mt-tb.cgi/514
Comments
This is turning out handsomely. Nice job. knitting and walking? hmmm. I may need to see that in its environment. If you suddenly feel you're in a Pink Panther movie, the shrubs are shaking, you hear kntting needles clacking behind you, that will be me.
Posted by: spinneret at August 24, 2006 7:54 AM
As long as you don't ask "Is that relaxing?" That risks assault.
Posted by: Leigh Witchel at August 25, 2006 11:09 PM
Post a comment