« Friday Catblogging | Main | Reading Leigh »
August 12, 2006
Current Knitting (finally!)
I didn't knit at all for several weeks after getting back from Europe; too many other things to do and the weather didn't make me feel like it either. But I have an assignment to do, so I shall be knitting for the next few weeks come heat wave or cold snap. With the permission of the fabulous Adina Klein, my editor at Soho Publishing, I'm giving a sneak preview of an upcoming sweater I am doing for Vogue Knitting.
It was an ego stroke to be asked to be in the upcoming "By Invitation Only" by the editor-in-chief Trisha Malcolm. I haven't done a design for a magazine for a while. This is by choice; I can't make it cost-efficient. But I can't resist the ego boost.
Adina and I decided on the yarn (Aurora Bulky by Karabella Yarns in color 31 - charcoal) and general category (single color, textured) several months ago a little bit after the toilet paper cozy assignment.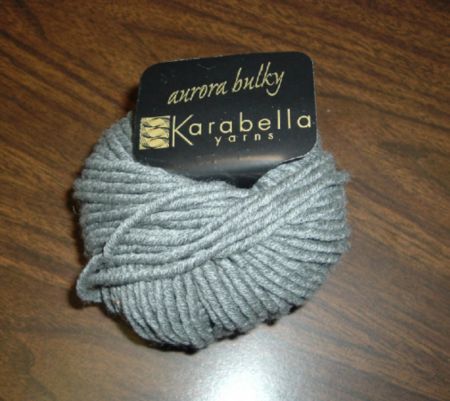 The idea is slightly different than other assignments in theory; I'm making a sweater for myself. In practice, I admit I did the same thing when I made the Puzzle Box Aran for Knitters in 1997. They gave it back to me after about 18 months)
Most designs men like are duller than dirt to knit. Though this sweater is for me, I want people to knit it. So, the skill level had to be accessible, the design had to be wearable and the knitting had to be fast and interesting. Sounds obvious but it takes work to blend all of that.
My inspirations were the patterns in Japanese knitting magazines. They are classic "investment knitting" designs, but with enough of a twist to be interesting knitting. I decided early on this design would be based on classic ribbing because it's flattering to most people. I looked through my stitch dictionaries for variations and started swatching. I had in mind a sort of barred effect and wanted to see what looked best, slipping stitches or tying them. Tying worked best. I swatched several other patterns (mostly rick racks) before I decided I wanted baby cables for the border. Once I chose them, I moved from rick rack to corded ribbing – simply a variation of baby cabling.
I like the way the pattern integrates – no matters what section I am on, the reverse side is always k2, p2 ribbing. Aurora Bulky has low yardage (I knit up at least a ball a day and I am not knitting nonstop) but it's got a great hand and handsome stitch definition. It's really satisfying to me when I feel like I have created the right pattern for the yarn; I feel like this is what this yarn wants to do. The knitting is quick at this gauge, I cast on Monday and I'm past the underarm.
Here's the sweater a few days ago.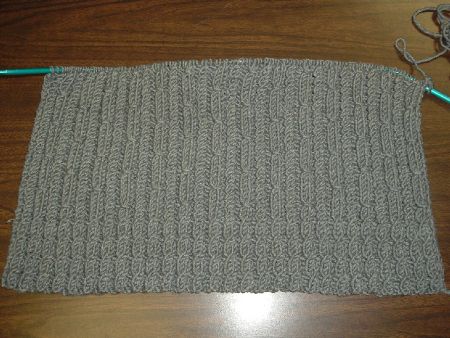 In closer detail.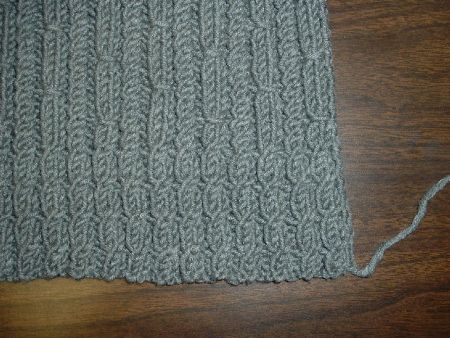 Posted by Leigh Witchel at August 12, 2006 9:26 PM
Trackback Pings
TrackBack URL for this entry:
http://www.leighwitchel.com/cgi-bin/mt-tb.cgi/509
Comments
Post a comment