« A Day in Boston | Main | Leigh's Dance (and Knitting) Card »
September 12, 2006
Bus(t) Knitting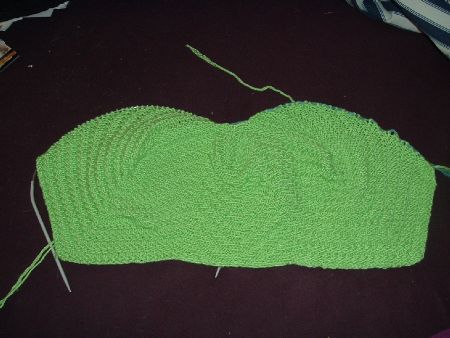 This odd looking neon bustier is actually an Amelia Earhart cap, shown flat before the back seam (the "bustline") is sewn - in this case, grafted, but one could just sew or do a three needle bind-off.
As knitting patterns go, this one is extremely knitterly. The triple lobes that form the earflaps and head cover are created by shortrowing; the complex ridged swirls are nothing more than k2, p2 rib done in a spiral by moving it over one stitch every two rows. The hat looks incredibly hard but once it's set up it's really simple.
Flor's original pattern calls for sport or worsted weight wool; I made this in Lion Brand Microfiber, which is DK weight so increased stitch and row counts on the fly by about 20%. Even with more stitches I was able to knit the whole hat on the bus ride to and from Boston, except for the cast on and about four rows I had knit a few days before to get the project ready for taking on the bus with a minimum of fussing. It's a great travel project – there's a picture of a finished cap and more tips on knitting one here.
Posted by Leigh Witchel at September 12, 2006 9:52 AM
Trackback Pings
TrackBack URL for this entry:
http://www.leighwitchel.com/cgi-bin/mt-tb.cgi/532
Comments
Post a comment