« Pictures at an Exhibition (III) | Main | A Day in Boston »
September 8, 2006
Friday Cat Blogging - Striped Blob Edition
Ladies and Gentlemen, Meat Loaf.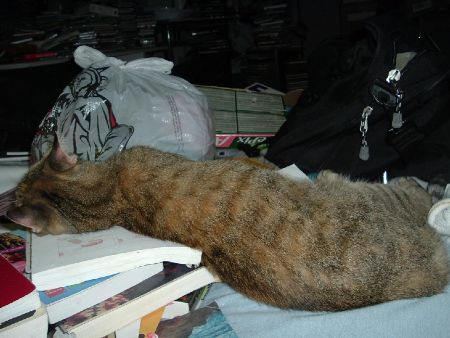 Posted by Leigh Witchel at September 8, 2006 11:02 PM
Trackback Pings
TrackBack URL for this entry:
http://www.leighwitchel.com/cgi-bin/mt-tb.cgi/530
Comments
I love Meat Loaf! I espcially liked Meat Loaf's late 1970's album, "Cat Out of Hell"! Hahaha. Sorry... I know how bad that was but I could not resist!
Posted by: Steve at September 9, 2006 2:38 PM
Posted by: Your Wicked stepmother at September 11, 2006 11:01 AM
My chiropractor would say that sleeping on books is not good for spinal alignment.
Posted by: Anonymous at September 13, 2006 1:03 AM
Post a comment