« Quick Knit Resources | Main | NYC- Chicago fare sale »
December 21, 2006
FO: Owen Robert's Aran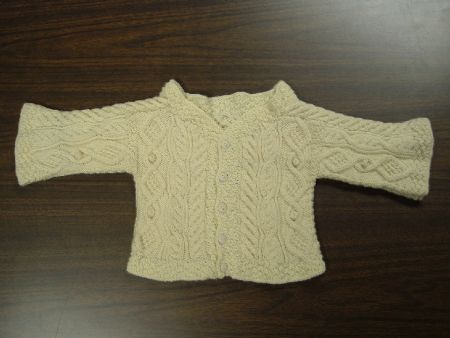 Well, this one took a while, but I'm really happy with it. According to my records I cast it on in May of 2003. It's a miniature Aran, but because of the scale (and the Sausage Cable in the middle) it has Tyrolean echoes as well. There is no pattern; it's a basic boxy sweater with a saddle shoulder that accommodates a central cable. I stopped working on the sweater in October of 2003 because I thought it would not fit the intended wearer, my friend Connie's first child Alex. (I was wrong). I picked up again in September of this year, and finished it. It needed half of one sleeve, all of the second, assembly and borders. And repair of a carpet beetle hole.
The yarn is a superwash wool I bought at Smileys several years ago, Swilan Turbo. Superwash wool often grows with washing; in this case that was a good thing, and it probably happened because the tightly knit textured stitches relaxed. Above is after soaking in a basin with soap to get rid of accumulated dirt from handling and knitting; below is the sweater before washing.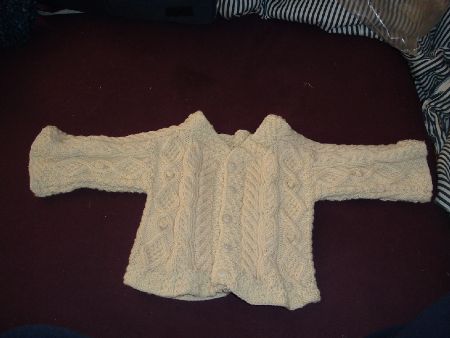 Here's the back. The patterns are all from Barbara Walker's treasuries. Aran Moss Diamond and Bobble, Sauasage Cable and Staghorn Cable. The Staghorn Cable is broken in two in the front of the cardigan. I hope it makes a special sweater for a first child.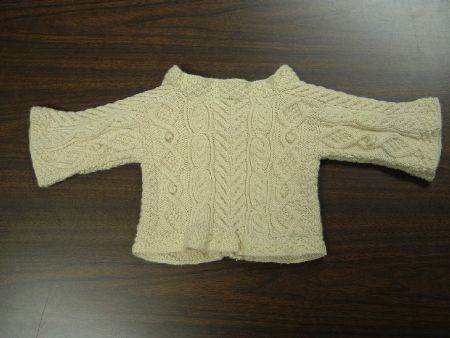 Here's a closer look: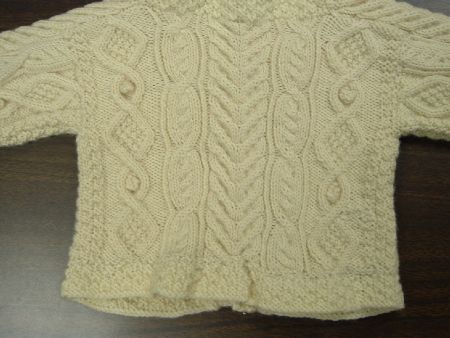 Posted by Leigh Witchel at December 21, 2006 5:46 PM
Trackback Pings
TrackBack URL for this entry:
http://www.leighwitchel.com/cgi-bin/mt-tb.cgi/584
Comments
Post a comment