« Current Knitting | Main | Smell-o-round »
January 26, 2007
Friday Catblogging: Shared Bodyheat Edition
She Who Must Be Petted isn't really a snuggler, and rather prefers being given her due adoration at arms length. But when the temperature drops to single digits Fahrenheit it is another story. The blue striped blob at the side is a convenient human space heater, namely me.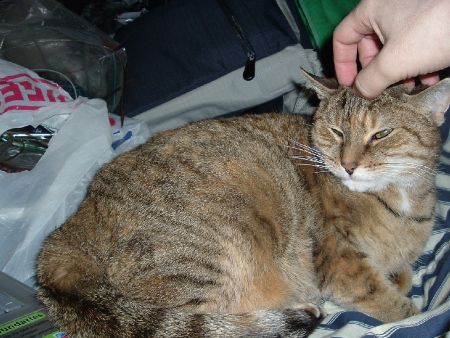 Posted by Leigh Witchel at January 26, 2007 9:08 AM
Trackback Pings
TrackBack URL for this entry:
http://www.leighwitchel.com/cgi-bin/mt-tb.cgi/608
Comments
She looks really cute on this photo...
When the temperature gets lower, Venise is good at finding the chairs which are closest to the radiators... and also to hide herself under any sort of curtain, cloak, etc. so better be careful to where one sits sown !
Posted by: Estelle at January 28, 2007 7:41 PM
Post a comment