« At some point I had to experience the delay from hell | Main | Chicago Thaw »
February 19, 2007
Darn or Pitch?
Telling a non-knitter that you're darning socks provokes confusion. Everyone has heard the word "darning," but few people really know what it is. They usually know it's repairing, and that seems even more confusing. Why repair something that costs a couple of bucks?
Hand knitters understand. A pair of hand knit socks takes upwards of twenty hours to make and is an object worth repairing.
I believe my first pair of socks is approaching its tenth anniversary; others are coming up on theirs. Socks get more abuse than almost any other knitted item; they're bound to need fixing.
Here are some of the repairs made. It's interesting for me to see how my sock making evolved from bed socks to socks wearable in shoes.
My first sock was striped in DK weight wool. I think the blue is Wendy Ascot, the gray is Swilan Favora and the yellow is Nylamb. I believe I used a basic pattern by Theresa Gaffney from Threads Magazine with a shaped calf and a gusseted heel. It's got awkward stripes and only good as a bed sock, but oh, it's nice on cold winter nights.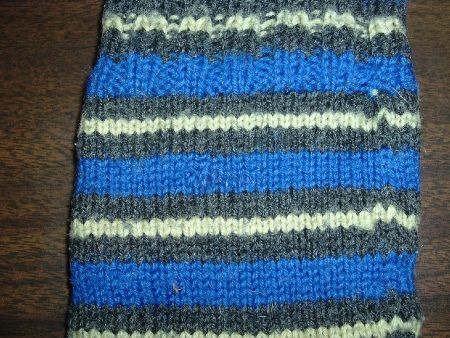 The sock sprouted a hole high up in the calf. That's not from wear, so I have to assume that it was the bane of my existence, a carpet beetle. I have no more Wendy Ascot, so I matched the color as best I could – though not the fiber remotely. My closest match was Euroflax linen. Though distinctly unkosher, I think it was no harm otherwise on a small graft, pictured below.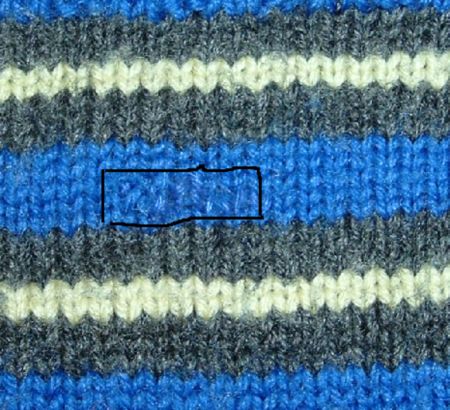 Apologies for my poor photo manipulation skills.
I've had to graft these next socks from Koigu yarn several times already, but I can't bear to part with them because the colors are so pretty. Koigu Painter's Palette is 100% merino, so there's nothing to reinforce them. The painful truth is that if a sock needs a repair. It will soon need more. The fibers have weakened. The other lesson I keep forgetting is that once a sock has needed a repair, you shouldn't machine wash it any longer. I keep forgetting and tossing these in the watch, only to have them come out sprouting new holes.


These socks from Froehlich Wolle are the first socks I made (in 2000) for myself that could be worn as a normal sock. Froehlich wears very well, but I could see the area behind the heel (and naturally, immediately above where I reinforced the sock) was not fraying but becoming thinner and thinner. Instead of grafting, I took matching yarn and wove it through the back of the sock to reinforce it. Yet, see lesson above. I just machine washed this pair, only to find one had come out with the cuff frayed and needing repair.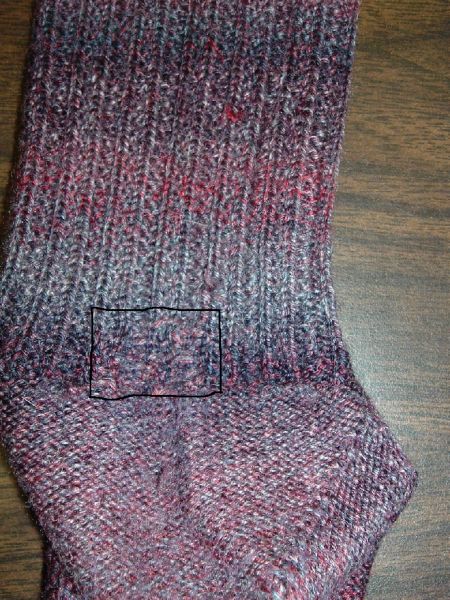 So sock knitters, what do you do? Do you try to prolong your socks' lives by darning or do you take the first hole as a sign that more will soon follow and retire them?

Posted by Leigh Witchel at February 19, 2007 11:14 AM
Trackback Pings
TrackBack URL for this entry:
http://www.leighwitchel.com/cgi-bin/mt-tb.cgi/625
Comments
I recently cut out the worn (short-row) heels of a pair of Koigu socks and reknit them in a coordinating colour. I still machine wash (and dry!) them. Everything seems fine. I have a pair of STR socks worn in the same place in the basket because I need to find suitable yarn to reknit the heel with.
I think that part goes because I walk around the house with no shoes or slippers on a lot. I figure I knit these socks to wear them. I'm not going to wear them if they need to be hand washed. And if I fix them they get to be worn longer than if I don't.
I don't agree with comparing the price of the yarn to a price of purchased socks. First, you are not comparing similar socks. Second, you not only put 20 hours of work into making them but got 20 hours of entertainment out of knitting them. They are incomparable to store bought socks.
Posted by: JoVE at February 19, 2007 1:06 PM
I darned a hole on the ball of the foot on my first sock made from Lion Brand Magic Stripes - I know, a yarn not really worth saving. I mostly did it to see if I could do a passable job. So far it's held 1 1/2 years.
Posted by: Deanna at February 19, 2007 6:01 PM
Since many of my first socks haven't yet developed any holes, I can't really tell you what I have done with them. Do I not wear them often enough? However, I think I can safely say that I would repair them. I would hope that I could catch them before there was an actual hole -- it's much easier to darn with remnants of the stitch pattern there.
I have repaired commercial socks once. It was a matter of an exercise, I prefer to think, than of necessity. But I had only washed them once, only to find that the heel had gone dangerously thin! Of course I could fix them, I thought. I could simply knit another piece of fabric, and patch it in. Not that easy! So then I resorted to going over each stitch with yarn, and unventing duplicate stitch. Great discovery! I also learned to graft this way as well. I covered the heel, and a bit of the sole, since it was thin, and then the toe because it too was developing thin areas. Well, I think I could have re-knit that darn sock faster than darning it all by hand! But I did learn a lot about sock construction, and grafting, and repairing holes in knitting. Not a complete waste of time.
Oh, by the way, I have to say that your calendar arrived on Valentine's day! What a nice surprise, and how delighted I am! I flipped through the pages quickly, and then decided that is not right. I really should only look at the designated page for that day, correct? And so I shall. Very nice tips in there, some great patterns, lots to read and think about. I'm so very pleased! Thanks so very much!
Posted by: Tallguy at February 19, 2007 11:03 PM
Darn! I darned two this morning before I put them on. (Lorna's Laces yarn -- worth salvaging). I find that my socks "go" just above the heel flap. I have a high instep; I wonder, should go with a longer than standard heel flap to give greater thickness in that area??
Posted by: MaureenM at February 20, 2007 3:33 PM
Post a comment