« Word of Mouth: The Lady in the Fur performs! | Main | Tuesday Night Jukebox! »
March 19, 2007
Why we knit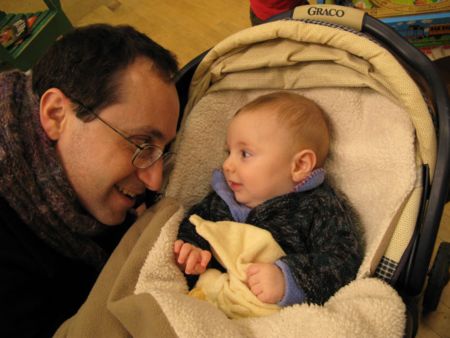 Beauty and the Beast. Nick's wearing the sweater I knit for him (Connie had the good sense to stuff him into it for my visit); I'm wearing a scarf I made from Noro Nadeshiko (wool/silk/angora) several years ago.
Posted by Leigh Witchel at March 19, 2007 10:44 PM
Trackback Pings
TrackBack URL for this entry:
http://www.leighwitchel.com/cgi-bin/mt-tb.cgi/631
Comments
LAW: "And you can earn more frequent flyer miles the more you buy."
Budding Consumer: "Really? More miles?"
LAW: "Absolutely."
Budding Consumer: "So I can earn more miles by buying things?"
LAW: "Would I make a fabulous sweater then lie to someone so fabulously cute?"
Posted by: Duffy at March 20, 2007 11:05 AM
Absolutely, wonderfully adorable.
Posted by: AlisonH at March 20, 2007 3:35 PM
I said it before and I will say it again... that Nick is quite a cutie!!! That kid's got charisma that come right though the camera lens. :)
Posted by: Steve at March 21, 2007 1:28 AM
Post a comment