September 27, 2006
At home he looks like a tourist
Heading down to see Shen Wei last night, as I passed (ironically enough) the International Center of Photography, I saw three Japanese tourists taking a picture. I paused to look in the direction of their shot and realized that they had good taste. The Empire State Building looked particularly lovely.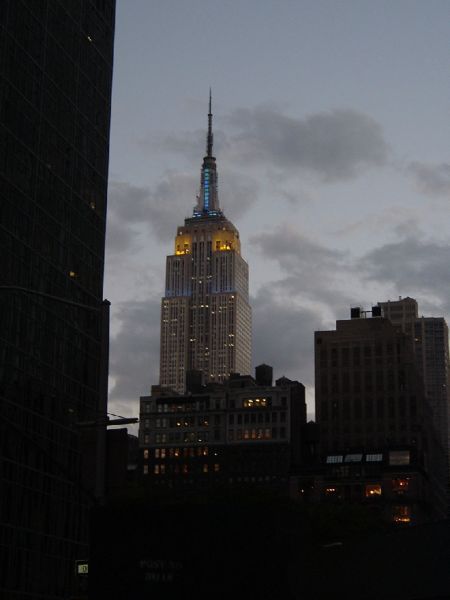 New York, New York.
Posted by Leigh Witchel at 11:49 PM | Comments (0) | TrackBack
April 24, 2006
Spring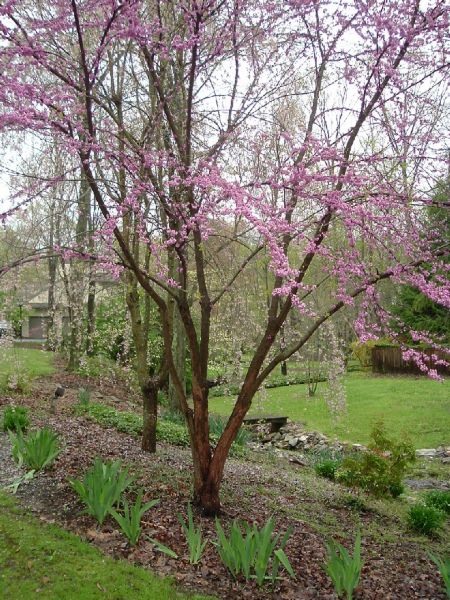 I taught here on Sunday in Chester County, Pennsylvania. The beautiful purple tree in front is an Eastern Redbud. It, along with the Dogwoods, Crabapples and Cherry Blossoms conspired to bloom all at once so southeastern Pennsylvania is a riot of flowering trees. It's very beautiful.
I taught two classes for Main Line Knitting Guild, Entrelac and Stitches No Knitter Should Be Without and had a marvelous time. I piggybacked some dance into the weekend as well; Pennsylvania Ballet did a fine job with Midsummer Night's Dream.
I'm on deadline for a few articles (Knit Simple, Ballet Review) so if I skip a few days, apologies in advance - but I'll try not to.
Posted by Leigh Witchel at 11:12 PM | Comments (1) | TrackBack
March 16, 2006
Reminder
Philadelphia PA - Germantown.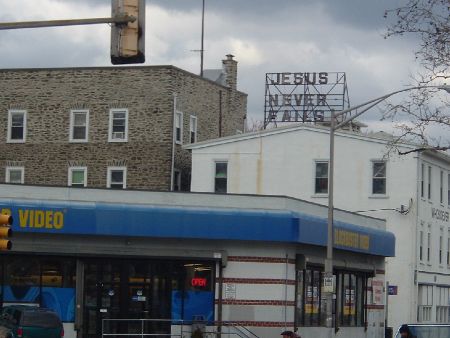 Posted by Leigh Witchel at 11:16 PM | Comments (3) | TrackBack
February 19, 2006
Weird Linkage of the Day
Discovered while writing my review this week for Danceview Times, and oddly in keeping with the cowboy theme of the last few weeks.
Ladies and Gentlemen, meet Tom Mix and Tony the Wonder Horse
Mix, Hollywood's star cowboy of the 20's, died when beaned on the head by a suitcase that flew of the back of his car while driving through the desert.
Posted by Leigh Witchel at 3:24 PM | Comments (1) | TrackBack
January 25, 2006
Public Service Announcement
Have you had your eyes examined lately?
Because mine had been relatively unchanged and frankly because it's not part of my insurance plan, I skipped a year.
I went back to my doctor in September of last year, who noticed my pressure scores had been slowly creeping up. The pressure test is the one everyone loathes where a machine blows a small puff of air at your eye. It isn't painful but it's like waiting for someone to throw a pie at your face. My readings from a few years ago were between 14 and 16; they were creeping up to 19 and 20 - just below a risk for glaucoma. He sent me a letter a short while later asking me to come back in three months just for the pressure test and kindly kept the price for a single test to $10.00. The results had shot up again to 22 and 25. He referred me to Dr. Roy Cohen, an optometrist who specializes in glaucoma for a full workup.
I took a battery of tests over the course of an hour. None were awful, but you don't easily get accustomed to someone touching your eyeball, however gently. The worst test is a field analysis test, which lasts 30 minutes. You sit with your head enclosed around a screen where very faint dots of light are projected and press a button each time you see one. It isn't remotely painful, but it is boring beyond belief and after a few minutes you aren't sure if you're seeing lights or your optic nerve is just firing from the fatigue.
Happily, the tests so far are normal but I'm at risk for glaucoma and need have frequent exams to make sure things don't deteriorate. The reason I'm mentioning this publicly is that there were no symptoms. No change in vision. No headaches. Not even a family history of it. Nothing. The only way to detect this at an early stage is with an eye exam. So go, please. Glaucoma causes blindness if untreated.
Better people than I have ranted about the availability of health care in the United States, so consider this sentence the obligatory rant. If you can't afford an eye examination, there are organizations that will screen for glaucoma for free.
We now return you to our regularly scheduled blogging.
Posted by Leigh Witchel at 6:25 PM | Comments (0) | TrackBack
January 1, 2006
Rank your Seven Deadly Sins!
What better way to start the New Year than by obsessing over your flaws?
Though not as popular as karma or hell, the Seven Deadly Sins have gone from being specific to a religion to common thought. There are the Seven Sins of Deadly Meetings and the Seven Deadly Sins of Applying to Graduate Programs in Social Work. Even Gandhi made his own thought provoking, list of deadly sins.
But the original seven have their very own website.
According to the site's history, Pope Gregory the Great ranked the seven deadlies in the following descending order of seriousness:
Pride
Envy
Anger
Sadness
Avarice
Gluttony
Lust.
In the 17th century sadness was replaced by sloth.
Evidently, Pope Gregory knew me well. Here's my own personal list of seven deadlies, ranked in the order that each of them is my special pal:
Envy
Pride
Anger
Sloth
Lust
Gluttony
Avarice
Not far off his list. I don't know if Gregory would agree, but I think of the first trio and the last quartet as subgroups within the sins and he also has the trio ahead of the quartet. I hold a twisted little place in my heart for envy, which for me has always lived up to its reputation as the green-eyed monster. We're old friends.
So now, dear reader, it's time to play along! Rank your sins and feel free to list them in the comments. And while you're nursing your hangover, here's a list of virtues to counteract your sins. Temperance is number six.
Posted by Leigh Witchel at 12:45 PM | Comments (1) | TrackBack
December 23, 2005
Reminder
It's the end of the year. Please give generously to the assorted charities on your list.
Here's my list in case you need some ideas:
Arts
Central Pennsylvania Youth Ballet
Paul Taylor Dance Company
New York Public Library - Library of the Performing Arts
If I can figure out how to get it to them, Nrityagram Dance
Local Charities
City Harvest
City Meals on Wheels
Central Park Conservancy
New York Humane Society
It's not a non-profit, but I also kick in something to Dance View and Danceview Times, because it's a labor of love. You didn't think they paid me, did you?
If you're donating by credit card, don't forget to use a mileage producing credit card for your donation! I'm getting Goldpoints - but if you like Membership Rewards points, Amex will double your points for every donation you make.
So be generous, and don't forget the arts, please.
Posted by Leigh Witchel at 8:55 PM | Comments (0) | TrackBack
November 19, 2005
Letters to yourself
Until November 30, Forbes Magazine is sponsoring an e-mail time capsule. Pick a stable email address that you know you'll have in the future and write yourself a letter to be delivered one, three, five, ten or twenty years from now.
What would you say to yourself?
Via erikjaeger.com - and it struck me because Grace has been prodding me to do this for a few months now.
Posted by Leigh Witchel at 7:54 PM | Comments (1) | TrackBack
July 18, 2005
You know it's humid
When you leave the air conditioned supermarket for the street and your glasses fog over. It's just awful right now.
Posted by Leigh Witchel at 11:58 PM | Comments (0) | TrackBack
May 25, 2005
Kitty out of the doghouse
My computer is working again thanks to the nice folks at Hewlett Packard.
After Javi made a snack of the power supply cord, the poor computer acted as if a circuitbreaker went or it had a blown fuse. The phone tech support guy said to try this fix before sending the computer in: Take the battery out and disconnect the power supply. Depress the "hard reset" button for at least 30 seconds - on my ancient Omnibook XE3, that's on the left side of the computer next to the PCMCIA slots. You will need a needle or some other thin object to do this.
This action drains the capacitors (or I think that's what he told me). When done, replace the battery and try turning the computer on. I have a second battery with a charge in it, so I used that one.
Success.
Kitty has been spared my wrath.
Posted by Leigh Witchel at 11:59 PM | Comments (1) | TrackBack
April 14, 2005
Housekeeping note
I added some extra photographs to "No Place Like Home" particularly the section on touring Buenos Aires
When I come back home and have more time, I'll probably do some copy editing, so check back.
Posted by Leigh Witchel at 1:21 AM | Comments (0) | TrackBack
March 25, 2005
New York v. San Francisco - The Smackdown?
I'm delighted to see a lively commentary on my Tales of the City in San Francisco, but surprised to see how much shade my New York friends are throwing westwards. Any San Franciscans care to respond?
Myself? I'm an Easterner at heart, but enjoy my visits - now. When I was 21, I took a long trip to visit my brother in Berkeley and it was not a great one. That was less a function of the city than of traveling too young alone and not knowing how to travel. I hated Paris on my first visit at 16 as well because I was lonely. I went back to Paris at 30 and fell in love with the city, and returned to San Francisco at 40 and if I didn't leave my heart there (nor my sperm, Peter . . .) I now have so many good friends there; Peter, Mark, Paul, Christopher and now David. I am sure I will be visiting more frequently, but please do not apply to be a San Franciscan friend of mine without an Old or New testament name. Apostolic friends! Collect the whole set!
Posted by Leigh Witchel at 6:31 PM | Comments (0) | TrackBack