« Numa Numa Update | Main | Yes, we do Friday Cat Blogging here, too. »
February 17, 2005
Recently Finished Knitting - Simple Afghan
My usual path in the domestic arts is to start with overkill and evolve slowly towards routine and practicality. When I first cooked for myself I thought nothing of tackling fussy multi-course Japanese meals even if I were eating alone. Now, I want to be able to eat dinner when I get home in not much longer than the time it would take to heat it. Most of my cooking is slanted towards meals that can be made in quantity and take well to reheating; this is why I enjoy cooking soups, stews and Indian food.
My earliest knitting projects were exuberant Fair Isle or painstaking tiny entrelac. I don't knit much like that anymore. Knitting is now rarely a foreground task; it's something I do while I do other things; talking on the phone or riding on an airplane. Yes, you can knit on planes. I've almost never had a problem. Use circular needles, preferably wood or plastic, and have the project well underway with knitting on the needles instead of the needles free as a potential weapon. The toughest security I've encountered on the issue is with U.K. carriers.
Here's what's just come off the needles.
John & Chris' housewarming afghan.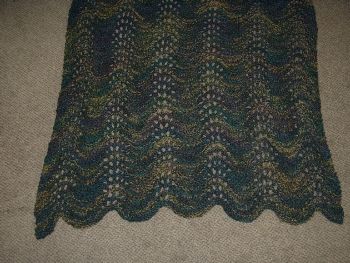 Actually, I'm cheating. This came off the needles in November of last year, but I just got around to darning in all the ends. I use the cash accounting method of Finished Objects rather than accrual, so FO's count in the year actually completed.
The yarn is from New Zealand, by Te Awa Wools, which my father and stepmother brought back as a gift. It's in lovely earth and forest colors, but heartily resisted being knit; the color repeats kept pooling or looking flat in every project (all sweaters) I attempted. Ah, the mysteries of variegated yarn. John and Chris are dear friends in Toronto. I've known John for about 8 years now, and he met Chris about 3 years ago now and fell nauseatingly, completely in love. They've just bought a house together near the Danforth and this afghan is a combined late 40th birthday present to John-housewarming present. It was cast on in London, ripped out (too wide) and cast on again in London, and the bulk of it knit in Toronto while visiting their new home, in fact much of it on the couch where it will reside. The yarn was doubled and knit on US 15s; the large gauge has a fine drape and the doubling solved the pooling of color repeats. It's in Old Shale, one of my favorite bang for the buck patterns – there's only one pattern row to memorize (the rest are plain knit or purl)
If it's unfamiliar to you -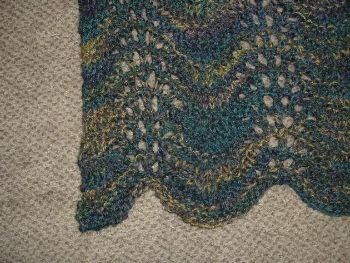 Old Shale
Multiple of 18 sts
Row 1 (RS) Knit
Row 2 Purl
Row 3 (k2tog) 3x *(yo,k1) 6x, (k2tog) 6x* but instead of ending (k2tog) 6x, end (k2tog) 3x
Row 4 Knit
Posted by Leigh Witchel at February 17, 2005 10:18 AM
Trackback Pings
TrackBack URL for this entry:
http://www.leighwitchel.com/cgi-bin/mt-tb.cgi/10
Comments
I absolutely love your knitted shawls. I am proud to say that I taught myself to knit as well as crochet a few years ago. Though I absolutely love knitting, crochet for me goes faster. Needless to say I love the 'razor shell shawl' that you knitted. I have for over the last 20 years or so made(knit/crochet/painted/paper mached)all my holiday as well as special occasion gifts to my relatives. I thoroughly enjoy seeing my gits completed and mailed out to my family members only to receive the kindest notes as well as calls for their unique handmade gifts.
I don't have a lot of money to go spending on knitting books. I am very much interested in your 'razor shell shawl' and would like to know if I can get a copy of the pattern or do I have to purchase the book? I am not in the greatest health and knitting is what makes me the happiest.
thanks again.
cj
Posted by: cj rounds at May 21, 2006 3:05 PM
Post a comment