« May 2005 | Main | July 2005 »
June 30, 2005
Dirty, Dancing
I went to see Robert Melee's The Talent Show last night at The Kitchen. I know most of the people involved; these are just notes from an uptown queen who's at the edge of the circle of friends.
The title is accurate, it was a series of unconnected sketches from some of the more interesting people in the Burlesque and performance scene downtown. The house was sold out, and probably is tonight as well.
Certain acts were wonderful (The effervescent Shasta Cola - who worked with me in '98 and whom I adore - channeling her high school years as a Color Guard – now there is a lady who understands how to structure a four minute act) and certain were rough going. The show opened with a grainy film montage. It was painful and haunting to see Alan Eto on the screen, but I'm glad to remember him. The show continued with a woman seated on a folding chair onstage with a man in a white Tyvek jumpsuit. The woman was older, garishly made up in drag to the level of Kabuki and naked. Both were surrounded by house paints. First he painted her tits white and then splattered them with various blues and greens. Then he smeared it all over her with a sponge. Unfortunately, this Theater of Yuck sounds more outlandish and engrossing than it was to watch. It took forever and they took their own sweet time as if every moment were interesting. There was a lot of dead air. Finding out later that this was Melee and his mother made it a great deal weirder, but it didn't make it any shorter.

Julie Atlas Muz presented Mr. Pussy, the incredible multilingual singing vagina. Mr. Pussy did an entire song in Spanish. I leave it to your imagination. I mentioned to someone after the show that because of her shows I think I know Julie's genitalia more intimately than those of any other woman on earth. He said he felt the same way. It was her husband.
At the end of the show David Quinn did a fashion show – we did something similar but darker together with Runway (scroll down) in 1998. His clothing has only gotten better and better. My favorites are the women's jackets he's making with a 60's bolero-like silhouette and wonderful textured woven fabrics. My least favorite thing is the fact that he makes nothing for men.
Dirty Martini performed a dance solo. Dirty's made a name for herself in the burlesque scene but she's had long years of dance training; I met her in her graduating year at SUNY Purchase when she was still Linda. The years as Dirty have honed Linda's stage presence; I admire the way Linda can hold an audience. The solo began with Linda in her Dirty persona: in a blond Marilyn wig and a bustier and black overskirt. Holding her skirt, she skimmed about the stage and then moved forward slowly in a shaft of light. The spell she cast exists where stagecraft is the intersection of technique and persona. She wouldn't have been able to pull that off nearly as well a decade ago, before she was Dirty. Reaching into her dress she produced a red sequined heart from her bosom. Modern dance became burlesque as she reached for her zipper, but she was also pulling off her persona. Dirty's wig and dress came off and there was Linda, who slashed into a slam-bang solo that recalled, as she mentioned herself, her work with Stanley Love. The two forms, burlesque and concert dance, didn't collide; they combined.
Posted by Leigh Witchel at 3:27 PM | Comments (0) | TrackBack
June 29, 2005
An end to wanderings
My life for the last four months has been constant travel. In order: Philadelphia, Boston, San Francisco, Buenos Aires, Phildelphia, Toronto, London, Bristol, Birmingham, Washington DC. Another day, another plane, train or bus. There's a good side to constant travel. I certainly can't complain about the destinations, the journey was never boring, and the concentrated dance viewing that has been the purpose of my travel has been a source of knowledge. A lot of the year has been a concerted effort to come to terms with Ashton. My take on him may be very individual and very American, but I feel like I've accomplished something.
The down side of travel is that my life now feels measured by suitcases. I've spent the past four months either leading up to or coming back from a voyage and nothing else has gotten accomplished. It feels as if I've been running from my own future. I have no more trips planned, and hope to keep it that way for a while. I'm tired of being a moving target.
Posted by Leigh Witchel at 5:43 PM | Comments (0) | TrackBack
June 28, 2005
Solstice
Gia Kourlas is right; I felt like I had to see A Midsummer Night's Dream on Friday night to greet the summer, and say goodbye to NYCB for six months. It's my first time seeing them since returning from the UK, and my last time to see them until the new season.
Sofiane Sylve and Antonio Carmena made their debuts as Titania and Oberon. Both did a good job and suit the role, though in both cases there's room for improvement through repetition. They both mime a bit oddly, at least within the context of NYCB. It's very emphatic and there's lots of airspace during the mime. The gestures are very clear, but there's no conversation between them. Carmena has excellent batterie and made all his turns, but they'd be nicer done in a higher retiré. Still, a good addition to both of their repertories. To keep Carmena moving along this road, it wouldn't hurt to let him try Prodigal Son.
Coming back after two weeks in the UK emphasizes just how many cues you get simply from repeated viewing. Things looked weird there because they went counter to expectations, but now things look weird to me here in the same way. It's not unexpected things, it's exactly the stereotype: placement, port de bras, body line, corps lines and energy. Some of the difference is pure geography; Covent Garden is cramped compared to the State Theater. Royal Ballet dancers dance under themselves and can seem lethargic – especially in Balanchine, but the NYCB line is rangy and careless in comparison.
My friend Chuck and I talked afterwards some of the differences between Ashton and Balanchine; between The Dream and Midsummer and in general. One that's not an overt difference but another subconscious cue is how each man uses pointe work. In Midsummer, as he does often, Balanchine has lines of women cross the stage and weave about each other in traveling bourrées. I can't think of an Ashton ballet where pointe work is used in that way; it's generally more decorative and doesn't travel (if you can think of exceptions, make a comment!)
We stood for an hour in front of the subway entrance on a cool summer night right after the solstice. We talked about our favorite dancers, and our less-than-favorites. We mourned Körbes' departure, we cheered Somogyi's return. We talked about NYCB like other men discuss baseball. They are our hometown team. We've each got our favorite players; he loves Nichols the way I love Kistler. We're both nuts about Bouder.
NYCB was the company I watched while I was training. NYCB charged half of what ABT did for standing room and the ushers at the Met treated standees like dirt. So I went to NYCB several times weekly and ABT only occasionally, and fell in love with one company and not the other. I've watched NYCB for two decades now. I've watched some dancers' whole careers now. I try to write fairly, but I have favorites. I know many of these dancers personally and watch a few of them on stage like I was watching my favorite niece. Our bond with NYCB goes beyond the artistic to the personal.
Summer begins, but the Season ends. Goodbye until winter, NYCB. I never realize how much I miss you until I see you again.
Posted by Leigh Witchel at 9:44 PM | Comments (0) | TrackBack
June 27, 2005
Dick Bars
The weather in DC had cooled some by the time Tom and I went out for the evening. I didn't know where we were going; we got in his car and I followed the route as best I could. We drove along the Tidal Basin and the Washington Channel. My memories of that are Fannie Fox, the Tidal Basin Bombshell, and Congressman Wilbur Mills.
We came to a non-neighborhood of low industrial buildings. Tom told me we had crossed just into SE. I looked it up on a map the following day; the dividing line is South Capital Boulevard, which we were just off of. This no man's land was where the strip clubs are.
(R-rated, so continued as an extended entry)
Tom didn't call "Secrets" and the other bars there strip clubs; neither did my other friend in DC. It isn't an accurate term, since there was no stripping going on. They called them more accurately "dick bars". Guys stand up on platforms, naked. Well, they aren't naked. That's illegal. They're wearing shoes and socks. Most of them make a pretense to dance while they're up there but mostly they rub or stroke themselves in the hopes of attracting a tipping customer. I assume more could happen, but I didn't see more than someone fondling a dancer's legs or butt, and then slipping a folded bill into the guy's sock. I did see one guy attract a dancer's attention in a novel variation of blowing in his ear; only that wasn't the hole he blew into.
The dancers seemed to be in their twenties with different body types, both taller and skinny and short and more developed. Almost all of them had flat stomach muscles; for that I hated them. My favorite guy was of medium height with nice pecs. He danced on occasion – he vogued, and did it like it was his one good dance move, but he was endearingly bad. Mostly he would play with his nipples or stroke himself (for those needing details, he was the "beer can" sort), and that did get him quite a following, even more than the skinny boy clambering up on the poles above the bar like a monkey. Impressive, but I'm not going up there to put a bill in his sock. Voguing wasn't Nice Pec's only dance move. He did do a sort of shake-and-bake thing that looked kind of how-does-he-do-that? hot from the rear view and kind of wanga-wanga-wanga funny from the front.
There's a second half to the bar, named Ziegfield's. This is where the drag shows are, starring Ella Fitzgerald (no, not the real one), who's a local legend. She's a formidable little drag queen; her best and most evil moment came when she dragged three (biological) females on stage to a version of the theme song from "Bonanza" sung with only one word: "Poontang". You can guess what this involved for the poor humiliated women. The place had a reasonable amount of straight women in it; they seem to go for bridal parties. Go figure. Other drag queens included a HUGE Latina mama in some sort of fuzzy purple vest that made her look like a Care Bear and the tall skinny black queen who did the repent-and-find-Jesus gospel lip synch. She did it absolutely without irony, and either it was a coup of performance art or it just didn't matter to her that she was singing about finding Jesus while there were naked guys stroking themselves on the other side of the bar.
Tom thought this would round out my dance experience in DC, and he was right, but how could I tell him in the middle of a Dick Bar my dark confession that only a few of my gay friends - and now the whole goddamn internet – know:
I think penises are funny.
Well, think about it. They are.
It's not like I don't like them; I've been best friends with my own for years. But, I mean, this skinny wiener thing either hanging or sticking out there unprotected? I'm not sure in which state it looks funnier. Who thought up this design?
I'd only been to a Dick Bar once before in my life and that one was a strip club: the now closed Gaiety in New York. Again, it wasn't my idea. It was about a decade ago and I was going with a female friend to meet her then-boyfriend, who danced there. Honest.
The Gaiety presented a show on a stage and the guys came out one by one. They'd dance around briefly in front of a silver glitter curtain, disappear for about a minute behind the curtain and return erect. The atmosphere was dark and seedy, and it was expensive (I think $15 even back then). I don't recall the other men that well, but I do recall Tony, the guy I had come to see, because he came out with a goofy he-has-to-be-straight grin on his face and his schlong sticking out in front of him. It was just enormous. Hilariously so.
I collapsed over hooting in the Gaiety.
"YOU PUT THAT WHERE????" I started howling to my friend, who turned several shades of red, poor dear.
"Please stop laughing." she pleaded. I did my best, but was practically hiccupping instead.
Posted by Leigh Witchel at 7:23 PM | Comments (0) | TrackBack
June 26, 2005
The Princess Packs
I generally describe my packing skills as being like a princess on the Titanic, though I enjoy almost as much another description from the same thread - "Joan Collins on safari".
I'm in Washington DC right now seeing Suzanne Farrell's revival of Don Q - on duty for Dance International. I've been good, honest. I only brought my smallest 18 inch carry-on, my laptop and my usual knapsack. It still amazes me that for one weekend I somehow managed to convince myself I needed three pairs of shoes and get them packed.
And I did wear all of them.
Posted by Leigh Witchel at 4:56 PM | Comments (0) | TrackBack
June 20, 2005
The Ballet Companion
I never announced this publicly (I wanted to wait until it was slated for publication) but I spent the better part of last year assisting in the writing of an upcoming book for Simon & Schuster - The Ballet Companion by Eliza Gaynor-Minden. It's not "my book" and it would be hard to find anything in it beyond a turn of phrase that's in my words rather than Eliza's. She reworked almost everything I wrote to keep the voice of the book consistent, and the results are better for it.
The book is now due for publication in October 2005. Eliza sent me the galleys a few days ago and, bias aside, I was very impressed. I think she's created a very useful primer for both serious students and their families and friends. There's a real range of topics covered carefully and accurately. For people new to ballet and looking to find out more and anyone else lookin to get a good primary ballet reference to technique, schooling and history, I'd recommend it unhesistatingly.
Posted by Leigh Witchel at 11:59 AM | Comments (0) | TrackBack
There is no joy in Mudville
There is no official confirmation, but it looks like it's a done deal that Carla Körbes is leaving NYCB to join Pacific Northwest Ballet - the docents on the Fourth Ring are mentioning it. Her recent promotion may have been an attempt to keep her; I'm sad it did not work.
Sigh. Not only does Peter Boal retire, he takes Körbes with him.
Posted by Leigh Witchel at 11:23 AM | Comments (0) | TrackBack
June 17, 2005
Priceline bidding epilogues
Birmingham
Bids of up to $100 were rejected, no counteroffers ever proposed. It's possible there was no inventory. I gave up on Priceline and booked via another route. Octopus Travel and Late Rooms had the best offers: Octopus offered a more expensive hotel (the Hyatt) but at a better value and I decided to splurge. It was $474 for three nights including breakfast; about $130 more than I would have spent for the most inexpensive option I had without breakfast. The hotel delivered the added value for the money in services, facilities and comfort; I'm happy with that decision.
Washington
I am very glad I was not able to get a bid accepted before I returned from Europe, as the dates that I needed to go changed by a day. Lesson: do not bid until your dates are firm.
Bids placed in May yielded no acceptances at up to $75 for 4* and $60 for 3*
The Marriott in Georgetown showed up on Better Bidding for $60. I bid $65 for 4*, which was rejected, then lowered my star level and price to 3* and $60. Acceptance. I had one free rebid, but we are getting close to the date and I didn't want to wait 72 hours if I screwed up.
Posted by Leigh Witchel at 8:07 PM | Comments (2) | TrackBack
June 16, 2005
You may never think of kiwis the same again.
Just what the world needs. A new product specifically for shaving your balls.
Bodygroom may be a relatively pointless device, but the animation is hysterically funny. It can be cranky on Firefox, and do navigate through, the animation is not only on the index page.
Link via Stay Free Magazine, which is hereby added to the blogroll. I've been a regular reader for about a month since a discussion on Steven Berlin Johnson's "Everything Bad is Good for You". I agree with their cynicism on commercialism.
Besides, they mentioned Dirty Martini today - and that reminds me, I should link her as well.
Posted by Leigh Witchel at 5:12 PM | Comments (0) | TrackBack
June 13, 2005
Three days - Four performances (Scènes de Ballet)
I saw Birmingham Royal in four performances of their Stravinsky program. It's an extreme way to get to know Scènes de Ballet, but it works. On Saturday matinee, (Nao Sakuma's performance, which was the best) I spent the time scribbling a synopsis of the ballet as it was performed, so I could get a sense of how Ashton conceived it. Stravinsky did his own programming as he composed, and Richard Buckle wrote an original synopsis when Ashton first planned the ballet. Ashton followed neither. What he made was a complete formal classical ballet - all the parts are there: entries and variations for the leads, pas de deux, group dances, coda. But like Symphonic Variations it's done without pauses so it feels like an organic unit and is harder to pick apart - hence the synopsis.
BRB is an interesting contrast to London's company. It's smaller, and thinner at the top because of that - Robert Parker danced at every performance I saw, for instance. But it's also more cohesive. They are well rehearsed - it shows in their performances of The Rite of Spring as well as Scènes de Ballet. The épaulement in Scènes was all there, but it felt under their skin, rather than as if they dutifully knew to tilt their heads on count 5. They also danced like there were no small parts. I recall the grumbling of the Joffrey dancers when they danced Rite.
I'm heading to Heathrow and home tonight so there'll be fuller reports of the travels a bit later.
I enclose my synopsis of Scènes de Ballet in an extended entry. Luckily there's better documentation - it was a synopsis like this written in the margins of Marie Rambert's musical score that formed the backbone of the Hodson-Archer reconstruction of The Rite of Spring.
Scènes de Ballet
Abbreviations for the stage -
U = Upstage (towards the back from the audience)
D = Downstage
SL = Stage Left (The left side of the stage if you were on it looking into the audience)
SR = Stage Right.
Cast -
Lead couple
4 demi-soloist men
12 women
Opening - Male soloist in center with men in clasping each other pairs on diagonal (DSR to USL?). He begins with entrechats, it becomes a dance for all of them.
Women enter to do a female quartet from USR on the diagonal.
All women enter in lines of four (nodding to the wings)
Four men reenter. Brief turning solo for one woman from the corps.
Group dance for men & women.
Forms a square facing to the diagonal USL with the men scattered irregularly through the lines. The men leave on that diagonal.
The women do a group dance in lines of four of nodding and bourrées that push USR
They form three lines of four across the stage. The men enter across the side SL in Sissones, then the ballerina enters for the first time. She dances a brief solo (lots of fast pointe work)
Processional. The section ends with her held aloft as the lead man reenters.
The women are in a line in the back and do piqué emboîtes (reminiscent of Sleeping Beauty) forward. The men leave except the lead man.
As the ballerina does partnered bourrées side to side, it is echoed by the female corps, who disperse to the side of the stage in two groups of six (one USR and one DSL).
The four men reenter on the free diagonal (USL-DSR) for a jumping quartet - grand jetés going forward, tour jetés entrelacés, rond de jambs en l'air and relevé arabesques traveling back.
This happens twice with a female jumping duet (one woman from each group) that echoes the men's steps in between.
Females dance in a circle (two circles of six) changements traveling into circle and out.
Ballerina reenters with all men for big dance to main trumpet solo reminiscent of Rose Adagio.
The men form a shallow V, lead man at center-center. The ballerina goes down line from SR to SL doing a different partnering move with each, then partnered en dehors pirouettes where one man begins and another comes in to finish.
Allegro section for ballerina and men that begins with partnered back cabrioles.
The corps forms a circle, the leads travel in opposite directions round it and again the ballerina partners with each of the four men (who are at 2, 4, 8 and 10 o'clock approximately) She is carried off by her partner and the corps does a dance in lines facing front, (lines front to back rather than side to side) two lines of three women, a line of four men, and another two lines of three women.
They do a dance starting with side to side arabesques and the SR women leave after the first combination leaving 6 women and four men continuing. Then the other six women leave
The four men dance as four corners of a square.
The male lead enters for the solo of double tours.
Turns into a male quintet, beginning with pas de basques.
The man does a second solo, with split leaps to both sides (this is the second "Burmese tiger pit" for the man after the tours.)
The ballerina reenters for a solo that begins with snakelike port de bras and leads to another pas de deux, during this, three women appear behind in USR arches of the viaduct.
After the pas de deux all the women reenter "creeping" hunched over and on their pointes.
The men reenter.
Group coda.
Music slows for an apotheosis. The side to side bourrées from before grow to side to side partnered grand jetés.
The ballerina and her partner remain at the back while the corps dances (partnered turns and shoulder sits with four women & the men) and then come forward for her final glorification; a arabesque penchée (after a turn?) and a final "Beauty" supported arabesque with open arms held out above shoulder level in expansive triumph.
Posted by Leigh Witchel at 3:23 AM | Comments (2) | TrackBack
June 12, 2005
An open letter to Robert Parker, Principal Dancer, Birmingham Royal Ballet
Dear Mr. Parker:
I was sitting in the upstairs circle of the Hippodrome Theatre in Birmingham last night watching you perform Scènes de Ballet. I've been pleased with all your performances this weekend and decided to ask some nearby audience members for their reaction to you. I wanted to see if you were a "favorite son" with the local audience.
I asked the neat looking lady in front of me what she thought of you.
"I'll tell you what I think." She said as she turned around. "I think he's God's gift to women and I'll not hear a word against him."
Luckily, I wasn't about to say one, although between you and me you were slightly off in your tours and the switch-leaps in Scènes could have been a bit bigger. But you'd done the lead in two other ballets that day along with fine performances every day of the run before and you deserve to be cut some slack.
So there you have it, Tiger.
I figured that on days when life is bleaker than others, it wouldn't hurt to know that somewhere, someone out there in the audience thinks you're God's gift to women.
Cheers,
LAW
Posted by Leigh Witchel at 11:32 AM | Comments (0) | TrackBack
June 10, 2005
"Ah, but you never saw Taglioni"
I have been blogging with limited time and sporadic access, in London mostly sitting on a favorite mossy green curb at the church on Courtfield Gardens, and in Brum I finally found Beattie's basement café which has a free hotspot. The things I will do for affordable net access. This is an addendum to the previous post that I could not do at the time; I had to pack up and catch the bus to Brum.
"Ah, but you never saw Taglioni." - another favorite expression of Alexandra's and the bane of every balletomane's existence. We see a performance that we love and along comes another, more experienced balletomane who says that if you never saw Taglioni, you haven't seen the role done correctly.
I've been on both sides of that conundrum even during the past week in London. I'm only forming a viewing history of the Royal Ballet and their greats are unknown to me. More confusingly, dancers beloved here (Kobborg, Cojocaru and others) I only have a qualified appreciation of. But with Symphony in C, poor carolm posts her enjoyment on Ballet Talk, thinking I will have enjoyed it as much as she. I feel like an ogre.
The hardest part of defending the importance of correct style in a ballet is to let go of the need to correct others out of their enjoyment of the performance. The woman next to me at the ballet was fascinated by my scribbling in the dark and asked me what I thought. During the applause I pointed to Sarah Lamb and said she was closest to doing it correctly (that sounds unfair - she really was by and large correct) and then pointed to Mara Galeazzi and said she was farthest and had a great deal to answer for. She laughed and said they looked absolutely the same to her.
I said what I hope is the correct thing to say when you have seen Taglioni and someone else hasn't, that I was so glad she enjoyed the performance and that I hoped she would some day be able to come to New York and see if she thought there was a difference. At least in this case I was able to offer an option. For some Taglioni-seers their main satisfaction is that she's dead and they saw her and you can't. For others, it is their greatest regret.
Posted by Leigh Witchel at 10:22 AM | Comments (0) | TrackBack
June 9, 2005
Non-Balanchine and Anti-Balanchine?
The question of fidelity to the original style of dance, whether Balanchine, Ashton, Bournonville or others in one that can be discussed endlessly. It's a side point of an interesting discussion at Ballet Talk right now and I've written about it myself for a while, both in an article on Agon in Ballet Review, Fall 1997, and on the web.
If the camps are divided into "originalists" and "non-originalists", my natural sympathy usually lies with the non-originalists, if only because I think time eventually forces that on all works of art. If it lasts long enough, there is no one around to place the work into context any longer. We can only postulate how Shakespeare or Mozart was actually performed, and the matrix of the culture has changed under us enough that an "authentic" performance would not have the same effect on us as it would to the original audience. So at some point, all art becomes just a text for a future generation. Even "authentic" performances need to carefully compensate for current eyes. An example, if I were staging Le Spectre de la Rose, I would delete the bonnet from the girl's costume. Yes, Karsavina wore one, but it doesn't look fashionable to our audience; we think of caps as dowdy.
But how much can you depart from the original style before it's no longer the original work, or even antithetical to it? Time changes your opinion on this; the more experience you have with a style, the more vociferously you tend to defend it. My friend Alexandra Tomalonis used as her joke example of this the well-meaning ensemble 100 years from now that decided to take Agon back to its baroque roots and re-score the Stravinsky for a consort of viols. She wondered if I might protest.
For the last two nights, I have had my Consort of Viols moment, watching the Royal Ballet do Balanchine's Symphony in C. Symphony in C is a ballet I feel reasonably familiar with; I even learned parts of it (1st, 2nd & 3rd movement demisoloists, if I recall correctly) from Jody Fugate (Judith Fugate's sister) during a summer workshop while I was a student.
In the Ballet Review article on Agon I said (paraphrasing myself) that there are many different ways for something to be right, but we can usually tell far more quickly when something is wrong. And oh boy, was this Symphony in C wrong. There are certain tenets of Balanchine ballets that, once violated, the ballet goes from being Non-Balanchine to Anti-Balanchine.
You can't dance under yourself. Balanchine ballets have to travel in space, and all steps need to move. If you step under yourself rather than out, it's wrong.
You need to be able to move off your leg. Even in a classical work like Symphony in C, Balanchine did not use a purely classical placement, what dancers call being "on their leg". Because Balanchine ballets are constantly in motion, the dancer needs to move through the balance, coming on and falling off at will. Stability in Balanchine looks like stasis.
The Royal Ballet dances Symphony in C under themselves and firmly on their legs. That's not non-Balanchine with a local accent, that's anti-Balanchine. Even more egregious (because it's easier for them not to do), they dance it as if it were Swan Lake. During the first movement reprise, Ivan Putrov and Mara Galeazzi kept adding narrative bits. On the first night Putrov greeted his demi-soloists and added a "let's go" gesture as if they were about to enter a tavern. On the second night he and Galeazzi did a section where he crosses behind her taking her hands as a flirtation game where she removed her hand from his grasp. I only bled from the eye sockets a little.
My friend Lynette asked at lunch the following day if I thought the Royal should do the ballet at all. That was the closest I have ever come to saying no. But if the Royal didn't do it, it would never be seen here, just as I would have not seen Symphonic Variations at all if it were not danced by ABT.
I wonder if certain styles transpose better than others, as German literature and poetry translates better into English than Russian. The French do Symphony in C with a Parisian accent (much more sculpted), but it's more non-Balanchine than anti-Balanchine. In the third movement here, Viacheslav Samodurov looked more at home than the English dancers; he's also danced Balanchine at the Kirov (Putrov went to the Royal Ballet School as a student after winning the Prix de Lausanne in 1996). Sarah Lamb, an American originally from Boston Ballet, looked positively like Suzanne Farrell in this crowd.
I've seen companies that do both Ashton and Balanchine; Dutch National Ballet did both on the same program last year. Both were acceptable, neither was distinctive. Both felt stylistically flat. Perhaps that's the tradeoff for a company that's a "net importer" of repertory.
Posted by Leigh Witchel at 4:21 AM | Comments (1) | TrackBack
June 8, 2005
Some past knitting projects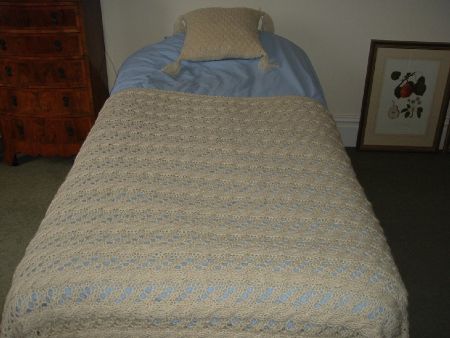 One of my brother and sister-in-law's guest rooms contains two gifts I made for them. Both are made of the same wool, a cream bouclé that came in an enormous mill end cone from I bought at a Christmas sale in 2001 from Webs. The afghan is made with a triple strand of the wool on US 13s. They were married on October 18, 2003. I started the afghan at the beginning of the month and knit it furiously on planes and in hotels as I traveled my way to visit them. I began by flying to Paris, and then flew on BMI from London to Heathrow. That flight was the only one ever I have been asked not to knit. There were no issues during security, and the stewardess found it fascinating, but then the male purser came back and asked me to put it away for safety reasons. Of course I complied; the flight was all of 45 minutes so little precious knitting time was lost, but I did think it was funny. I had a 36 inch plastic needle with more than four feet and four pounds of afghan hanging off of it. If I could have hijacked a plane with it, I deserved to. I continued madly knitting from Bristol to Devon and presented the finished product to my brother at 7:00 am at Gara Rock in Salcombe on the day before the wedding. He was appreciative, if mildly nonplussed, as he was buck-naked.
The pattern was adapted in scale from Charlotte Quiggle's reversible scarves and afghans. There is a seed stitch border, but this is the main stitch element:
Multiple of 9
row 1: k4, p1, yo, p2tog, p2
row 2 (and all even rows): knit the knit stitches, purl the purls
row 3: cable4, p2, yo, p2tog, p1
row 4: repeat row 2
row 5: k4, p3, yo, p2tog
row 6: repeat row 2
The pillow was made for their first anniversary. It was again cast on shortly before leaving to visit them and knit on the plane and while visiting. It is a very simple design, a long rectangle folded like an envelope to enclose a pillow with a button closure in the back. It's knit with a double strand on US 10 needles, and the border is seed stitch as is about two and a half inches at the beginning and end where the buttons are. The main pattern is one of my favorites, seeded rib check.
Seeded Rib Check:
Multiple of 4 + 3
Rows 1,3,5: K1, P1,*K3, P1*, K1
Rows 2,4,6: *K3, P1*, K3
Rows 7,9,11: As Row 2
Rows 8,10,12: As Row 1
Shorthand for construction of an envelope-style pillow
(Back of pillow) Seed stitch for 2.5 inches.
Change to 1 inch seed stitch border and seeded rib check until 1 inch before turn point of the pillow.
1 inch seed stitch
turning row of purl stitch
(commencing the front) 1 inch seed stitch
Change to 1 inch seed stitch border and seeded rib check until 1 inch before turn point of the pillow.
1 inch seed stitch
turning row of purl stitch
(completing the back) 1 inch seed stitch
Change to 1 inch seed stitch border and seeded rib check about 1 inch before the "envelope" when folded completely covers the pillow. The fit to the pillow should be tight. Don't allow for any ease; instead fit it lightly stretched.
Change to seedstitch for 2.5 inches, placing button holes midpoint.
Sew side seams, sew on buttons, insert pillow, decorate with tassels if desired.
Posted by Leigh Witchel at 6:43 AM | Comments (1) | TrackBack
June 7, 2005
Ashton: viewing and reviewing
Looking through my correspondence of the summer of 1997, when the Royal Ballet came to Lincoln Center I find this note I sent to friends:
Well, I've seen two evenings of the Royal Ballet during this visit, and two short Ashton works (La Valse and Daphnis & Chloe) one short MacMillan (La Fin du Jour) and one full length MacMillan (Prince of the Pagodas) as well as the Wheeldon pas.

I feel totally at sea.

I'm trying to look at these ballets the same way I might look at NYCB, and of course, that's not what they are about. I'm looking for dance design and expansive phrasing, and not getting it. All the dance phrases seem to collapse in on themselves or wrench themselves about.

Help! What am I missing? Could someone who likes Ashton or MacMillan PLEASE talk for a bit on

a) What makes either of the choreographers memorable
b) What are top drawer examples of their work
c) How the works are best danced

There's got to be more there than what I'm seeing.

Signed -

Confused at Lincoln Center
I also wrote a public piece on Ashton, ending by saying:
As I said, I hope I get to see more of the Royal - even at some point on a day to day basis. I think it's the only way to fully "get" the choreography.
When the Ashton Festival came to Lincoln Center in the summer of 2004, I finally had that opportunity. I went to every performance, buying the cheapest seat I could get and sneaking down to the orchestra after the first ballet. Alas, that was not a difficult task; the festival was a revelatory miracle but it did not sell well. But I got to see almost every ballet at least twice and there is no better way to get under the skin of a ballet than to see it repeatedly in a concentrated period. The first day was rough going. Monotones, Enigma Variations and Rhapsody done by three separate companies is not the most considered entry into Ashton. I had to throw my eyes out of focus at times to remind myself not to look only at the steps. But then Birmingham Royal Ballet presented a series of marvelous evenings with careful programming. They put Five Brahms Waltzes in the Manner of Isadora Duncan with Dante Sonata, and so the latter work did not seem like an aberration. The Two Pigeons was simply a treasure.
I went to London in November 2004 for three performances of Sylvia and two of Scènes de Ballet – a ballet I loved so much from the Ashton Festival that I am here yet again to see it. I regard repeated viewings like this as a joyous task, but a task nonetheless. You approach the process thoroughly. The three performances of the Symphonic Variations mixed bill got me a bit closer to answering my own questions from 1997. On the first viewing one watches the ballet as a larger whole. One can see the general shape, but not much detail. That comes on subsequent viewings, and that's when you really start "getting" it; when you can see how Ashton structured the variations, or when a motif returns.
I get Ashton's musicality better now. It's more literal than I originally thought – some of Symphonic is as note-for-step as any of Balanchine – but it is also (to be reductive) more melodic where Balanchine tends to cleave more to the rhythms, or even create a counterpoint to the score. It helps to have learned a bit more about Cecchetti ballet training.
What makes Ashton memorable to me?
His stagecraft and dramaturgy. The "key scene" in A Month in the Country is brilliantly blocked; he's got people going every which way turning a parlor upside down for a missing key – and it's all somehow a dance.
His sense of design and phrasing – Symphonic Variations takes an allusive and elusive score (one Balanchine would probably never have touched) and hangs a ballet from it that is not just about the score. The vocabulary uses (his own demanding classicism that evolved from his training) and the gentle green space Sophie Fedorovitch creates for the ballet are as important as the music.
His chic: It's hard not to love a choreographer who puts his corps de ballet in black and white, with pillbox hats and pearl chokers. Balanchine's chic was Jazz Age chic of the 20s. Ashton's was the high chic of the 40s. I can't get enough of either of them.
His humanity: It's a huge stretch to compare Ashton to Jane Austen, but the one connection I feel is the justness of the outcomes. The boy in The Two Pigeons learns what he needs to learn to return to his love and not stray again. Yet, neither good nor evil wins in Dante Sonata. What happens is what ought to happen.
I knew I would not give up on Ashton even back in 1997. I'm still often worried that I'm foolish or vain enough to like it because I finally "got" it than for anything that is actually there. But if you feel like a work of art eludes you, repeated viewings are the best way to take it on its terms.
Posted by Leigh Witchel at 11:34 AM | Comments (0) | TrackBack
June 6, 2005
Interlude: Bristol
One travel bargain left in Britain is the bus. National Express has a series of Funfares that take you to most major destinations to or from London for as little as £1. If you know your destination and times of travel well in advance they are very reasonably priced and comfortable for short distances, if not remotely glamorous. I'm using them them to and from Bristol and to Birmingham.
The Victoria Coach Station was confusing to locate; it is not contiguous with Victoria Station or the Underground station. It's about 3 blocks down the road and not clearly marked once you leave Victoria Station. Cross the street and walk about 3 blocks to the left to find it. You will pass a mall on the other side of the street that is very confusingly marked. The Green Line buses depart from it, but not National Express.
Bristol is a two and a half hour journey due west on the M4 through verdant and pastoral landscapes once one passes Heathrow. Most service is nonstop. My brother and sister-in-law were waiting at the bus stop and we went to their home in Redland.
They live in a great Victorian pile of a house on a street with a row of similar homes; this one was built in 1894. It's got seven (!) bedrooms on three floors.
Here's the garden: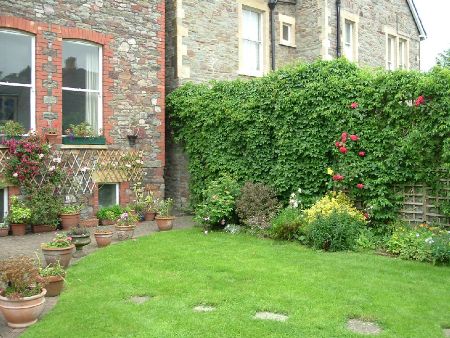 A view of their street. Their house looks similar.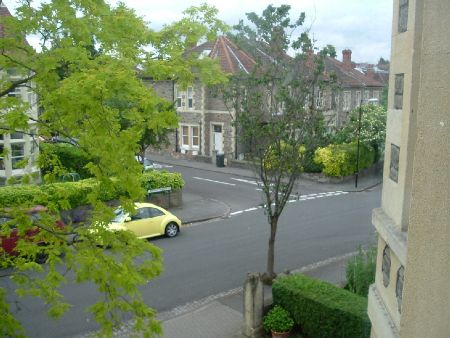 It was my brother's birthday; my present was dinner. We went to Sands, a Lebanese restaurant and I spent the most I ever have on a restaurant meal. A very tasty dinner for three included appetizers, mixed grill, a bottle of wine and a hookah (really!) after the meal. £110. I'm still not used to the prices here. I guess it's balanced out by the 25 peso meals in Buenos Aires.
The next day we went to Dyrham Park, (pronounced like Durham) a grand manor house a few miles away in South Gloucestershire. The house was William Blathwayt's transformation of an inherited Tudor house into a 17th Century Dutch style mansion.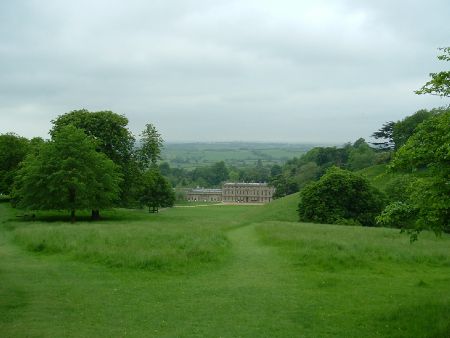 This provides a perfect opportunity for Monday Peacock Blogging.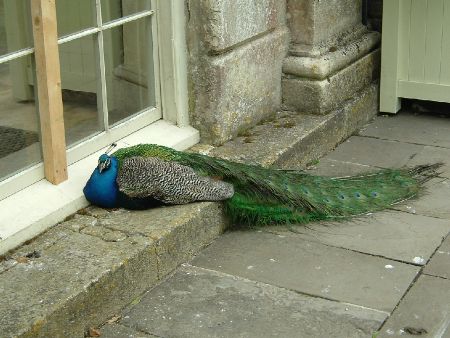 This fellow was lounging by the orangery. There are about six of them that live on the grounds. Peacocks are noisy as hell. You can hear them from a long way off when they hoot.
Posted by Leigh Witchel at 7:07 PM | Comments (3) | TrackBack
Notes from the semifashionable
I might as well admit, I think a suit makes almost any man look more handsome. I do like London, as the British are suit wearers. Double-breasted suits aren't in evidence. I packed one (an Andrew Fezza suit that I picked up in Philadelphia on my eternal thrifting for $10) and feel quaintly old-fashioned.
Standard business drag here: A single breasted three button suit with side vents, worn with a French cuffed shirt with a spread collar. Shirts tend to be striped (lots of tattersalls both square and on the bias), also ties with woven bias stripes. There is an unfortunate trend toward wiiiiiide ties with fat knots. More men seem to wear suits as a matter of course, so you see lots of cheap suits on the tube.

Shirt and tie patterns here tend to be more fashion forward, probably because more men wear suits. I often wear thin cotton turtlenecks under a jacket because of the ease of packing and care. I felt utterly American, or practically Canadian, as one person thought when she saw the combo. Nobody wears knits under suits here. If not wearing a tie, men wear the same shirts unbuttoned.
As Chris mentioned when we went to dinner, London is a great shoe town. I blessedly have not worn my cruel shoes for two days and the blisters (on both little toes, on the back of both heels and on the top of my right big toe) are healing. Given that many of my friends are female dancers, I get absolutely no sympathy. They smile sweetly and say that now I know how pointe shoes feel.
Posted by Leigh Witchel at 6:59 PM | Comments (0) | TrackBack
June 3, 2005
A perfectly British day
The ballet was not performing yesterday. I began the day by writing notes from the night before, then going out to stalk the wild wireless signal. I must look quite eccentric sitting in a shady corner by the church, tapping away. One fellow came up to me to ask what I was doing, and would he not need his broadband either if he got a wireless card? No problem, says I, if you'd like to walk about the city like a homeless person to get your email. A second older man came up to me to warn me that the neighborhood was dangerous and that marauding bands of thugs would come up to me and whack me to get my expensive laptop. I told him I would be careful.
It was sunny and lovely out so after working out and some food I headed into town to take a walk and be a tourist, something I don't do much of in London, oddly. I got off the tube at Covent Garden and headed to St. Martin's Lane. First stop: Freed of London on a pointe shoe mission. Mary has teeny tiny feet and needs a size 2.5, single X, deep vamp. Capezio no longer even makes that size, because it's considered a child's size and they don't want to encourage pointe work at too early an age. Alas, no luck for Mary. There were none.
St. Martins Lane takes you past several theaters including the London Coliseum where English National Ballet performs. St. Martins-in-the-Fields is where the road ends at Trafalgar Square, opposite the National Portrait Gallery. I went in to the Gallery to look at the queens and kings.
The gallery is as much an art exhibit as a history lesson. It begins at the War of the Roses and continues through the upheaval of the Reformation and the Act of Settlement on to the present times. The thing that struck me was how placid one likes to think of English history – a succession of rulers down history from William the Conqueror through to Elizabeth II – and how scandalous it actually was. Wars, beheadings, bastards, abdications, infidelities, intrigue and treason . . . English royal history seems anything but regal. The current crop we think of as so debased are only following in their ancestors' footsteps. I made it through the Tudor and some of the Hanover galleries when the building was evacuated due to a minor power outage. I took that as a sign to keep moving.
Trafalgar Square was jammed with people enjoying the sunny day.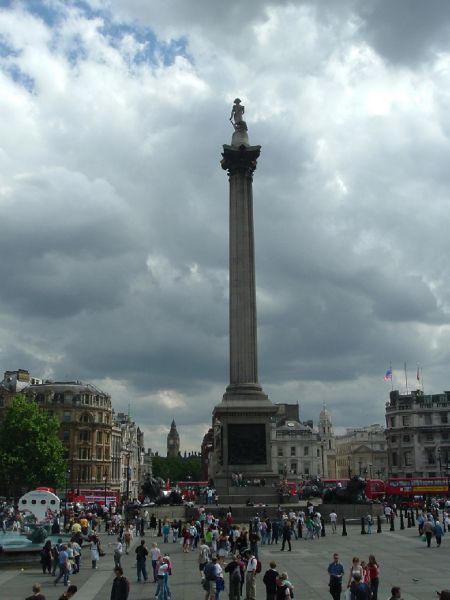 Crossing it, I walked down Whitehall past the Queen's Horse Guards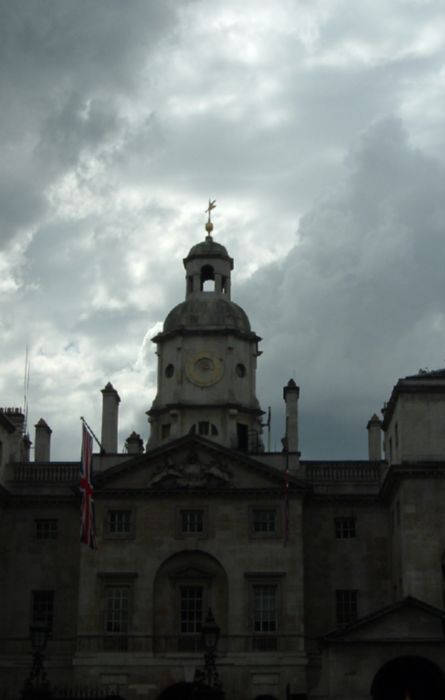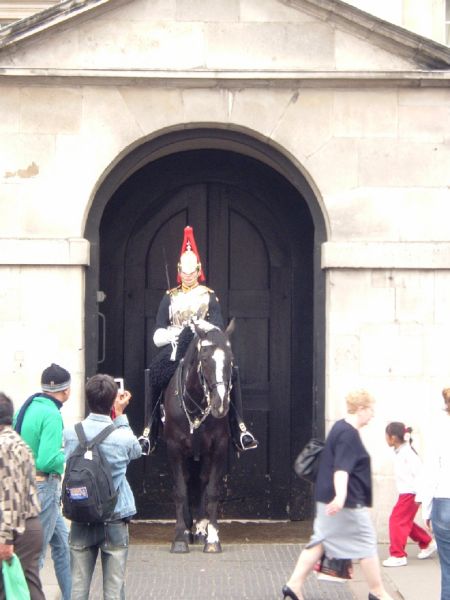 And the Banqueting House, all that remains of Whitehall Palace. King Charles was beheaded here. There are major occupational hazards to being royalty.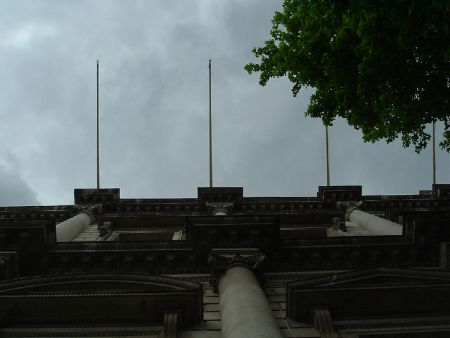 More views of the walk - The London Eye and a War Memorial.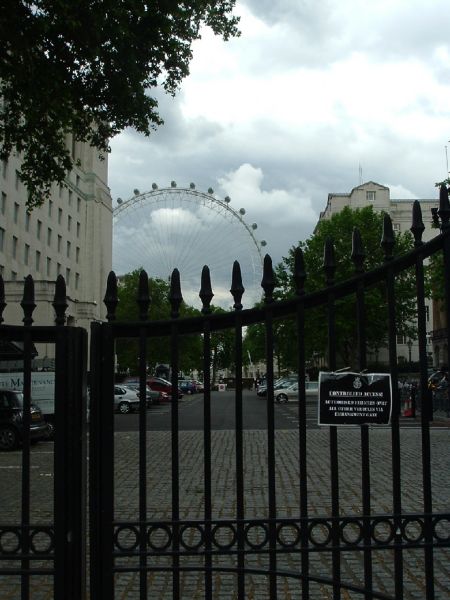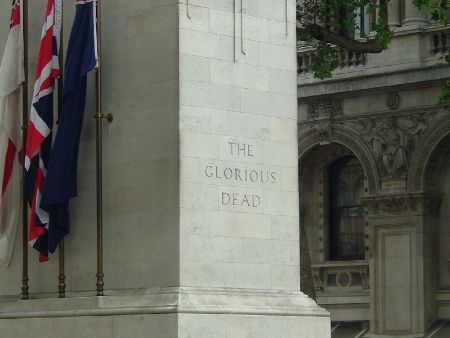 And I ended at Parliament.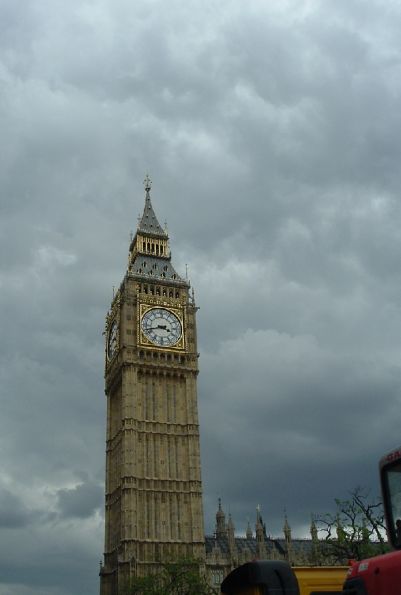 I took the tube from Westminster Station on the District/Circle line back to the hotel. Some of those stations are above ground and are quite interesting because they seem to be quite old.
After returning, I turned on my computer, which decided to be cranky again. It turned on, but refused to illuminate the screen. I considered searching for any handy marauding band of thugs to beg them to take it off my hands, but a torrential, though brief, downpour stopped that, and after a brief rest my computer screen lit up as if nothing had been the matter. It's as eccentric and cranky as me, but perhaps it's time to replace it.
Dinner was very special. At half past six my friend Brendan picked me up and we headed to St. James to meet his wife Susie at the Athenaeum Club.

I've never been in a British club before, but it's exactly as one would imagine it. High ceilings, large heavy furniture, wide marble staircases. We had a champagne in the lounge, then went downstairs to the Garden Room. Here Susie proudly pointed out two costume renderings done for Pavlova, one of a doll. Though the doll looked like the costume for Karsavina in Petrouchka, I think the renderings were for the small divertissement solos that Pavlova did on her tours.
On to a very rich dinner in the main dining room. I had steak, which they did awfully well. I'll let you know in two decades if I get Mad Cow. The conversation ranged throughout dinner; I found it amusing that Susie was most interested in (and brought up) Friday Catblogging. Love my cat, love me.
After a dessert trolley, coffee and tea were served upstairs in a reading room rather prosaically out of vacuum thermoses. I guess I expected china and urns! Susie took me through several of the libraries that also serve as smaller private dining rooms. There are several Gentlemen's Clubs on Pall Mall, the Traveler's and the Reform Club are adjacent. Susie was one of the first female members of the Athenaeum; the club only admitted women from 2002.
After dinner the sky was perfectly clear and a perfect shade of intense but light blue that indicated nightfall. By the time we got back to Kensington it was still clear, but lapis. Night had come to the end of a perfectly British day.
Posted by Leigh Witchel at 5:49 PM | Comments (1) | TrackBack
Friday Catblogging - British Empire Edition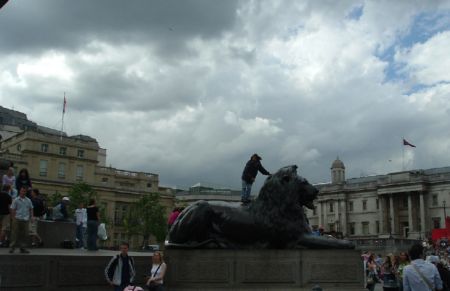 A big bronze kitty in Trafalgar Square
Posted by Leigh Witchel at 5:33 PM | Comments (1) | TrackBack
A New Yorker in London
Last night during the interval at Covent Garden my friend Lynette remarked that London must be familiar to me by now. I smiled and she added, "So what still seems strange?"
London is a horizontal city, New York is vertical. The buildings are London are low and take up full blocks.
Nothing makes your own class system more obvious to you than seeing someone else's. I'm so used to how class is structured in New York that it's almost invisible to me. Nothing throws it in relief more soberly than switching the cues. I don't know if this is true, but class feels more race-based at home, probably because there's an extra social layer on top of race in London, and there's also a white underclass here, something that in NYC seems to be largely minority. Accents mean a lot here, I'm only beginning to distinguish them by class.
Far more trivial things: Shower fixtures. There are too many damn knobs in London. It's not as bad as Buenos Aires, though, where the shower stall at the BelAir also had some sort of needle spa shower heads randomly placed to attack my eye with a stinging jet of hot water if I turned the handle incorrectly. It took three days to figure that out.
The London tube is cleaner than the subway, but it's also more claustrophobic as the cars are more cramped with lower ceilings. Also, take your pick – the London stations are cooler but the cars themselves are hotter and in New York it's the reverse.

Posted by Leigh Witchel at 6:22 AM | Comments (0) | TrackBack
The Royal Ballet
Apologies, because I'm on assignment the notes will be cursory rather than detailed.
The 1987 Anthony Dowell production of Swan Lake is not considered one of the better British productions. It shows the state of Swan Lake in New York that it's heads and shoulders better than both of ours. At least it's an actual Swan Lake with only minimal Freudianism. Ivan Putrov, their Siegfried, ought to be better known. He has the best ballon I've seen in a while - airy jumps with beautiful soft silent landings. He's admirably refined for someone with that sort of pyrotechnical ability. You don't often see soft virtuosi, at least in America. He also uses his weight extremely well; he really dances into the floor. I'm a bit surprised he isn't better known outside of the UK, he is good enough. He's interesting because he is a light dancer with breadth and weight. I can imagine he would be a fine Spectre. I would like to see his James.
Last night's mixed bill had two ballets by Ashton and one by Nijinska, and I'm delighted I'll be seeing it twice more. I'd like to see Symphonic Variations sixteen more times from every area of the theater just to know it better. I didn't know what to expect from Les Biches; the most interesting thing to me was how topical it was compared to the timelessness of Les Noces. I had last seen A Month in the Country in 1983. I had only been watching ballet about a year and had no clue what I was looking at, so it's a delight to see it with more experienced eyes. Ashton's dramaturgy is brilliant, there's a scene where sets the entire cast to turning a room upside down looking for a key – you know exactly what's happening, and it's all ballet.

Posted by Leigh Witchel at 6:18 AM | Comments (0) | TrackBack
Dinner in London
We had dinner at a Chinese restaurant, Y Ming, right behind the Palace Theater on Greek Street. It's a pleasant Chinese restaurant a few steps up from the neighborhood variety. Some of the dishes are less familiar in NY (more lamb dishes, though we have them, the same with stewed as well as fried dishes) and after some convincing Chris prevailed on me to have the aubergine with garlic despite my childhood prejudice about eggplant. An excellent choice, it was delicious, as was the chicken with lemon and coriander. I was less interested in the Empress Beef, which are small chunks of beef stewed with anise. It's similar to the Vietnamese Bo Kho, only the Vietnamese version is wetter and also more interesting.
There's no way of getting around it, an American in London is going to have sticker shock. Because Priceline helps so much on hotels, mine usually arrives at the food bill. The only way to avoid it is to stop thinking in dollars to pounds. A dollar and a pound both have the same purchasing power. The meal we had would have cost somewhere around $40-$50 in NYC. It was £50 here. To economize on days when I am not eating with friends I grab food from the markets.
Posted by Leigh Witchel at 6:16 AM | Comments (0) | TrackBack
Soho
On Tuesday night I met with with Chris, BAHumbug from Flyertalk, in Soho. The area near Old Compton Street seems to be the epicenter of London gayness. Chris kindly put up with my hobbling about in new shoes (I never learn. Don't pack new shoes, but at least I also packed bandaids) and the attendant indecisiveness provoked by the pain of open blisters. So I put myself in his hands and we strolled (well, I gimped) to Soho Square, which is jammed with boys, including one boy who seemed to be using a stroller as a prop for cruising. Someone needs to tell him that a small baby does not make other men want to have casual sex with you. Chris was more sage about the child. "Borrowed from a lesbian friend" he intuited with the perspicacity of his countryman Holmes.
Posted by Leigh Witchel at 6:14 AM | Comments (0) | TrackBack
June 1, 2005
An English Miscellany: I - London Nuts and Bolts
A London Miscellany
Packing for the trip: I could have made it down to a single very stuffed bag, but I decided (and I was right) that two lighter unstuffed bags are better than one overly heavy stuffed bag. The thing I'm most delighted I brought so far was a well packed toiletry kit, including remembering Band-aids, which came in handy when I had new shoe blister angst.
I had been upgraded to business class (thanks, Wayne!) and was thinking of being all sassy and wearing leather pants on the plane. You would think I would learn, right? Happily, I did. I had the brains to do a quick test wearing the night before and realized they were both too tight and too warm to wear for an 8 hour flight. No regrets on that decision; I chose an outfit that was comfortable, but sufficiently put together and queer-friendly. You never know who you'll met on a plane. Six pages of stories about sitting next to the randy lad or the horny businessman who does unspeakable things with you under the flimsy blankets. I, of course, get the NASCAR dad from Nashville. So I did not waste an outfit.
I was taking a morning flight so didn't even bother going to bed. My car service came at 4:00, we were at the airport by 4:20. Day flights for eastbound transatlantic journeys are a great idea. I still have some jet leg, but far less than with an overnight. One other thing I did that ended up being a very good idea was to have some champagne with the final meal service at the end of the flight. It gets me sleepy enough that I could go to bed at the hotel.
For the first night I chose to stay at Heathrow airport instead of making my way into London. This is a mixed bag. It would have been less expensive had I not made an error about transportation. I knew that most London transit buses went to the airport hotel areas for free – but after no sleep and a long flight, I couldn't tell exactly what to do. There are not explicit markings at the Central Bus Station. There's also a "Hotel Hoppa" bus at terminal 3, but by the time I doubled back after going to the Central Bus Station the last of those buses had already left. A cab was necessary, and bitterly expensive – one blocked off road cost £5 in detours. The cab driver kindly knocked down the fee and it was still £10 for a short local cab ride.
For the record, to get to the Holiday Inn Ariel or the Sheraton Skyline (the two main Priceline hotels at Heathrow), go from stands 18, 19 or 20 for any of the red two-decker London buses. #140 for instance will take you. They run quite late. So even with a day flight, it might make more sense to get a London hotel as long as the hotel is easily accessible via the Piccadilly line – like the Millenium Gloucester or any of the other Gloucester road hotels.
The Sheraton Skyline is a perfectly serviceable airport hotel that goes for between $55 and $65 a night on Priceline. Continental breakfast is £15 or £17 for English. That's a bit much for my taste. High-speed cable is £14.10 for noon-to-noon access. I opted against all of them. You might want to pack a snack bar or some other food if you do this, there's no place to get food near the hotel that I saw. There is a large fitness room open 24 hours a day, it does not have an elliptical trainer (which is what I prefer) and there are several less-familiar weight machines that come without instructions.
I took the free bus back to Heathrow to take the tube into the city. I don't take the Heathrow Express, rather the Piccadilly line. I bought a 7 day zone 1 travelcard and an extension for one journey from the airport (you need this because the airport is in zone 6. It's £2.10 extra) £20.60 total. Time into the city is about 45 minutes.
The Hilton London Olympia is a rather drab, labyrinthine, but serviceable hotel. It's a good hike from the Kensington High Street Station (a long 10 block walk of about 25 minutes) There are better, more convenient choices but for $73 on Priceline, who am I to complain? For those who like this (like me) the beds are very firm. Continental breakfast is £13, high-speed is £15 daily or it just might be free if your window faces the right direction.
I haven't seen any ballet yet - my first (Swan Lake) is tonight.
Posted by Leigh Witchel at 10:43 AM | Comments (0) | TrackBack
Rules I try to follow when writing on dance
These aren't The Rules, but I think they're helpful. I'm sure other writers have their own, and I'd be curious what they are.
1. Know your audience. A review in The New York Times or any general publication is different than a review in Danceview Times or any specialist publication. I may need to explain or summarize background, but the reader may also want to know less detail.
2. It's a completely different skill to write a 350 word review than a 1500 word one. It's not the same review, only shorter. One is a summary, the other an analysis. For me, it's easiest to write shorter reviews a bit later after the performance. The minutiae of performance that enrich a longer review recede in my mind and I can concentrate on the broader view.
3. Make sure you tell the reader what s/he needs to know. What are the most newsworthy elements of the performance? A debut or a new production has to be mentioned, as do the performances of the leads. I try to think about what they came to find out, not what I want to tell them. [added 6/2/05] Much of what I write here I learned or honed from doing weekly reviews for Danceview Times. Alexandra Tomalonis' background is newspaper work (The Washington Post) and there's a different set of requirements. A useful corollary to this rule is that if a production is new, review the production. If it's already been reviewed, focus on the specific performance.
4. This one is the most difficult for me, because of my background. The dialogue is with the audience, not the artist. No matter what I might be able to guess about the process, I am writing from the audience's perspective. I wasn't backstage; I don't really know what went on. I only know what we all saw from the seats. My knowledge of the process is useful for the audience, but it's not my job to give helpful suggestions and they're usually not appreciated. It's my job to tell the audience what was on stage.
5. Dance writing has to be more than a litany of opinions and judgments. Nobody really cares whether I liked dancer X or not unless they agree with me. This performance is gone, never to be retrieved. If the reader was there, s/he knows whether it was good or not without me telling them. It's more valuable to demonstrate a method of analysis and give the reader a path into the work. What can I help him or her to watch for the next time?
6. Damage your credibility and integrity and you might as well quit. Everyone has his or her own weaknesses; I'm more likely to omit information than falsify it. It's preferable to gloss over a performer's one bad night rather than fixate on the details, but what if this is a consistent issue? If the reader - or the record - needs to know it, I need to put it in.
7. Dance writing is not scholarly writing and criticism is not a graduate school paper. Style and readability are essential. A review has to be entertaining.
8. Avoid gratuitous zingers. If I couldn't admit I wrote something to the person's face, I try not to put it in.
9. It starts to be a problem when you give a specific company or dancer the same bad review over and over. There are problems with continuously harping on the same thing. One doesn't always have the option, but if I've exhausted what I have to say about a certain subject, I try to avoid it for a while.
10. Avoid superlatives; they damage credibility and they're lazy writing.
[added - 11. I don't read any other reviews of a given performance until I have submitted mine for publication to guard against plagiarism.]
Posted by Leigh Witchel at 6:03 AM | Comments (0) | TrackBack