« June 2005 | Main | August 2005 »
July 27, 2005
Latest Dance Article
Form or Force - The Bolshoi Ballet's Spartacus. In the current issue of Danceview Times.
This is a ballet about combat and rebellion; the corps de ballet and the military battalion corps do not seem far apart.
Posted by Leigh Witchel at 6:02 PM | Comments (0) | TrackBack
July 26, 2005
Even LESS joy in Mudville
Alexandra Ansanelli is no longer listed on NYCB's roster.
ARRRRRRRRRRGGGGGGGGGGGGGGH.
Posted by Leigh Witchel at 11:23 PM | Comments (0) | TrackBack
July 22, 2005
Random Searches on the NYC Subways
Articles on same in The New York Times and The Associated Press (via ABC News).
The most disturbing thing to me is that people somehow think that this will make them safer. Random checks of people's bags with the option to simply go to another entry point where one might be not be searched won't do a thing except give nervous little chickens the sense that the sky is not falling. The potential for harrassment and abuse is quite large. At least at the New York State Theater, which has been doing its own deeply pointless search since after 9/11, everyone gets subjected to it. But only at curtain time. So an enterprising and determined bomber will just come at an earlier time, or through another entry.
I've written Mayor Bloomberg to protest this. Especially if you are a New York City resident, I hope you will call 311 or write him urging him to rescind this pointless exercise as well.
July 22, 2005
VIA FACSIMILE (212) 788-2460
Mayor Michael R. Bloomberg
City Hall
New York, NY 10007

Dear Mayor Bloomberg:
I am writing to register my absolute dismay over your decision to
institute random searches in the New York City subway system.
Although safety of our citizens is of paramount importance, this action is purely cosmetic. Random searches are like trying to find a needle in a haystack; the only thing they provide is harassment, inconvenience and the immense possibility for abuse.
If a police officer requests to search my bags randomly, I will refuse. And simply enter the subway at another point. The system cannot be secured except by draconian methods that are worse than the safety they provide.
I strongly urge you to reconsider a decision that will do far more harm than good. Your actions on this matter will have immense bearing on my vote in the next mayoral election.
Very truly yours,

Leigh A. Witchel
Posted by Leigh Witchel at 4:45 PM | Comments (4) | TrackBack
July 19, 2005
What is it with me and seating?
Last night my press ticket was for the middle of row W. The woman on my left asked me if I was alone. When I said yes, she asked if I would mind switching seats with her husband, who was on the aisle in Row T. Of course, being a good sport, I said yes and it was a better seat.
When I got there and sat down, who should sit down in front of me? You guessed it.
Posted by Leigh Witchel at 5:52 PM | Comments (0) | TrackBack
Latest Dance Article
Over the Top and Nobody Does it Better. Don Quixote on the opening night of the Bolshoi's New York season.


The Bolshoi has not tamed Zakharova's freak show extensions; they are still very much in evidence and border on the gynecological. In Act II, Zakharova flirtatiously pulled down her skirt for modesty during a comic moment in a lift. We've seen far more than that already, why bother? The vulgarity is one problem, but how vulgar can one call Zakharova's extensions in a production where Mercedes folds herself in half backwards?
The stupefyingly flexible Irina Zibirova stunned us all in the tavern scene, only to be outdone by Anna Antropova's gypsy dance, which involved hurling guitars willy-nilly, sliding wildly on the ground in a backbend and if possible, going over the top of Over The Top.
Posted by Leigh Witchel at 5:44 PM | Comments (0) | TrackBack
Shopping with the Bolshoi
My local supermarket is on the walk home from Lincoln Center, and post-performance is usually the one time I have to shop. Evidently it also was for most of the corps de ballet and the orchestra; they were in the Associated en masse, probably trying to save their per diem (I wonder if they get enough). What do Bolshoi dancers eat? Anything prepared they can grab, it seems. Potato salad, olives, ham. Lots of Pepsi. And there was the skinny blond boy with a dozen doughnuts.
"Is this what you eat after you dance?" I asked him.
"Yes," he smiled sheepishly.
As someone who spent my entire dance career as The Boy With The Weight Problem, I am trying hard not to hate him.
Posted by Leigh Witchel at 12:17 AM | Comments (0) | TrackBack
July 18, 2005
You know it's humid
When you leave the air conditioned supermarket for the street and your glasses fog over. It's just awful right now.
Posted by Leigh Witchel at 11:58 PM | Comments (0) | TrackBack
Leigh's Dance Card - Bolshoi Edition
7/18 (opening night) - Don Quixote
7/22 Spartacus
I'm almost ashamed to admit it, but I am a Spartacus virgin. This will be my first.
Both "on duty" for Danceview Times.
Posted by Leigh Witchel at 12:08 AM | Comments (0) | TrackBack
July 17, 2005
Latest Dance Article
Giselle-isms on the Vishneva/Corella Giselle at ABT last Tuesday.


Vishneva's Act I was filled with Giselle-isms. The shy glance with averted eyes, the head held forward and down; it was all there. She's got her Giselle-isms down so that even if they are not sincere, they are still convincing. It's the Big Star version: Eau de Giselle.
Posted by Leigh Witchel at 11:55 PM | Comments (0) | TrackBack
July 15, 2005
Sometimes threats are useless
My friend David, an orchestra conductor, just called to cancel dinner. His reason was perfectly satisfactory, but naturally I gave him a hard time anyway.
Or at least I tried.
Me: I'm setting your baton on fire.
Him: It's fiberglass.
Posted by Leigh Witchel at 1:42 PM | Comments (1) | TrackBack
July 14, 2005
Jury Duty - In search of Banh Mi
Jury duty in Manhattan is boring, but in all fairness, they've made it easier each time I have served. They now discharge jurors after two days if not picked for trial, however two days service only exempts you for two years. The law changed last September, but a serving on a three to eight day trial exempts you for four years and eight or more days exempts for six years. In the jury area at 111 Centre Street there is a work room with carrels with power outlets and miraculously, Ethernet cables. Get there early if you want one; there are only about 12 powered and wired carrels. The experience is quintessentially New York; the building itself is not equipped to handle the traffic going through it, especially the elevators. The two supervisors of the juror room are both crusty and affable. They treat jury orientation as a comic monologue and we're the captive audience.
Please be sure to sign in even if you are late. If you do not sign in, you will be marked absent and have to repeat service. People who have forgotten to sign in often approach the desk filled with irritation, and on the other side, we court officers sit here, filled with self-righteousness.
It's really not bad.
Yesterday they let us out for lunch from noon to 2, so I went home as I had forgotten my umbrella and cell phone. Today I was determined to treat myself to a meal in Chinatown, one of the few perks of jury service. My usual spot would have been Nha Trang, about two blocks from 111 Centre (go through the unfortunately named Bernard Kerik complex of the jail). This time I was determined to go to Saigon Banh Mi. (Scroll about 1/4 way down)
Saigon Banh Mi is farther into Chinatown, on East Broadway a few blocks from Golden Unicorn, our usual dim sum spot. I'm not sure of the route from the courthouses to East Broadway except that I needed to head east. Wandering eastwards through Chinatown is interesting in itself but by the entrance to the Manhattan Bridge I knew that I didn't have a clue where I was going. So I called the perennially stylish Eve Ng, who, as she said "can walk through Chinatown blindfolded". As well as east, I had headed north instead of south and Eve chatted with me and navigated me via cell phone to the East Broadway Mall . . . Where a sign said that Saigon Banh Mi had moved to 138-01 Mott Street. I was not only crushed, but sweaty, and robbed of my will to eat Banh Mi.
On Eve's advice as I walked back toward the courthouse I stopped in at a little storefront on Mosco Street between Mulberry and Mott that has a little sign out front saying "Fried Dumpling". Inside they sell four round fried pork buns or five crescent shaped potstickers for a dollar. Business with white pussyboys is conducted in sign language. I had the potstickers. They are freshly made in the little infernally hot store and they're pretty darn good for a buck. Nha Trang had a line waiting to eat, but New Pasteur right next door is also very good and not quite as crowded. I had my usual, Com Bo Luc Lac - Beef cubes and rice - $5. I live for Bo Luc Lac.
Posted by Leigh Witchel at 5:19 PM | Comments (0) | TrackBack
July 11, 2005
Latest Dance Articles
Larger Than Life in this week's Danceview Times, a review of Veronika Part and Marcelo Gomes in Swan Lake.


Part's Odile is big, raw-edged and weirdly gleeful. She's like some over the top forties movie villainess, perhaps Tamara Toumanova playing a communist double agent, laughing as she drugs the hero. You never knew evil could be this much fun.
Not available on the web, but in the current issue of Dance Now, a review of Boston Ballet's La Sylphide.
The ending tableau of Madge standing over James' body was a bleak image of empty triumph and there was dead silence in the audience. [Merrill] Ashley eschewed a theatrical interpretation and paradoxically she was absolutely riveting.
Posted by Leigh Witchel at 3:45 PM | Comments (0) | TrackBack
July 10, 2005
Dance Advice: A guide to tipping your partner
A young ballerina writes in and asks:
Dear Mr. Witchel:

I am about going to be dancing my first Giselle in a week with a new partner. Is a gratuity expected at the end of the performance? If so, how much should I tip?
Yes, young ballerina. Tipping your partner is a polite way of thanking him for his services and always appreciated by a hardworking porteur.
How to know how much to tip? Length of dance and number of lifts are your best guide.
Here's our rule of thumb for tipping partners:
Tip 20% if the lifts have been exceptional. These include perfect pops in helicopters, or any one handed presses.
Tip 15% in standard situations, such as the grand pas in Nutcracker.
You may tip lower amounts for perfunctory partnering, excessive moping and/or groaning, clammy hands, narcissism, egotism or inattentiveness. You do not need to tip at all if your partner drops you.
Tip 50% "combat pay" if:


You can't do a double pirouette on your own.

You're more than 20 lbs overweight

You accidentally clock him with your elbow or knee. Add 10% for a bloody nose, a black eye or a rupture.
You should also offer to pay any chiropractor bills.
You can print out this list and carry it in your dance bag so it's handy when you need it. Use clean new bills for gratuities, but it is considered bad form to slip them into your partner's dance belt. An envelope will suffice.
Posted by Leigh Witchel at 9:35 PM | Comments (3) | TrackBack
July 9, 2005
A few more rules on dance writing
To go with these:
12. Don't slam a company that can't take it. Criticise in scale - it isn't going to destroy the Royal Ballet if I slam Symphony in C, but what if I'm the only review some little group performing at Joyce Soho or WAX gets? Save the zingers for someone who can handle it.
12a: A corollary for companies regarding hubris: don't advertise what you can't back up. If your press materials say your regional ballet company is "world class" and I go to your performance and see something less than the Maryinsky, you can be certain I am going to pan you. So don't do it.
13. Try not to kiss and slap. I have to watch out for this because of the way I take notes. I may not write much when watching a variation except a quick note about someone's sickled foot because I happened to notice it. That can accidentally turn into "X gave a lovely performance though her right foot sickles in arabesque." If she did a good job, don't dilute it with a minor detail.
Posted by Leigh Witchel at 11:34 PM | Comments (0) | TrackBack
July 6, 2005
Does Laura know about this?
James Wolcott goes gaga over Veronika Part. Someone should tell his wife, critic Laura Jacobs of The New Criterion. Yes, there is a certain bizarre Matalin-Carville irony that one of the best liberal screedmasters has a wife on the staff of a neoconservative magazine. As far as I know, though, Jacobs' writing is not political in nature.
I can't excerpt the post because I can't read it. Not can't, shouldn't. I'm reviewing the same cast tomorrow; I can read other criticism once my piece is written and turned in.
Posted by Leigh Witchel at 9:13 PM | Comments (0) | TrackBack
July 5, 2005
Separated at Birth?
George Bush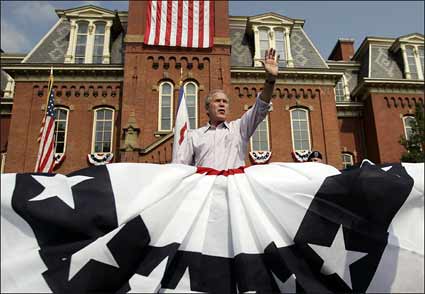 And Mother Ginger?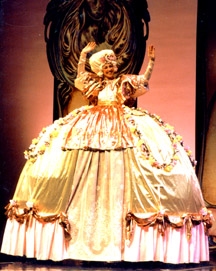 Posted by Leigh Witchel at 10:42 AM | Comments (4) | TrackBack
Round the Danceblogosphere
New Blog - Kristin Sloan, a dancer at NYCB is starting a photo blog. Check it out, it's an interesting glimpse backstage.
Brendan McCarthy's blog recounts a very heartening anecdote about Daria Pavlenko. Ballet has become dangerously inbred and self-referential, intellectual cross-training is one of the healthiest things we can do for ballet.
Posted by Leigh Witchel at 2:12 AM | Comments (0) | TrackBack